Oak Creek — Listen to 9-year-old Katherine Knapp, and Saturday's Let's Dance Spring Dance Program could be the best deal in town.
"It's worth $100," Katherine said. "It's probably the best ever. The whole dance is the best."
Past Event
Saturday, May 3, 2014, 7 p.m.
Soroco High School, 305 S. Grant St., P.O. Box 158, Oak Creek, CO
All ages / $5 - $8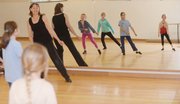 Explore Steamboat
Just can't get enough? Like
Explore Steamboat on Facebook
and follow us on Twitter
@Explore_Stmbt
. You also can keep up with our arts and entertainment coverage throughout the week at
ExploreSteamboat.com
.
Luckily for those interested in the annual program, tickets aren't that steep.
The program, which takes place at 7 p.m. Saturday at Soroco High School, will only cost adults $8 and $5 for children younger than 12. Tickets are available at the door or by calling 970-819-1671.
The program now is in its 21st year and will feature more than 40 dancers, ages 2 to adult. It will run about 90 minutes and will have seven groups performing 15 dances. There also are two soloists.
"I do love it," said Tamara Bereznak, who owns Let's Dance and helps choreograph the pieces. "The girls grow. A lot of them, I've seen them develop from preschool to teenagers."
Bereznak started running the dance studio and Spring Dance Program when her daughter was into dance. Twenty-one years later, she's still at it.
"I didn't want to take her to Steamboat all the time, so I decided to keep it in South Routt," she said.
Although numbers have fluctuated throughout the years, Bereznak said each group of dancers brings something different.
Each year, she opens rehearsal in September and hosts the classes once per week.
Before she begins to choreograph the pieces, she waits to see what she has.
"I wait a couple of classes to see the dynamics and character and get that appreciation," she said. "I wait to see them show that personality."
She has a class of first-graders doing "Who Let the Dogs Out," while other classes will do classical, tap, ballet, jazz and lyrical dances, among others.
"It's basically all about movement," said 7-year-old Daisy Hoff, who has been dancing since she was 2.
On Tuesday at the Let's Dance studio, Bereznak was working with the junior dancers, composed of second- and third-graders.
Each fluttered across the floor with ease.
"It's fun because you have nothing to worry about," Katherine said. "Basically, you're free. I don't think about dancing. I just do it. Everybody should learn to dance someday."
To reach Luke Graham, call 970-871-4229, email lgraham@ExploreSteamboat.com or follow him on Twitter @LukeGraham