Steamboat Springs — The Colorado Mountain College Allbright Auditorium offers one of the most spectacular views in Steamboat Springs, with sprawling vistas of downtown and Steamboat Ski Area as well as historic Howelsen Hill.
But on March 6, dozens of people from all backgrounds — teachers, human services professionals, politicians, students — paid little attention to the late-winter sun splashing through the auditorium's giant two-story windows.
Bridging the poverty gap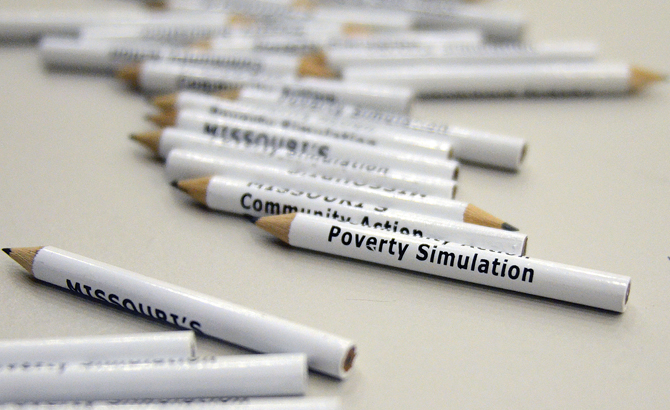 In an area where living expenses are above average and wealth isn't uncommon, tough economic times can hide in the county's crevices. The Routt County Bridges Initiative aims to educate those in and out of poverty about the resources available for those still experiencing hardship.
Group members were busy shuffling around the room, begging for money and transportation passes and wondering how lingering medical bills were going to get paid. And don't forget about writing that rent check at the end of the month.
Some had their personal belongings robbed from their "homes." Others had to pull their children out of school just to help make ends meet.
Some laughed when it began, playing off Routt County's first poverty simulation as a game. Most were straight-faced when it was over, though, with a newfound understanding of just how difficult it can be to live at or below the poverty line, even if it was just a simulation.
For an hour, the 10 or so "families" lived a life teetering on the edge of the national poverty threshold as part of the Routt County Bridges Initiative's poverty simulation — a component of the group's annual framework workshop class.
Participants were given a very limited income and even worse odds of scraping by as they worked through the four 15-minute "weeks" that simulated what it's like to live in poverty for one whole month.
Bridges Out of Poverty community action simulation
The community action poverty simulation, held March 6 in Steamboat Springs, is a hands-on seminar created by the Missouri Association for Community Action. Kits can be bought or provided to community action agencies, such as the Routt County Bridges Initiative, and can be used to educate anyone, from the wealthiest to those deeply impacted by poverty. Participants role play, taking on the personas of different family members who are living in poverty. The families are given extremely limited resources and are expected to live for a designated period of time within those means. Surrounding the families' homes are booths set up as a social services office, a pawnshop, a food bank or a community health clinic. When the simulation concludes, families debrief and then share stories of their experiences, which is a "powerful and empowering" tool, Routt County Bridges Initiative Coordinator Libby Foster said.
Reader poll
Yes, because we have a lot of seasonal employees 21%
Yes, I think most families are barely getting by 60%
No, there are plenty of tools available to keep poverty at bay 15%
No, because we are home to a wealthy resort town 4%
140 total votes.
But as the families experienced a "month" of waiting in food bank lines, applying for reduced health care coverage and scrimping just to get by, they did so without much realization of how different poverty masks itself in Routt County as compared to national poverty levels.
The U.S. Department of Health & Human Services sets the poverty line for a one-person household in the 48 contiguous states at an income of $11,490 per year. That number climbs to $15,510 for two-person households, $19,530 for three-person households and roughly $23,550 for four-person households. For each additional family member, another $4,020 per year is added.
Then there are Routt County's numbers.
"Poverty numbers in Routt County have gone steadily up," said Vickie Clark, director of the Routt County Department of Human Services. "There's a huge gap in people, from the wealthy to those changing diapers, cleaning hotel rooms or counting change for a living."
The self-sufficiency standard for a Routt County family with one adult and one preschooler is an annual income level of $53,560 to just get by or "make ends meet," according to the Colorado Center on Law and Policy.
That number is more than three times the federal threshold.

"When I got here, it didn't take me long to figure out that there are still a lot of hardworking people struggling in Routt County," Clark said.
A life in and out of poverty
If Clark had all of her work goals met at Routt County's DHS office, well, she wouldn't have a job.
DHS strives to provide those living in poverty with the help they need. With Clark at the helm, things such as medical benefits, child support services and temporary financial assistance are available to those struggling in various areas.
But Clark has a grander vision — one that goes beyond getting people back on their feet and focuses on helping individuals thrive without any direct help from DHS.
"We're all pretty good about getting people what they need," Clark said. "We are getting people eligible for Medicaid or food assistance, but it gets discouraging when we keep just giving out assistance. It feels so much better to give them the tools that they need."
She jokes that DHS would be out of business if her vision became a reality, but the growing numbers at or below Routt County's poverty threshold are a much more serious matter.
Clark said that in January 2013, those receiving Medicaid benefits in Routt County surpassed 10 percent, with 2,420 residents of the county's nearly 24,000-person population enrolled in the government program.
When Clark moved from Mesa County to Routt County more than five years ago to direct DHS, she noticed that the common perception of vast wealth in Steamboat and the surrounding area was masking a bigger issue.
"A lot of people who are working in this community are struggling to make ends meet," Clark said. "It became very apparent to me that we do have an issue with poverty in Routt County."
So one of Clark's first lines of business when she moved to Routt County in 2009 was to bring the Bridges Out of Poverty framework training to those who need it.

She said the training was introduced, and community response took traction and has been evolving ever since.
Participants in the training are referred to as "investigators" and are paid and provided extra incentives to be in the classes. The goal is simple: Educate community stakeholders about the program and what it's like for those across the county living in poverty, "so they are more aware of the barriers and challenges," First Impressions of Routt County program coordinator Stephanie Martin said.
Part of the training involves attendance at Routt County Bridges Initiative's Getting Ahead in a Just Gettin' by World course, in which participants run through a series of classes, learn about the resources available, develop a plan and gear up for a future above the poverty threshold.
The Bridges committee, made up of leaders from DHS, LIFT-UP of Routt County and Routt County United Way, have invested heavily in the program, and Martin is optimistic about its future.
"It's pretty exciting that we're having our executive committee putting money forward and being able to slowly get additional funding," Martin said.
The program took a big step forward last fall when the Craig-Scheckman Family Foundation Youth Advocacy Project provided enough money to hire a dedicated Bridges coordinator, Libby Foster.
Foster's job is to stay in close contact with Getting Ahead graduates by meeting with them one on one to examine their personal plans and getting them the assistance they may still need.
Foster, who is just a little more than a month into her new gig, said past and upcoming graduates have been very receptive to the Bridges Initiative program.
"I'm so happy to be in this position," Foster said. "There's a lot of work to be done and questions to be answered. We are all working together with these participants to get folks up and out of poverty."
So with help from the Colorado Community Action Association, Clark and company were able to secure a poverty simulation kit, valued at $3,000.
When Bridges introduced the simulation for the first time to Routt County earlier this month, Foster called it a powerful and empowering experience as she observed those who generally do not struggle wearing the hats of those who do.
And for Clark — who previously participated in a simulation in a different county — acting as a social services receptionist in the simulation opened her eyes to what her staff at DHS encounter on an almost daily basis.
But most of all, the exercise showed her what a growing number of Routt County residents endure, struggling to make ends meet day in and day out.
"Those there were there to get the experience of those living in poverty," Clark said. "You could see it in their faces, the frantic way they said, 'What do you mean you can't do anything for me?'"
Poverty threshold: National vs. Routt County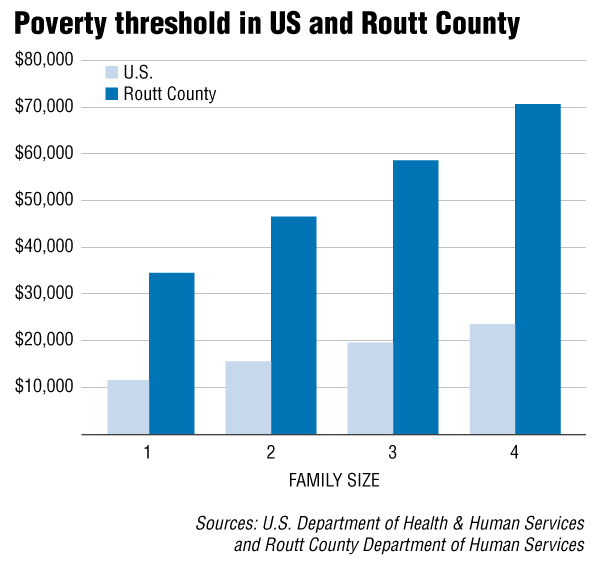 Routt County Bridges Initiative and Getting Ahead in a Just Gettin' by World
The Routt County Bridges Initiative seeks to provide a path for social change and stability. The program, which launched in 2011, provides employers, community organizations, social services agencies and, most of all, individuals the poverty educational tools they need.
The Getting Ahead in a Just Gettin' by World program, an intensive weekslong class that focuses on a number of contributing factors behind poverty, is a popular course within the Bridges Initiative. This April will mark the beginning of the third year of the program. Each class in the 17-session, nine-week-long program will last about 2 1/2 hours, and participants will receive a $20 gift card for each class as compensation for their time. Dinner and child care will be provided at no cost.
The Bridges Initiative is a collaborative effort between LIFT-UP of Routt County, Routt County United Way and the Routt County Department of Human Services, and applications for the Getting Ahead in a Just Gettin' by World class can be found at any of the three agencies. A letter of reference and self-assessment forms should be directed to Libby Foster, Routt County Bridges Initiative coordinator, P.O. Box 772790, Steamboat Springs, CO 80477. Foster also can be reached at 970-870-5228 or efoster@co.routt.co.us.
'Harsh realities'
Routt County Commissioner Steve Ivancie is a man in his mid-50s with above-average influence in the region — someone who is a member of a group that has a leading voice in policymaking countywide.
But now, during the poverty simulation, Ivancie is portraying 9-year-old Whitney Wiscott, who lives with her brother and grandparents. Whitney's father left their home years ago, and her mother's mental issues forced her grandparents to step in.
"Grandpa is on disability pension, and Grandma works full time," Ivancie said. "The scenarios of what life gives you in a day, a week or a month of your life and having to deal with that ... what impressed me is you're always in survival mode. You're living for the now."
It's exactly those scenarios that poverty simulations aim to replicate, Boulder County facilitator Kara Edin said.
Before families are released into the scenario, they are briefed and learn more about the fate they've been handed. Some are given as little as $10 in cash for a family of four, and many start out without any government-regulated benefits, such as Electronic Benefit Transfers (EBT) or food stamps. Most are buried in a deep financial hole, facing eviction notices or households torn apart by drugs and alcohol.
The simulation is broken into four, 15-minute "weeks" representing a month in poverty.
During the first week — or the first 15 minutes — the generally middle-class participants go to the places they are most familiar with, such as banks or potential employers.
By Week 2, lines at social services, the pawn shop or the health care clinic have grown longer.
"Harsh realities," Edin said. "This isn't the sea they swim in."
In the second week, Ivancie's Whitney is truant from school. She waits patiently in line at social services simply because Grandma can't make it.
The Wiscotts don't own a car, so transportation proves to be a huge problem. Also weighing on the Wiscotts is a mountain of bills, which forces the grandparents and grandchildren to decide between groceries for a week or paying the heating bill for a month.
Edin points out that participants often find out quickly — within the first half-hour — that economic classifications go beyond monthly income or valuable assets.
"A lot of things show difference in perception," Edin said. "Class isn't just economics. It's time, food, possessions."
There also are rules that must be followed in the simulation — rules that coincide with everyday life.
Full-time workers must report to their respective jobs — if they have one — for seven minutes, and if they are running three or more minutes behind, they are late. After five minutes of missed work time, they don't get paid.
Adults also must have transportation passes with them at all times. Prowling the room is a volunteer who randomly hands out "Luck of the Draw" cards to unfortunate individuals who suddenly lose their jobs, their kids are sick at school or their house gets broken into. These unplanned incidents are considered "unexpected hands of fate that life can deal you," Edin said.
And at the end of each week, families return "home" to debrief, strategize and simply recover. It's a struggle, Ivancie would say a week later, that many across Routt County can't fully understand until they are thrown into it.
"I think middle-class folks not in poverty don't have the same appreciation for that pressure," Ivancie said. "They take those things for granted — a roof over your head or heat. Those things."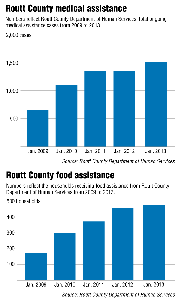 An 'empowering tool'
Poverty can come in two forms. But ask those who participated in Routt County's first poverty simulation, and they will tell you it changes you all the same.
Some are born into hardships, where financial problems trickle down from generation to generation. This form of poverty appropriately is referred to as generational poverty.
Sometimes, poverty can be temporary, resulting from an occurrence that rips a family's home apart, such as the loss of a job or a child snared by alcohol or drug abuse. This is situational poverty, and it usually is sudden.
"Poverty is (about) so much more than just money," said Dr. Regina Lewis, the workshop's guest speaker. "We start thinking it's based off the individual themselves, but in actuality, it's the environment and how to survive within that environment."
It's almost Week 4, and the "Duntleys" actually are proud of their progress.
The family — consisting of CMC counselor Ed Bouchard, Boys & Girls Club of Steamboat Springs' Colleen O'Gorman and DHS' Diana Smalley — is counting its money and transportation passes and deciding what it needs next.
When the month is over, the Duntleys end up with a little more than $1,000 left, but an eviction notice has been left at their residence. Rent wasn't paid on time — again.
A few houses down, Ivancie's family isn't as financially fortunate, despite sticking to its pre-simulation game plan. After one hour of scrambling in poverty, Ivancie said the Wiscotts just barely were getting by.
"We sat down very early and set priorities and had back-up plans," Ivancie said. "But both my sister and I got pulled out of school for not getting supervised by our grandparents, and we ended up in juvenile hall at the end."
Fake money and fictitious problems aside, Ivancie noted the emotional impact poverty thrusts onto the shoulders of those experiencing it first hand — real or not.
The county commissioner found himself breaking from his usual character, being verbally rude to others, even cutting in line, acting like a desperate 9-year-old girl.
"I was surprised that human nature would kick in, and you'd do survival mode," Ivancie said. "You did what you felt was necessary at the time to provide for yourself and your family."
For those actually living it, such as 2012 Getting Ahead graduate Alicia Wille, it takes a certain level of resiliency and drive to break the stronghold of poverty.
Martin said Wille was a living example of what the dozens of participants simulated March 6. As a mother of three children working as a housekeeper with a local resort group, Wille had a dream of making something of her life.
So she attended the Getting Ahead classes, telling staffers like Martin how much she'd like to have a job working with children, in lieu of spending nights and weekends housekeeping.
"By that fall, she was working as an assistant at Heritage Park Preschool and started taking early childhood courses at CMC," Martin said. "We are still in touch with all the graduates."
The Bridges Initiative had 12 students, including Wille, in its inaugural 2012 class. Nine students graduated in 2013, and the next round of students will begin in a little more than a month.
"It's a program to help folks who want help, those ready to make a change," Foster said. "And I think that's a really exciting and powerful thing to be a part of."
To reach Ben Ingersoll, call 970-871-4204, email bingersoll@SteamboatToday.com or follow him on Twitter @BenMIngersoll
Join the Yampa Valley VIP email club