Steamboat Springs — It's not every game that both teams would be left filing off the field content with the outcome, but the dominance the Steamboat Springs High School boys lacrosse team has exercised over most of its mountain league competitors made that a reality Saturday.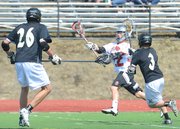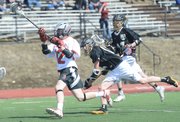 2014 Sailors boys lacrosse schedule
March 8: Steamboat 21, Glenwood Springs 0
March 14: Steamboat 10, Green Mountain 4
March 21: Steamboat 11, Telluride 3
March 22: Steamboat 10, Durango 3
March 27: Steamboat 22, Eagle Valley 0
March 29: Steamboat 15, Battle Mountain 8
March 31: Steamboat 14, Thompson Valley 11
April 4: vs. Steamboat 16, Golden 4
April 5: Steamboat 14, Cheyenne Mountain 13
April 11: Steamboat 10, Grand Junction 1
April 12: at Fruita Monument, 11 a.m.
April 18: Steamboat 15, Windsor 8
April 19: Valor Christian 11, Steamboat 10
May 1: Steamboat 13, Summit 2
May 3: Aspen 16, Steamboat 13
STATE PLAYOFFS
May 6: Steamboat 14, Conifer 4
The Sailors were happy to score a 15-8 victory in their first home game of the season, stretching the lead early and responding with offensive flurries to the Huskies' second-half surges.
Battle Mountain, meanwhile, came away with its first loss of the season but nevertheless a sense of accomplishment as it pushed Steamboat at times and ended the game with one of the closest results in the series' history.
"We've been chasing Steamboat for a long time," Battle Mountain coach Jerry Nichols said. "We legitimately feel like we're gaining on them. We obviously still have a ways to go."
If the Huskies came away with some confidence, Steamboat came away with momentum, and that's exactly what the Sailors were looking for as they head into a 4 p.m. home game Monday against Thompson Valley, which enters the game 5-1 and the No. 4 ranked team in the state.
Steamboat got there by building an 8-2 first-half lead, then scoring enough in the second to keep a safe distance from the resurgent Huskies.
The Sailors were at their best on the fast break, scoring seven times after stuffing Battle Mountain defensively, scooping a ground ball and pushing the pace the other direction.
Ben Wharton ended with five goals and four assists while Peter White and Mitch McCannon had four each. Drew Williamson and Sam Rossman added a goal apiece for Steamboat.
The Sailors got four in the first quarter, including two in the last 70 seconds, then four more in the second quarter.
"Steamboat was executing the fast break perfectly," Nichols said. "It's super hard to defend. We can only defend it by not turning it over in the first place."
The game appeared wrapped up heading into the second half, especially after Williamson, Wharton and White all scored to make it 11-3. And it probably was over, but Battle Mountain played its best in the second half. It never amounted to a serious challenge for the lead, but the Huskies got the final two goals of the third quarter then Wyatt Dilling scored to open the fourth, making the score 11-6.
"They came out hard in the second half, and we realized we needed to come out harder, to match their intensity and surpass it," McCannon said. "It caught us a little off guard, but we stuck together as a team and got through it. ... Our team play is just great right now."
Steamboat got the next two scores and four of the final six to keep things from becoming more interesting.
Clayton Davis finished with three goals to lead the Huskies. Mike Lange had two and Crane McGuckin and Dilling each had one.
The Sailors improved to 6-0 with the win while Battle Mountain dropped to 4-1.
"We responded very well, had quick goals and the guys never got their heads down," Steamboat coach Jay Lattimore said. "Our energy level was great. The way the guys played together was unmatched from what we've had all season long.
"It was great to get some momentum. Thompson Valley is going to be a huge game for us Monday," he said.