Photo Gallery
The Priceless Years: Child care in Routt County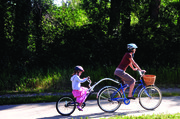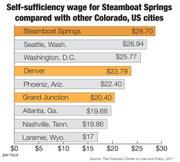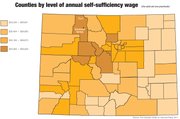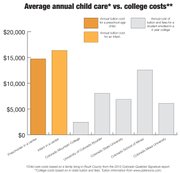 Steamboat Springs — National magazines in recent years have touted Steamboat Springs as a great place for dogs, outdoor enthusiasts and music lovers.
But there's one ranking that continues to overshadow this city's flurry of accolades.
For another year in a row, Steamboat Springs and Routt County top the list of the least affordable places in Colorado to raise a young child.
A recent report found that parents here in Routt pay an average of $14,711 for a preschool-age child in a center.
A couple making Routt's median income of $87,635 would be spending 17 percent of that income on the child care, according to the report.
In more affordable counties, child care accounts for as little as 5 percent of the median income.
Because of this, Routt was named the least affordable county in the state for center-based, preschool-age care.
Behind these numbers are families who sacrifice a lot to afford child care.
Some parents have quit their jobs because it was the only way they could afford to take care of their children.
There's also an unknown number of families who have avoided Routt County entirely because of the high cost to raise a family.
"This is obviously a very eye-opening report," Routt County Commissioner Tim Corrigan said. "Having said that, I don't find it at all surprising. We've known through First Impressions and my involvement with early childhood education that yep, it's very expensive for young families to live in Routt County."
With Routt County again earning a troubling ranking in child care affordability, there is some new movement on the part of county officials and business leaders here to address the issue.
In a recent strategic planning process, Routt County identified its lack of affordable child care and early learning programs as one of the seven top priorities the county should address.
On Thursday, a new working group that includes Corrigan and leaders of human service organizations met for the first time to start talking about some possible action items that could be taken to address the problem.
"I don't see a reduction in the cost of providing high-quality early childhood education," Corrigan said. "I think that cost is going to continue to rise. There's kind of two ways to address that. One is to find a way to help improve the economy so that families have higher income to address that cost. On the other side of that, what more can we do to provide additional resources to those (early childhood education) programs as a community?"
Tami Havener, the executive director of the Family Development Center in Steamboat, said it's the families in the middle of the income bracket that need the most help.
"Families with very high income don't have a problem paying those costs. Families with very low income do get subsidy or some assistance," Havener said. "It's families in the middle. They're the ones who really still need help. They're not low enough on the income scale to be able to access any of that."
Havener is one of the people involved in the new working group with the county.
She is hopeful the new working group can come up with solutions.
"I hope we find a way so that all of our families with infants and toddlers and preschoolers who want to participate in some sort of parent education program or a quality early learning setting would be able to do so without being concerned about what their household income is," Havener said.
A look at the most affordable counties in Colorado to raise a child puts Routt's high numbers in perspective.
In San Juan County, rated the most affordable in the state, the average annual cost of having a preschool-age child in a center is $4,157.
Clear Creek County heads up the middle of the pack of most affordable counties.
Parents there pay an average of $9,076 to have a preschool-age child in a center.
But with a median income of $106,473 in Clear Creek, that amounts to about 9 percent of a couple's income, nearly half the percentage of what it is here in Routt.
The costs and incomes were calculated in a collaborative report from The Women's Foundation of Colorado, Qualistar Colorado and the Colorado Children's Campaign.
Havener stressed that the costs mentioned in the report are what parents pay, not the higher cost of what it takes for centers to provide the programming.
Corrigan and Havener said much of the higher cost of child care in Routt County can be attributed to the high quality of the programs.
Higher-quality programming means highly qualified teachers and higher salaries.
"We typically find that we also have a better teacher-to-child ratio than what is required by licensing," Havener said. "While it costs more, parents are also really blessed in that they know the quality of education their child is getting is really well done."
Routt County's ranking in the report has ramifications beyond just parents and child care centers.
The business community also has taken notice of the problem.
The Steamboat Springs Chamber Resort Association has been asked by its board of directors to look into the issue of child care and get statistics on waiting times, the inventory of care and the real cost.
"If one of our objectives n the community is to keep young professionals here, the child care issue is going to have to be addressed," Chamber CEO Tom Kern said.
Kern has experienced the issue firsthand, losing a valuable employee at his office because she had a second child and the cost of child care equaled what her pay would be.
"It's one of the goals in our program of work to look at this issue and take an inventory of the situation and see if there is something that can be done to move that dial," Kern said.
To reach Scott Franz, call 970-871-4210, email scottfranz@SteamboatToday.com or follow him on Twitter @ScottFranz10
Child Care Affordability report