Steamboat Springs — With thoughts of yesterday's memories and the hopes and dreams for the future on the minds of each graduating senior, it's hard to focus on the present.
But at Saturday's Steamboat Springs High School graduation ceremony, senior Malia Fraioli delivered a speech that resonated with the close-knit Class of 2014.
Photo Gallery
Steamboat Springs High School 2014 graduation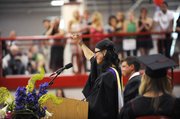 "There is magic in this moment," Fraioli said. "Don't get too caught up in the race. It's time now to enjoy the moments you have with those around you and marvel in the potential we all have."
The Class of 2014 has garnered a long list of achievements. This year's class of more than 150 students was awarded 173 local scholarships with a total of $180,075 and more than $2 million in merit scholarships.
For their first year of college, students were awarded $637,574, which is $200,000 more than last year. In addition, 90 percent of the class will attended college in 2014-15 with 17 students competing in college athletics and three that will join the military with one that will attend the United States Military Academy at West Point.
At a time when students must face adulthood and leave behind a life they were accustomed to, faculty and staff constantly reminded students to always pursuing their dreams, even if those seem unreachable.
Students realized their full potential, and each of the speakers at the ceremony recognized that this class exemplified the ability to accomplish anything they set their mind to.
Meg O'Connell, infatuated with the Harry Potter series, was more inspired by the magic she saw in her fellow peers than any fictional character.
"I've watched this class pull together as a family," she said. "I've seen peers cross the finish line even if it seemed they had nothing left to go further. This class is more incredible than any witch or wizard."
The two teachers chosen by students to give the honorary presentation were Larry Gravelle and Deirdre Boyd. Their advice to the class was to embrace hardships and learn from whatever curve ball life may throw.
"You must accept the responsibility to stand up even when it's easier to sit down," they said.
As students will go on to be doctors, writers, singers, dancers, teachers, biologists and more, they will always share the memories made throughout the halls of their youth and the town they always will call home.
Five students gathered to perform the song "Laughter Lines" written by Bastille to leave the students with a lasting promise.
"I'll see you in the future when we're older and we are full of stories to be told," sang Lena Barker, with a smile on her face and a richness in her voice. "Cross my heart and hope to die, I'll see you with your laughter lines."
Cindy Gay gave the students a final piece of advice with the turning of the tassels.
"Go get a life," she said as the students leapt up to throw their mortars.
To reach Audrey Dwyer, call 970-871-4229, email adwyer@SteamboatToday.com or follow her on Twitter @Audrey_Dwyer1