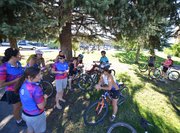 If you go
What: Ski & Bike Kare's Women's Mountain Bike Clinic
When: Tuesdays; meet at 5:45 p.m., and be on the bikes by 6 p.m.
Where: On the lawn across the street from Ski & Bike Kare downtown
What to bring: An equipped mountain bike, water, sunscreen, helmet, sunglasses and a good attitude
Biking tips from Abi Slingsby
1. It's not you, it's your equipment. Sometimes people have ill fitting equipment and it can affect their ride. You don't have to go out and get on a carbon fiber but you need a bike that fits you. Get yourself equipment that will make the experience more enjoyable.
2. Always look where you are going and look ahead to anticipate anything that may be thrown at you.
3. Keep peddling. Just when I think I'm gonna fall of from a technical climb or some rocky edge, I know that if I can just get one more pedal stroke in I can get up and over it.
Steamboat Springs — There is something about overcoming mental obstacles and realizing the strength of your own body that presents such an immense feeling of accomplishment, you can't help but let out a loud whooop!
Coming from Iowa, I only heard about mountain biking from my adventurous guy friends who couldn't seem to stop talking about the rush of adrenaline that comes with flying down a path, around berms and over gnarly drop offs.
It sounded more terrifying than fun. However, once I moved to Steamboat, I told myself to get over my fears and just do it. It took a friend lending his bike to give me a little extra push.
I think a majority of the time, women are a bit apprehensive to get on a mountain bike because it is a seemingly male-dominated sport. Well, the women's bike clinic hosted by Ski & Bike Kare proves those assumptions wrong. 
The clinic meets at 5:45 p.m. Tuesdays evening during the summer and often attracts more than 50 women ranging from young to old, gathered to learn essential skills for mountain biking. Depending on the week, there will either be a trail ride or a skills session.
The women are split into groups based on their skill level and each group is overseen by an instructor. Five female instructors who, in my mind are exceptional athletes that certainly look the part, volunteer their time and energy to teach these clinics. 
Abigail Slingsby has helped run the women's clinic for about eight years now and helped the program get off the ground and running. 
"Our goal was to get girls out to go and ride," said Slingsby, who has been riding for about 12 years. "This is a huge athletic town and it's competitive. Everyone else is so far ahead with this sport and we wanted to bring it down to the basics and get women comfortable on the mountain and their bikes." 
Leaving their egos at the door, each week women gather to forget about their insecurities or inabilities to just go ride and have fun. 
Diving in
Going to the clinic by myself, I really didn't know what to expect. The only certain thing was that I had no idea what I was doing. 
Turns out, that was OK. I wasn't the only one. 
As a female, riding with guys is incredibly intimidating. More often than not, they tend to have a just send-it-down-a-hill-without-thinking-twice mentality. Women, however, like to have a bit more finesse with our ride resulting in perhaps a more timid outlook.
"Boys can just bully it," Slingsby said. "We have to learn how to read the trail because sometimes we don't have the same strength that they have."
This upcoming Tuesday, we will be learning cornering techniques. So far, I've learned how to pop a wheelie (kind of) to get over rocks or other technical obstacles on the trail, and I've also mastered the track stand — basically standing on your pedals and using as much core strength as possible.
I've also learned how to get around berms, slowly but surely. 
For those hardcore mountain bikers here in Steamboat, this all may seem somewhat trivial. However, for us newbies to mountain biking, it is exciting stuff.
Once I stopped worrying about the technical aspects of the trail and truly started to just enjoy what I was doing, I was hooked. 
Keep pedaling
Every day I wake up with that itch to get out on the bike trail and give it another go because I know that each time it gets better and better. Outside of the clinic, I've tried to ride at least two or three times per week. A few of my favorite trails so far are MGM and Molly's on Emerald, the Ditch Loop on Spring Creek, and the Mad Creek trail. 
Sure, some days can be frustrating, but overcoming those challenges is where I have learned the most about my own skill to push through personal limitations. I fell a few times and have the bruises and scars as evidence. But with each fall, I wanted to learn from whatever mistake I made. It's a frustrating yet immensely rewarding sport. 
"When I'm frustrated, I have to remember where I am and what I'm doing to get over myself and know that it's OK," Slingsby said. "I have to recognize that I'm outside in the sunshine surrounded by beautiful terrain and just take a breather then keep riding." 
So far, I've learned a lot more about myself than I thought I would. I've discovered that I really can overcome more if I just let go and trust my ability.
I've found a a sport that clears my thinking and heightens my ability to focus on the moment at hand. Riding helps me let go of a stressful day and enjoy the ride against the backdrop of the stunning valley. Remaining relaxed always has been a difficult endeavor for me, but on the bike, relaxation comes with ease and there is a new sense of control and confidence that takes over. 
"The clinics help build rapport among women and gives them the confidence to go ride," Slingsby said. "It brings women together of all levels and ages to offer a supportive environment for women to go out and ride together."
By no means am I an expert mountain biker. I did just start about a month ago, after all, but the veil of mystery about this sport has been lifted. Now I know what those guys back in Iowa were talking about.
Getting to ride in the mountains of Steamboat Springs compared to the flatlands of Iowa, I think I got the better deal.
To reach Audrey Dwyer, call 970-871-4229, email adwyer@SteamboatToday.com or follow her on Twitter @Audrey_Dwyer1