Joel Reichenberger
Steamboat Pilot & Today sports reporter and photographer Joel Reichenberger can be reached at 871-4253 or jreichenberger@SteamboatToday.com.
Find more columns by Joel here.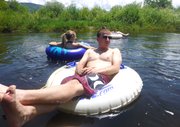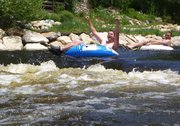 Tubing tips
In and out
The city advises private tubers put in at Fetcher Pond, at Pine Grove Road on the upriver side, and points out that illegally parked cars are prone to getting parking tickets. It suggests ending the trip by the Steamboat Springs Community Center, where there's ample parking, instead of at the James Brown Soul Center of the Universe Bridge, where commercial tubers get out, again thanks to a lack of parking in that area.
10 yard fight
Tubers don't ruin fishing, at least according to Steamboat Flyfisher owner Johnny Spillane. He said the fish will scatter, but then get back to their spots once the tubers float by. About 30 feet, 10 yards, is adequate clearance for most fishermen, he said, though he said he likes to send clients out early on summer mornings, before tubing heats up.
Don't bring it
Even if alcohol laws don't phase you — and consider, a ticket might — it's the chances of even the best-intentioned tubers flipping in the rapids and losing what they have, be it beer cans, sunglasses or flip-flops, that encourage authorities to insist people leave gear at home.
Get at it
Steamboat summers are notorious for their sudden afternoon thunderstorms. Be prepared, because you're close to helpless on the river in a tube if a storm springs up. Check the weather before you go, and keep an eye on the sky during the voyage. The earlier you go, the less chance that storm will catch you off guard.
Leave it to the pros
Pete Van De Carr admits he's somewhat biased in suggesting people should use a commercial tube operation, but he did highlight the advantages. You don't have to drive back and forth through busy summer traffic shuttling cars and tubers, or take up a sweet downtown parking spot. Plus, those without tubes won't spend money on something that's extremely likely to rot in the deep recesses of the garage.
Steamboat Springs — There's something about the Yampa River that I've always loved. When I get out on the river, no matter my choice of watercraft, my heart gets a jolt. Still, tubing has long been one of those things that, in my eyes, wasn't quite all it was cracked up to be.
Fun? Sure, in the past I've had fun on my various trips down the river, but it's always been "that was nice" fun, and never "that was awesome!" fun.
Some of that's my own doing, of course. The first time I ever went, we set out in the afternoon. We spent an hour getting ready — changing clothes, moving cars, applying sunscreen, airing up tubes — and the moment we finally pushed off from shore, clouds swept in and a cold afternoon rain began to fall.
It was a shivery float, to be sure.
Indeed, good tubing — for you, those around you or the river — doesn't just happen. It may take a whiteboard to figure out, but the payoff can be worth it, and July 4, it worked out to be my best day tubing in Steamboat.
A top priority
I've long tried to sell the virtues of Steamboat Springs on the Fourth of July to friends and family, but only this year did I get a bite. My brother Eric and his girlfriend Megan made the trip from Kansas, and near the top of their list — right behind Sunset Happy Hour at the top of the gondola — was tubing.
No problem by me, as neither I nor my fiance, Jacki, used our tubes last summer. We were due for a float, and we recruited a few friends to come along, Scott and Nicole.
After grabbing the tubes from our west Steamboat storage unit — an unfortunate trip to have to make in the midst of the downtown parade — I stashed my car in the Depot Art Center downtown, then caught a ride back to my mountain-area condo that served as the day's staging area.
From there, it was a short ride to Sports Authority to borrow their air compressor. (There were so many others on the same quest, the store ran an air line outside and wasn't asking for its usual small charge.) Then we walked along Mount Werner Circle and put in at Rotary Park.
Party on, party off
Starting early in the trip, an almost spring break atmosphere reigned. The large group of local teenagers and 20-somethings (ugh, I'm getting old) who put in just ahead of us did plenty to evoke that feeling.
Some of their moves proved themselves experienced, savvy locals: use the ropes on some tubes to link together and create one massive watercraft from the many smaller ones.
Some were probably not great ideas, but dropped my jaw, nonetheless: at least early in their trip, they blasted tunes from a cellphone through a speaker. That didn't last long and I can't say whether the plan failed because of dead batteries, a bad cellphone connection issues or the poor choice of a non-waterproof speaker.
Still more things proved to be the actions that anyone charged with overseeing tubing or cleaning the river rant against. The group hit the water with air mattresses in the place of several tubes and at least a few glass beer bottles.
"Your mattress will wind up being trashed and I have to clean it up three times a year," said Pete Van De Carr, who runs one of the town's major commercial tubing operations out of Backdoor Sports in downtown Steamboat Springs.
Sure enough, the mattress didn't make it to the end, ripped on a large rock before the downtown stretch.
Van De Carr said his shop turns away business every day from potential tubers who show up with beer.
For the record, alcohol is not allowed on the river. Craig Robinson, with the Parks, Open Space and Recreational Services Department in Steamboat Springs, said police are writing tickets for illegal parking in high-traffic tubing areas (think Mount Werner Road, where the small parking lot tends to fill quickly), and for alcohol in the parking lot.
The concern for many isn't exactly whether someone should have a beer, but what happens when that beer almost inevitably ends up in the river.
It's not even often a purposeful act of littering, but the result of a flipped-over tube.
"People are losing items when they're tubing and that is trash in the river," Robinson said. "That is going against the Respect the Yampa campaign. To really respect the Yampa, try not to pollute it."
Whether it's beer cans or flip-flops, intentional or an accident, it's trash. His most obvious solution is not to bring something that can be lost. That means sandals with straps on the back instead of flip-flops, or at very least, a water-tight bag that can be securely tied to a tube.
"This is an extremely valuable resource," Van De Carr said. "We will do anything we can to do keep from impacting it."
Burnt out
We didn't pollute the river, thanks to some luck and some planning. Our lack of beer wasn't as much a wise, rule-conscious decision as it was an oversight on a busy morning, but it worked out. There was beer (and/or hurricanes) at Sunpies, and that proved good enough.
Not equipped with appropriate sandals, Eric and Megan tied their flip-flops together with rope, then tied them to their tubes.
We went through Charlie's Hole in downtown Steamboat, then paddled to shore and called it a day, five of the six of us managing the trip without even flipping. (Sorry, Scott.)
A wind storm came up in the afternoon, but long after we were back home, firing up the grill.
We stopped short of drawing out our plans on paper, but every second of forethought we put into the trip before we left proved valuable. The only problem, as it turned out, definitely was self inflicted. I doused myself in 30 SPF spray-on sunscreen from Banana Boat. It didn't work even a little bit, and by the end of the trip, I was roasted.
It was a small price to pay for a good day on the river.