Steamboat Springs — Much like the first time I snowboarded in Steamboat, my first mountain bike experience in the Yampa Valley went quickly from "OK, this isn't so bad," to "Oh no, that sign clearly said expert, and I'm a rookie."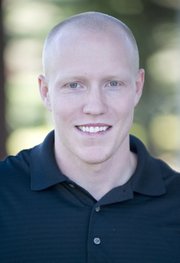 Photo Gallery
Adventure of the Week: Mountain biking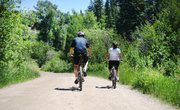 How to get there
Spring Creek Trail
■ Take Third Street to Maple Street toward the high school. Continue on Maple until it intersects with Amethyst. Trailhead parking is straight ahead.
Mad Creek Trail
■ On the west side of Steamboat, take Elk River Road north toward Clark about 6 miles. Look for signs for Mad Creek Trail and Red Dirt Trail. Parking is on the right.
Emerald Mountain Trail System
■ From Lincoln Avenue, take Fifth Street toward Howelsen Hill and the rodeo grounds. Cross the bridge over the Yampa River and take a right on Howelsen Parkway. Turn left at the stop sign where the tennis courts are.
Rental rates from 3 local shops
Orange Peel Bicycle Service
■ Hardtails: $17 for two hours, $28 for a half day, $35 for full day, $25 per day consecutive days, $145 weekly
Also offers full list of premium demo models
Ski & Bike Kare downtown
■ Kids bikes and trailers: $6 per hour, $13 for three hours, $16 daily, $13 per day three-plus days
■ Hardtail: $11 per hour, $22 per hour three-plus hours, $28 daily, $22 per day three-plus days
■ Full suspension: $39 per hour three-plus hours, $52 daily, $42 per day three-plus days
■ Downhill with helmet and pads: $65 per hour three-plus hours, $79 daily, $65 per day three-plus days
Ski Haus
■ Junior bikes: $6 per hour, $12 per hour three-plus hours, $18 daily, $12 per day three-plus days
■ Hardtail: $12 per hour, $24 per hour three-plus hours, $30 daily, $24 per day three-plus days
■ Full suspension: $49 per hour three-plus hours, $64 daily, $49 per day three-plus days
It's a blessing and a curse, really. On one hand, those of us who live here, and those who pin down Steamboat as their go-to vacation spot, the trails are endless, varying and plentiful. On the other hand, a few wrong turns, and you can be quickly humbled.
But that's the beauty in the hundreds of miles of trails stabbing through Routt County — every day on a bike, board or skis can go from a routine ride to a treasure hunt of epic or daunting proportions.
Steamboat Springs is rife with easily accessible trails for the everyday rider as well as the Ironman in training. It's also a hub of some of the best scenery available in Colorado, from thick greenery to sprawling views for hundreds of miles to gushing waterfalls from this year's heavy snow runoff.
The best news of all? Of the roughly 12,000 visitors pouring into Steamboat this holiday weekend, and the 12,000 permanent residents, there are beginner and lower-level intermediate trails stretched all across city limits that give us those big views, peaceful waterfalls and lush greenery.
Each week for at least this summer, we want to highlight an Adventure of the Week, giving visitors and residents alike the tools to get out and soak up Routt County's recreation. But we also want it to be plausible, an activity mom and dad can do just as readily as younger brother and sister.
This week, I culled input from some area mountain bike experts about the three most popular beginner-to-intermediate trails and loops that are family friendly and adventurous — day rides along Spring Creek, Mad Creek or Emerald Mountain that can vary from an hour-long coast to a day-long ride in, picnic, and ride out.
The easiest
Orange Peel Bicycle Service Sales Manager Ross Kirby described Spring Creek Trail as a glorified dirt sidewalk.
But this isn't a bad thing — far from it.
As perhaps the most family friendly trail with a wide, dirt path and several areas to stop and enjoy the whoosh sound of the paralleling creek, Spring Creek Trail features a very gradual climb that is well suited for dog walkers and mountain bikers alike.
"We send a lot of people in that direction for those who want to get out and explore a little bit," Kirby said. "The whole trail is pretty mellow."
The main trailhead opens where Maple Street meets Amethyst Drive, behind Steamboat Springs High School. Roundtrip, the trail can take riders as long as 10 miles in and out with as much as 1,400 feet of vertical climbing, or as little as a 1-mile loop with both options providing captive scenery along the open route.
Packing a lunch? Be sure to stop by the pond where Spring Creek Trail branches off onto the Lake Loop Trail, dip your feet in the cool water and enjoy a bite to eat at the covered picnic area.
But be aware, as one of the town's easiest trails also comes traffic, which can be quite busy in the early evening, when work lets out. Or on a holiday weekend like the Fourth of July.
"The in-town Spring Creek Trails at the back of the high school is always an A-plus route for people I send to looking for cool weather when it's really hot in the summer," Orange Peel Founder Brock Webster said.
Eh, that wasn't as bad as it looked at first
Mad Creek Trail's first couple 100 yards can be enough to scare away any novice rider, like myself.
The trail is fairly sloped and rutted in spots that can be a little rickety on the cheaper hardtail models like my bike.
But make it through the initial rough stretch, and Mad Creek is as moderate a ride as you'll find in and around Steamboat Springs.
"Mad Creek isn't bad at all," Kirby said. "It's a middle ground between Spring Creek and Emerald. The first 300 yards is steep, then after that it's pretty mellow."
There are other options, too, with Mad Creek other than the standard route. Just before the trailhead along Elk River Road about 6 miles north of town, is access to the Hot Springs Trail, which leads to Strawberry Park Hot Springs. There also is access back to the Hot Springs Trail after traveling up Mad Creek a ways, offering the opportunity of making it a half-day trek with a soak in the loop.
Emerald's variety
The beauty of Emerald Mountain is threefold.
For starters, the accessibility couldn't be much better, with downtown a stone's throw away. Emerald also is an adventure, with more than two dozen marked trails along roughly 24 miles of non-motorized trails that range from beginner to expert.
And I'd be remiss not to mention that for those looking for a fair route to the best 360-degree views of the Yampa Valley and beyond, Emerald is the way to go via mountain bike.
"If they're aerobically talented, I say let's go Emerald," Webster said. "You can navigate really easily. You can't get lost. There's good flow back to different points in town, good signage and good views from the Quarry."
The Quarry is the premier destination as far as views go, but there are a number of ways to approach it.
Kirby's suggestion is approach the trail system from behind the rodeo grounds, make the steady 2.3-mile climb through Bluffs Loop and cut through Howelsen Meadows toward Ricky's Ridge.
From there, tackle Lupine as much as you can, but beware, after about a third of the way up, things get technical and challenging. An option is cutting off onto Blackmer Drive, a dirt road that directly connects to the Quarry.
For the most mesmerizing ride down, use Blair Witch toward MGM. Take MGM to Molly's and keep left at all trail divides, which will spill you out in the Fairview neighborhood.
"Molly's is so twisty, windy and flowy," Kirby said. "You can go any speed you want, you can go 100 mph and you can go 2 mph and it's still fun."
To reach Ben Ingersoll, call 970-871-4204, email bingersoll@SteamboatToday.com or follow him on Twitter @BenMIngersoll
Adventure of the Week: Mountain biking in Steamboat