Steamboat Springs — It's Day 1 of Outdoors 168 at Colorado Mountain College's Alpine Campus in Steamboat Springs, and inside Room 213 of the campus' newest building, 12 students and one professor begin introducing themselves, one by one.
It's a typical first-day procedure for a not-so-typical college course.
Around the semicircle they go, students stating their names and explaining what motivated them to sign up for Avalanche Awareness and Safety Level I. Only half of the students have the chance to introduce themselves before CMC instructor Cody Perry gets serious.
Really serious.
"I just want to be safer when I do get alone out in the backcountry," the sixth student says. "I've fallen into a couple tree wells up there. I just think this is a necessary class if you want to live in Colorado."
Perry — the type of college professor who uses phrases like "bro," "Muppet fluff" and "super jelly" — points at the student and pauses.
Students laugh, but Perry doesn't.
"I'm not kidding," Perry says sternly. "This is the most dangerous snowpack in the world."
And just like that, the dozen students shape up, as if they suddenly realize exactly why they are taking the course. The students hail from all over — California, Ohio, Boston, Indiana, even Spain.
They all have one thing in common: They want to ski and ride lines in Colorado's vast and often untouched backcountry, and they want to do so as safely as possible.
Outdoors 168 requires just two 1 1/2-hour classroom sessions followed by a weekend of hands-on learning in the backcountry. Most of the students have minimal experience when it comes to avalanche and backcountry safety, but in just one week with Perry, the teacher says, the students will learn the ultimate goal of "how to make decisions" when out there.
"We should have a little bit more in our toolkit and understanding to get up this mountain safely with our people," Perry said. "Get them up safely and down safely, and understand the decision frameworks that we need to be consulting with to do this stuff."
The class is designed to give students a crash course for the first few days on how to understand snowfall and its impact on those who crave its recreational opportunities. The final days are dedicated to applying their newly earned knowledge in the field.
Perry doesn't expect his students to become experts in five days, but he does encourage them to think beyond simply skiing a run in Colorado's backcountry.
How do you plan such a trip, and what are the necessary items to have in that toolkit?
What are the weather patterns leading up to that day on the mountain, and how does that factor into trip planning?
After all, that fluffy white stuff in the Rockies that draws skiers and riders so strongly just happens to be the most dangerous found anywhere, no matter the season or day.
Changing technology
The danger in Colorado's snowpack goes beyond when and how many inches of snow fall each year.
Sure, an avalanche won't pin victims without the right combination of elements and something to trigger it. But the methods by which backcountry enthusiasts are accessing those areas have never been more advanced.
And the advancements aren't slowing down, Perry says. As methods for accessing the mountains increase, skiers and riders are inspired to explore more untracked terrain. Word spreads, and they crave it.
"The mountains, we're called to them," Perry says.
"We find this need to go up there and hike and, really, we start to wonder, 'What's beyond the simple reasons of just skiing?'" Perry said. "Clearly, we're going up there for that, but what's beyond that?"
Advanced Alpine touring setups make it possible for skiers to hike up and ski down from almost anywhere. For snowboarders, split boards — a snowboard that can be split vertically into skis for climbing — are advancing snowboard touring, ensuring skiers aren't the only ones getting first tracks on untouched powder.
Snowmobilers — who top avalanche-related fatality charts — are operating machines that are as big, powerful and versatile as ever.
"One of the reasons Colorado is Colorado is we want to go out there," Perry said. "We want to live out in the outdoors. Over time, lots of folks want to do that. We're just starting to see the access really increase."
It's the thrills that backcountry adventurers crave, though that often gets them in trouble, he says.
"If we're looking to do this just for a powder run, that's dangerous," Perry said. "That ain't the way to do this stuff."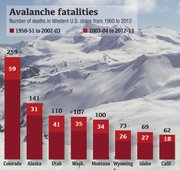 In the winters between the 1950-51 and 2012-13 seasons, Colorado led the United States with the most avalanche-related deaths, 259 in all. Second-place Alaska reported 141, and Utah was the site of 110.
During that same timeframe, 225 snowmobilers died in the U.S. Ski tours were second with 190 deaths, and climbers were third with 173.
Snowboard tours reportedly claimed 46 lives during that span, but 26 of those occurred in the nine years between the 2002-03 and 2011-12 seasons.
This much is clear: Technology is dramatically impacting backcountry access. But as the way we approach the snow continues to evolve, one thing remains constant, and that's the snow that is ridden on — an often dangerous variable.
"We're starting to really open the door to what's out there," Perry said. "What never changes is the terrain. Going up to the terrain, no matter how you're getting up, (terrain) is a common denominator."

Generating a plan
Perry's voice races when he starts talking about snow and Colorado's mountains.
The CMC teacher often draws parallels between snow patterns and human nature. Snow isn't just some element that comes in abundant layers each winter, he says.
It behaves like an animal or human being, breathing when the sun hits it, roaring when something triggers it to fracture and slide.
But Perry's voice slows when he talks about the objectives of his college course. When backcountry travelers step foot on the mountain, they should never do so without a thorough and deliberate plan.
"Our tour plans should reflect and recognize these dangers, and they should plan a route that minimizes space between you and those potential risks," Perry said. "It's like, 'Look at these problems and where they exist.' That's what we should be thinking about."
Perry stressed planning time and time again to his students during their three hours in the classroom before heading to the field for training near Rabbit Ears Pass.

Using the Colorado Avalanche Information Center website, Perry and guest instructor Mike Arnold run the class through the different phases of how to prep the day before a backcountry trip.
Arnold is the second-youngest International Federation of Mountain Guides Association-certified guide in the program's history.
The two instructors scan the Steamboat and Flat Tops zone for the basic forecast and snow conditions. The weekend avalanche danger for the zone is listed at "considerable."
A snowstorm three days earlier brought strong northwest winds with varying snowfall accumulations. The wind pushed the fresh snow away from the northwest face, creating a wind slab on the other side near where the class planned to ski, ride and study during the weekend.
Vocabulary
Persistent slab: A weak layer that forms on top of the season's first snow. A common problem in this area because of sharp changes in weather. Even when weak layers form on top, it can trigger a slide.
Surface hoar: A layer of snow exposed to the sun and/or heat. When it's exposed and melts, it forms a crust when temperatures drop below freezing, typically at night. A new load of snow on top can be a recipe for an avalanche.
Storm slab: The most recent layer of snow built up. Builds up on old surface, sometimes a persistent slab, and can also be a recipe for an avalanche.
Wind slab: Wind hits a slope and blows snow on top of the other side of the mountain. Wind-driven snow forms a slab of fresh snow, even when there isn't snow from a new storm.
Slab avalanche: General term for when a slab gives way, usually when a new dumping of snow covers a rotten, persistent slab. "If you're looking for a killer, the one we are most concerned about, that's your guy," CMC teacher Cody Perry says.
The wind slab is the first problem, and the persistent slab, covered by wind-driven snow, is the second.
"There's a lurking persistent slab, which is a more dangerous problem," Perry told the class. "It's buried surface hoar and crust" from late October and early November.
Then there's the issue of a storm slab, a blanket of fresh snow accumulating on the persistent slab and surface hoar. Given the field day's expected sunny conditions, the class isn't as concerned with this, though.
If the wind and storm slabs are the guns, the persistent slab and existing surface hoar are the triggers. When the sun hits fresh snow for a period of time, that snow melts. When temperatures plummet at night, furry crystals — surface hoar — form, creating an unstable layer for new powder to rest on.
"Surface hoar acts like dominoes," Arnold said. "In Colorado, we get these spurts of good weather, which is great, but not great for our snowpack."
Consistency in planning is key. Anything with a high rate of change, Perry says, becomes a red flag.
But Arnold explains that even if a fresh batch of snow rolls through, there are clues to determining its avalanche possibilities, even before visiting the CAIC website.
"What we're looking for in Colorado is when the storm comes through, for it to start off warm," Arnold said. "When you feel it warm out and it's dumping, that's a good sign. We will get decent bondage on the old surface."
Arnold hands out a travel plan worksheet the day before the trip to the backcountry. Students jot down snowpack conditions near, below and above the tree line, as well as the likelihood a persistent slab will trigger.
Perry says he takes particular note of the wind slab conditions.
Unlike a maritime snowpack along the West Coast and Alaska, avalanche risk in Colorado is quick to rise and very slow to decrease, Arnold said. Colorado powder contains only about 4 to 7 percent moisture, and frequent bluebird days can make conditions alarming.
"Colorado is the scariest snowpack in the world," Arnold said. "I've skied on three continents now, and there is nothing out there like Colorado. It freaks me out. Every day guiding, I'm on full alert."
Surviving the slide
As traffic whizzes by along U.S. Highway 40, the dozen students, Perry and Arnold have their ears perked for a specific sound.
Through the periodic roar of passing engines, the group is listening for the "beep, beep, beep" of their alerted beacons.
Companion rescue
A step-by-step approach
STOP. Is it safe and are you safe? Is there another avalanche?
TAKE CONTROL. Who's around you? Head count? Who's missing?
CALL for help with a cellphone or radio. Initiate emergency 911 response.
CALL for beacons to be on "search" mode. Where do you search? Where were they last seen?
INITIATE search. What are the visual clues? Look for escape routes.
SHOUT clues and signals. Call out beacon distance signals. Follow signal in.
BEACON reads 10 meters, be slow and precise. Beacon should be right on snow surface.
BEACON reads 3 meters, begin probing the likely burial area. Mark area.
DIG using shovel. Go at an angle and scoop quickly.
Circled up at the Fox Curve trailhead, the class checks to see if their beacons can search as well as be searched for. Then it's time for last-minute checks.
"Do we know where we are?" Arnold asks.
"Are there any weather changes forcing changes in our plans?" Perry follows up.
All is clear, and they're off, hiking about a half mile along Fox Curve to set up shop for a day's worth of companion rescue drills during simulated avalanche catastrophes.

The experts — Perry and Arnold — start first.
As the group of students waits at the trail, Perry and Arnold hike about 40 yards up the hill. A duffle bag containing a beacon is buried at the bottom.
"Avalanche, avalanche!" Arnold calls out. "We're missing Johnny. Call 911, Cody!"
It's the first step in a series of measures during a companion rescue. Should an avalanche occur down the slope and a group is safe, one person takes control while the other initiates emergency response and assists.
Perry and Arnold spread out roughly 15 feet apart and descend the slope where the fracture occurred and where their missing party was last seen. Each pulls out his beacon and flips it to "search" mode — a sign indicating something serious has occurred.
Following the search arrow on the beacon screen, Perry and Arnold call out distance readings between their monitor and the missing party. At 15 meters, Arnold calls for Perry to pull out his probe, and with a few flicks, the metal pole is assembled and ready to stab the snowpack.
Inside 10 meters, the instructors' knuckles scratch the snow surface with beacons in hand, still calling out numbers, an essential technique during companion rescue. At 3 meters, Perry is stabbing the crusted snow in the probable burial area, each poke about a foot apart.
"Strike!" Perry screams.
His probe hit something that wasn't snow. "You'll know the difference," he would insist later.
In seconds, Perry and Arnold have retrieved their shovels from their avalanche backpacks and are making sweeping, diagonal scoops in the snow where the strike happened.
"Mike, I've got a visual," Perry cries out. "I see his head, go for his head. We've got an airway. Johnny!"
In less than 60 seconds, it's over. The students at the bottom are busy scribbling notes in their notebooks as the instructors walk them through the staged rescue, step by step.
It looks like a very simple mission for a very complex situation, and as the students break into their respective groups to practice with one another, it reveals how quickly things can break down when the worst happens.
If companion rescue missions fail, it typically happens right away, Perry said. Poor communication and the chaos of the moment can cause the situation to unravel in a heartbeat.
It takes practice more than anything. Students who make it through the course earn Level I cards, signifying they understand the basic fundamentals when it comes to backcountry safety.
Level II training is a whole different world, though, Arnold said.
"You have to practice this stuff so well, but you have to feel there is always more to learn," Perry said. "Decisions are so important. Every piece of terrain is different."
It all comes back to that toolkit Perry and company began assembling on the first day of class. The terrain presents many variables and obstacles, but those who choose to ascend and descend it — and do so with the proper precaution — will discover plenty of rewards.
"This is our home," Perry said. "This is something you can do for the rest of your life. Health, seeing the mountains and breathing the air, all of those are side benefits. It's way beyond just getting ski runs."