Steamboat Springs — Running in snowshoes presented a unique set of challenges for about 15 competitors Saturday during the first race in a three-part race series.
"Running in snowshoes is tough," Steamboat Springs resident Barkley Robinson said after winning the 10-kilometer race. "The snow gives out a little with every step. It's like running in sand."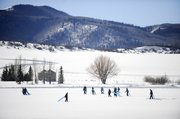 Wearing a pair of snowshoes designed specifically for running, Robinson said you have to widen your stance for the sport. Even the best athletes take tumbles and bang their ankles a few times while getting their stride down.
Several of the runners used the new race to get in some training for the March 8 Steamboat Pentathlon, a unique race that includes a snowshoe run up the Howelsen Hill Nordic trails.
The first Steamboat Snowshoe Series event brought out a small crowd, but organizers are hoping the series will gain popularity, especially with the fat bike races being tagged onto the events.
"I just had no idea what to expect," race organizer Todd Gollnick said. "There are a lot of people who like to snowshoe. I think we were wondering how many people want to race."
The second and third races of the series are Feb. 22 at the Steamboat Ski Touring Center and March 22 at Steamboat Ski Area. The winners of the series will receive a free entry to the Sept. 21 Xterra Trail Run National Championship in Utah. The local races are put on by Get Fit Family Racing and are branded by Xterra.
Hannah Williams won the women's 10-kilometer race. In the 5-kilometer race, Jon Freckleton was the first male finisher and Littleton resident Kirsten Schoew was the first female. Schoew was visiting family in Steamboat.
"It was beautiful," Schoew said after finishing her first snowshoe running race. "I thought the course was really approachable for someone who was a novice."
To reach Matt Stensland, call 970-871-4247, email mstensland@SteamboatToday.com or follow him on Twitter @SBTStensland
Join the Yampa Valley VIP email club