Steamboat Springs — When the Steamboat Springs High School girls basketball team is hitting on all cylinders, Sailors head coach Mack Spitellie said his club can hang with any of the Western Slope League powers.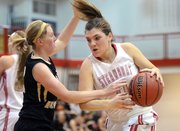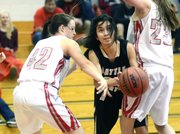 The Sailors didn't get a shot Saturday afternoon to dethrone a top conference foe, but Steamboat did make quick work of visiting Battle Mountain, 53-32.
"This team, and it's been this way for quite some time, when I get them all healthy and they all come out to play, we're going to be in every game," Spitellie said. "When they don't come out to play like they didn't down in Delta, that's what you get."
Spitellie was referring to the Sailors' 20-point loss to Delta on Jan. 11, a game the Sailors followed up with a 15-point loss at Eagle Valley five days later.
Battle Mountain, much like Steamboat, came into Saturday struggling a bit after losing four of its last five contests. It was a chance for both programs to return to the win column, and the Sailors took control early and often.
Steamboat raced out to a 14-6 first-quarter lead and rested on a 21-point cushion at half, 33-12.
"I think it lifted our spirits a little bit to get a win and play tough like we did," sophomore Annie Osbourn said.
Osbourn had a solid game, cashing in 12 points and nine rebounds. Along with Osbourn on the low block, Steamboat senior Maggie Crouch had 13 points and eight rebounds herself. Amaris Duryea had seven points and four boards and Jenna Miller pitched in six points and seven rebounds.
Huskies forward Taylor Davidson proved to be her team's light at the end of the tunnel with her 12 points and six boards. Elizabeth Olivas had five points, but no other Battle Mountain player scored more than four.
Steamboat (7-4) still is battling a slew of injury problems, missing key contributors Mikaila Jegtvig, Hunter Anderson and Ashley Spitellie again Saturday. But with only three seniors to work with, coach Spitellie said it gave him a chance to build some depth down the backstretch of Western Slope League play.
"That was just a good game for all the young kids," Spitellie said. "I had a freshman play in all four quarters, two sophomores play the majority of the game. It's just great, great team chemistry with them on the floor and it keeps going. That was really nice."
Steamboat's back half of its remaining schedule has a level of favorablity to it with a stretch of home games against Rifle, Delta and Palisade coming up.
The Sailors first travel to Rifle on Tuesday at 5:30 p.m. before making the trip to Glenwood Springs and Soroco, then the home contests ramp up.
"Hopefully (this win) helps our confidence going to play Rifle Tuesday, who's a better team," Spitellie said.
To reach Ben Ingersoll, call 970-871-4204, email bingersoll@SteamboatToday.com or follow him on Twitter @BenMIngersoll