Steamboat Springs — On Jan. 29, Cookie Lockhart will have her day on the History Channel's "American Pickers," and members of the Steamboat Springs Film Committee will celebrate her appearance with a watch party at the Chief Theater along with another victory in getting exposure for the Yampa Valley.
Past Event
Wednesday, January 29, 2014, 6 p.m. to 8 p.m.
Chief Theater, 813 Lincoln Avenue, Steamboat Springs
All ages / Free
Productions that filmed in Steamboat in 2013 include:
• NBC Sports segment at Howelsen Hill
• NFL Films special on Steamboat Springs High School concussion prevention
• "Who the (Bleep) Did I Marry" filmed for Investigation Discovery
• A Jeep commercial that will air during the X Games
• "American Pickers" airs Jan. 29 on the History Channel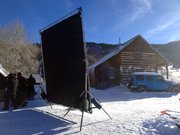 In the past couple of years, the Steamboat Springs Film Committee has seen its funding shrink and transition away from being known as the Yampa Valley Film Board into its new home with the Steamboat Springs Chamber Resort Association.
Despite the challenges, new committee chairman Chris Sias said Friday that the group will look to capture more and even bigger productions in the coming year as well as keep better track of what film projects do roll through town.
During the fall, what had been an optional request for production companies to obtain a permit instead was made a requirement.
Sias called the permit a normal part of doing business in the film industry and said it will help gauge financial impact as well as let the city and committee understand what some of the activities will be.
Sias, who recently moved to Steamboat from Los Angeles and joined the committee in the beginning of 2013, cited the Colorado Film Commission's successful push for more competitive incentives as a positive in bringing more production to the state.
The push to attract more filmmakers to Steamboat will focus more heavily on commercials and feature films, Sias said, as those are the groups that spend and hire more.
"I don't think we have the funding to do a broad marketing campaign," he said.
But if the film committee finds a way to augment its limited budget and spends judiciously, it hopes to be able to reach the right people — ones who already might be familiar with Steamboat, Sias said.
In the past year, Steamboat has seen some news reports ahead of the Olympics, a couple of reality shows and a Jeep commercial that will show during the X Games, according to longtime committee member and former chairman Greg Hughey.
Al Jazeera is in town this weekend filming an Olympics segment, Sias said.
"We tend to do a little more work in an Olympic year," said Hughey, who also is a location scout. "Steamboat has been always known for early snow. … We always have car commercials come early to take advantage of our snow."
The Yampa Valley has been host to commercials for Nissan, Ford and BMW among others, Hughey said.
"The biggest (challenge) we continue to weather is the changing economic climate," he said.
Advances in technology also affect the film production industry by allowing smaller crews to handle less expensive and more portable gear. Smaller crews can mean less local hiring and spending, but lower costs also could entice productions to venture farther off the beaten path and into the Yampa Valley.
"It's interesting to see how technology changes the economics of production but how the economics of production also chases technology," Hughey said.
To reach Michael Schrantz, call 970-871-4206, email mschrantz@SteamboatToday.com or follow him on Twitter @MLSchrantz
Join the Yampa Valley VIP email club