Steamboat Springs — The dejected looks on the Steamboat Springs High School hockey players' faces as they shuffled into the Howelsen Ice Arena locker room after their 2-2 tie against Dakota Ridge Friday night made their coach proud.
It wasn't that Sailors coach Brent Tollar was necessarily beaming at the fact his team managed to rally after falling 2-0 early in the game against a strong league opponent.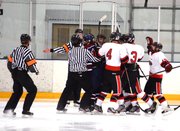 No, Tollar was happy his squad wasn't willing to settle for moral victories, even if it meant avoiding a .500 record for now.
"I'll tell you what, it's a pretty good day if you play a great team, tie, and feel like you lost," Tollar said. "That's a good thing. I can't say enough about these boys, how hard they worked and how resilient they are."
It was Steamboat's first game since being blasted, 6-0, at Foothills Conference top dog Monarch on Monday. On Friday night, the Sailors saw history beginning to repeat itself after the Eagles' Zach Williams found the back of the net twice on Steamboat goalie Trent Trask to close the first period and open the second.
But as things got physical, and tempers flared on both sides of the ice, the Sailors rose to the occasion, aided by senior captains Jackson Perry, Ben Wharton and Quinn Cain.
Perry notched his first goal of the season a minute and a half into the second period, and Wharton, the Sailors' leading goal scorer, punched in his sixth on the year off a Cain assist nine minutes later.
But the final period saw no scoring, despite Wharton's last-ditch effort in front of the net as the buzzer sounded. A frantic overtime period yielded no points, either.
After Monday's demoralizing performance, Tollar admitted his team needed a little bit of a pick-me-up. The second-year coach said no one missed practice all week leading up to Dakota Ridge, and Friday's performance felt like the real deal instead of the exception.
"Against an undefeated team like that, I think it gives us confidence we can play with everybody in our league," Wharton said, sporting a string of bruises around his neck from the physical matchup. "We outplayed them, and I think they had two pretty questionable goals."
But Wharton also said that playing to a tie against one of the league's top contenders shouldn't feel special.
"That's how we should be playing," he said.
The Sailors readied all week for a fast and physical game against Dakota Ridge, which has logged some of the Foothills Conference's most penalty minutes. With the season's worst loss against Monarch fresh on their minds all week, the Sailors' preparation for the Eagles Friday night was as good as their coach could ask for.
"This was a hard week," Tollar said. "Instead of the kids not showing up because they're too tired or whatever, every kid made every pratice this whole week. We had four inches of ice carved up on the floor. They were killing it."
The Sailors are now 5-4-1 on the season and have a week break before traveling to Summit on Jan. 17.
To reach Ben Ingersoll, call 970-871-4204, email bingersoll@SteamboatToday.com or follow him on Twitter @BenMIngersoll