Q. When were you in the club and what discipline?
A. ■ 1990 to 2002 athlete in Alpine, Nordic combined and special jumping
■ 2002 to 2007 coach in ski jumping, Nordic combined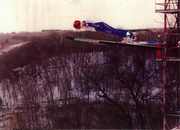 Q. Who were your friends in the club?
A. Rob Jones, Eric Lodwick, Johnny Spillane, Randy Weber, Matt Kuusinen, Linda Rokos, Michelle Madderom and Lindsey Labaree.
Q. What is your favorite club memory?
A. My favorite club memory came a long way from home. On Feb. 12, 1995, in the small town of Westby, Wisc., Matt Kuusinen, Randy Weber and I stole the podium from over 40 European ski jumpers in a B level World Cup. As the teenage underdogs of the jumping circuit, we had a one-two-three sweep! It's my proudest moment because on the results sheet it read 
U.S.A. (SSWSC)

U.S.A. (SSWSC)

U.S.A. (SSWSC)
Q. What are you doing now?
A. I currently teach skiing and train staff at the Steamboat Ski and Resort Corp.'s Snow Sports School. Summers are spent as the owner-operator of Doran Enterprises LLC, an agricultural company focused on production and maintenance of agricultural land in Routt County.
Q. What impact did the Club have on you?
A. The club gave me the independence and confidence to go into anything in life knowing I can be successful. The club gave me the opportunity to travel all over the world with the U.S. Ski Team and make life-long friends all over the world. With the travel, I learned that the world is full of many amazing places however, none of them hold a candle to Steamboat Springs and the Steamboat Springs Winter Sports Club.
Join the Yampa Valley VIP email club