Steamboat Springs — As he carefully checked the security cameras and door locks Tuesday in what is expected to be among the first retail pot shops in Steamboat Springs, Public Safety Director Joel Rae knew a lot was at stake.
Public safety.
Steamboat's reputation as a family-friendly resort town.
Keeping it out of kids' hands.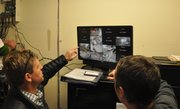 In just a matter of days, adults 21 and older likely will be stopping by Rocky Mountain Remedies to legally purchase recreational pot for the first time.
The anticipation was apparent when a couple stopped by the store, largely hidden in an industrial complex west of downtown, during the inspection even though the store wasn't yet open.
"It's a new ballgame, and I think consumer education is the biggest piece we need to deal with here," Rae said after the inspection that had him checking more than 100 inspection bullet points ranging from the alarms to the informational labels that will go on every bottle of marijuana sold.
With the advent of legal recreational marijuana, police here are hoping consumers act responsibly in the coming weeks.
That means not driving impaired by marijuana and ensuring that only adults 21 and older are consuming it.
And there won't be any sort of "grace period" in Steamboat for people who are caught smoking or consuming in public the marijuana they have purchased.
"You cannot consume marijuana in public, and if you do and we catch you, you do get a ticket," Rae said.
He acknowledged the marijuana-infused edibles and drinks sold here will be harder to detect but still cannot be consumed in public.
In addition to promoting public awareness about responsible marijuana use by working with such groups as Grand Futures Prevention Coalition, Rae said the police here will inspect the local retail marijuana stores "early and often."
"It's important to set that tone," he said.
Like they do with liquor stores, Rae said police will do compliance checks that could involve officers working with 18- or 19-year-olds who would go into the store and see if they could get the product illegally.
Officers also currently are undergoing new training to help them better detect drivers who are impaired by drugs and alcohol.
Rae said one of the most important messages his department has for people who will start consuming marijuana is to not drive when they are impaired by it.
"We have a taxi service. We have a free city bus. If you smoke weed, don't drive. That's the message," Rae said.
Under state law, a driver can be charged with driving under the influence of drugs if they have more than 5 nanograms of THC in their system.
And unlike alcohol, the mind-altering ingredient in marijuana can be detected in someone's system for weeks.
But Rae said people who consume marijuana shouldn't be worried about driving days after they've consumed it if they are not impaired.
"Our officers are trained to detect actual impairment of road maneuvers," he said. "The public shouldn't have to worry that they smoked weed two weeks ago and they could be arrested for DUID."
Acting as the city's marijuana licensing authority for the first time, the Steamboat Springs City Council on Tuesday night will consider approving the first licenses for recreational pot shops in Steamboat.
Following the inspection of Rocky Mountain Remedies on Tuesday, Rae said he'd be surprised if it did not meet all of the city's requirements to earn the license by next week.
The sales are expected to come at a time the city will be full of tourists here to ski and see concerts, which also raises the stakes from a public safety perspective.
"I don't think anybody has a crystal ball to say marijuana use is going to skyrocket because of the new laws, but any reasonable person can anticipate a higher use of marijuana consumption per capita based on the public availability of it," Rae said. "We just want people to be responsible."
Where can you smoke it?
Steamboat Springs residents should have a much easier time than tourists in finding a place to legally smoke marijuana.
That's because your personal residence (if it allows smoking) and any other private property or residence that permit smoking are essentially the only legal places to do it.
That includes balconies and porches on private property.
But if you're renting or leasing your place, you're going to have to check with the landlord about smoking and drug policies.
Smoking marijuana is prohibited in all public areas, and that includes parking lots and frontages on private property such as the stores in Central Park Drive.
"Everybody should be able to walk anywhere they have a right to be in Steamboat and not be exposed to marijuana smoke. Period," Public Safety Director Joel Rae said.
Smoking marijuana is not allowed at Steamboat Ski Area, including in the gondola cars, at the base area and on the slopes.
And all the tourists who come to Steamboat and buy pot to smoke likely won't find many lodging properties, rented condominiums or timeshares that will allow people to smoke marijuana in them, just as they do not allow smoking cigarettes.
The Steamboat Hotel, for example, even has a sign at the check-in counter that advises guests that cigarettes and marijuana cannot be smoked there.
Holiday Inn of Steamboat Springs owner Scott Marr said smoking in the rooms has been an issue.
People who violate the hotel's non-smoking policy can face a fine of $200 for a room cleanup.
"Hopefully, it won't have any impact," Marr said about the upcoming sale of recreational marijuana.
He said the edibles are a different story.
"From my perspective, I don't see a difference between that and having three beers in your room," he said.
Like the Holiday Inn, The Steamboat Grand and the Sheraton Steamboat Resort also are smoke free.
It's best just to call ahead and ask the property about its rules for smoking marijuana.
To reach Scott Franz, call 970-871-4210, email scottfranz@SteamboatToday.com or follow him on Twitter @ScottFranz10
Join the Yampa Valley VIP email club