Steamboat Springs — The Steamboat Springs High School boys basketball team was hoping strong performances throughout its final nine games of the season would impress the state tournament seeding committee, and on Sunday, the Sailors' wishes were answered.
Steamboat drew a No. 7 seed in the Guy Gibbs Region and will host No. 10 Sierra on Wednesday night. The 4A brackets were released Sunday afternoon by the Colorado High School Activities Association.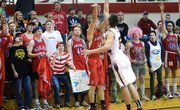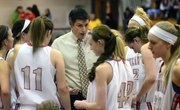 The Sailors — winners of eight of their past nine — had their eyes on hosting a state playoff game since the season started.
"We always hear stories about the Kelly Meek days when we hosted a lot of state home games," Steamboat junior Garrett Bye said. "I think it's cool if we can win and make it a little deeper to be a part of that Steamboat basketball legacy."
While the Sailors' roster is widely unfamiliar with Sierra — the two teams have no common opponents this season — Steamboat coach Luke DeWolfe has had his shot against the Stallions before.
Steamboat (17-6 this season) squared off with Sierra in the first round of the 2010-11 state playoffs, back when the Stallions had current Colorado Buffalo Wesley Gordon. A year later, Sierra played in the state championship.
"We played a really good game against them," DeWolfe said about the 2010-11 season. "Now, this year, they have the same coach. I think it will be a lot of the same things they've done in the past. They will be extremely athletic and get up and down the court, pushing the pace."
Bye said no doubt, his teammates have been scanning Sierra's roster on MaxPreps, and DeWolfe said he will be busy the next few days tracking down game film on the Stallions.
DeWolfe and Bye said the big advantage will be the home-court atmosphere, something Bye admits threw the Sailors off in their first-round exit last year at Golden.
"The one thing my team remembers when we went to Golden — the fan section was crazy loud," Bye said. "That's the atmosphere we really want."
Sailors girls to travel to Falcon
The Steamboat girls basketball team didn't perform the way it wanted to at the district tournament during the weekend, but the Sailors did qualify for the state playoffs and grabbed the No. 10 seed in the Tanya Haaver region.
The Sailors (12-11) travel to No. 7 Falcon near Colorado Springs on Tuesday. Falcon (11-12, 8-6 Pikes Peak League) has lost four of its past six games but has No. 1 Sand Creek and No. 3 Palmer Ridge in its conference, which both sport 20-3 records and first-round byes.
If the Sailors win, they will take on No. 2 Valor Christian on Friday.
The Steamboat girls stole a state playoff road win in last year's tournament, a two-point victory against Green Mountain.
Game times for the Steamboat boys and girls first-round games will be announced Monday.
To reach Ben Ingersoll, call 970-871-4204, email bingersoll@SteamboatToday.com or follow him on Twitter @BenMIngersoll
Join the Yampa Valley VIP email club