All of a sudden they appear. 
A band of people in bunny suits, faces painted like clowns, marching around Olympic Park and playing folk music. 
Slopeside at Sochi: Luke Graham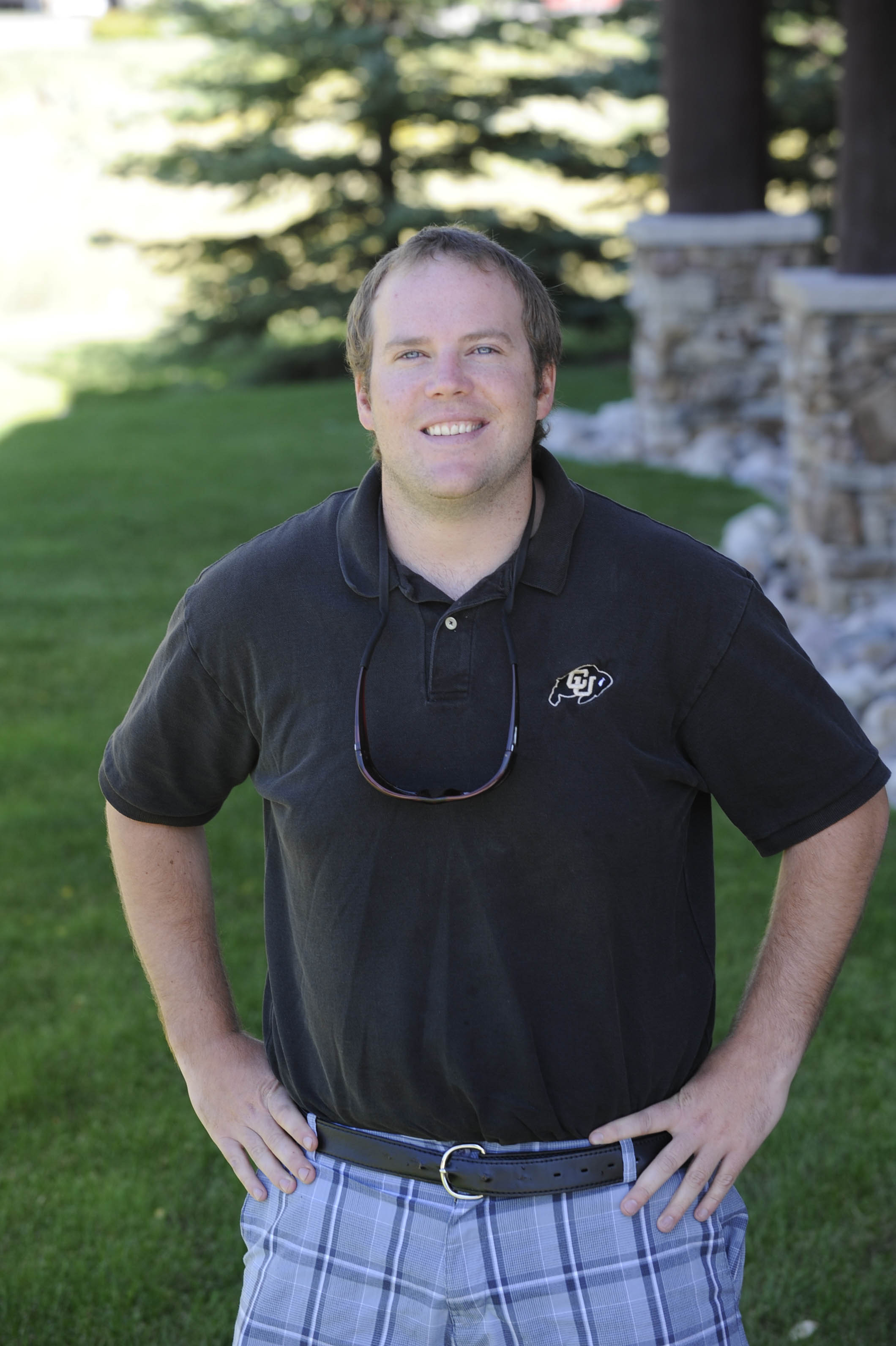 Steamboat Pilot & Today reporter Luke Graham is on the sidelines in Sochi, Russia, for the 2014 Winter Olympics. Find more columns, stories, blogs and photo galleries at SteamboatToday.com/sochi.
A day in the life
Feb. 13 in Sochi, Russia
8:41 a.m. Wake up
9:32 a.m. Eat breakfast
10:35 a.m. Take bus down to Coastal Cluster
12:02 p.m. Joel makes bus at media center; Luke misses it.
12:22 p.m. Go to Finland-Austria men's hockey game
12:55 p.m. Leave the game
1:02 p.m. Go to Japan-Germany women's hockey game
1:33 p.m. Leave the game
1:52 p.m. Go to short track speed skating preliminaries
2:56 p.m. Leave prelims
3:14 p.m. Go to curling competition
4:17 p.m. Leave curling
4:31 p.m. Go to Russia-Slovenia hockey game
5:09 p.m. Leave the game
6:08 p.m. Catch bus back to Mountain Cluster
8:09 p.m. Leave Gorki Media Center for Sanki Sliding Center
8:11 p.m. Unload bus because driver wants dinner
8:12 p.m. Get on new bus
8:36 p.m. Arrive at Sanki Sliding Sliding Center
10:02 p.m. Arrive back at Media Center
Gone in a flash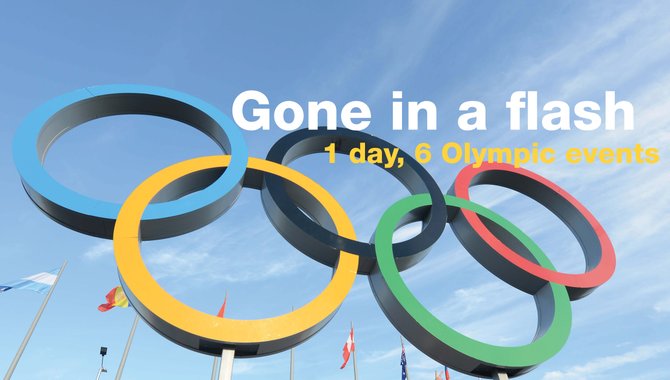 1 day, 6 Olympic events
A blur of activity
Photo gallery
In front, a guy dressed in a Soviet Union military fat suit with a fake handlebar mustache leads the charge.
The bunny-clown-people in the back are on stilts. 
It's just one of the sights to see — one of the more unusual — on a cloudless, short-sleeve day in Sochi, Russia. 
The Olympics are built for the weird, the fun, the unique and the inspiring. In search of all that, reporter Joel Reichenberger and I set out to attend as many events as we possibly could Thursday. 
We wanted to find the people and sports that make the Olympics what they are.
10:35 a.m. Russian time (11:35 p.m. Steamboat time)
From our condo in the mountain cluster at Krasnaya Polyana, Russa — where the skiing, snowboarding and all the sliding take place — it's about a 45-minute bus ride to the Olympic Park on the Black Sea. 
The road and adjacent rail line have drawn lots of criticism with a price tag of more than $9 billion. 
For the entire 25-mile stretch, military and security officers are present about every 50 yards along the route.
By the time we get to Olympic Park, one thing is for sure. The choice of short sleeves and no jacket is a phenomenal move. 
12:22 p.m. Finland-Austria men's hockey
The crowd at the game is, for the most part, pro-Finland, pockets of white-and-blue-clad fans watching their team skate circles around Austria. 
After the first period, a crowd of Finnish fans settle inside one of the corridors, standing in a circle and chatting. 
"There is zero beer. Zero alcohol," Finish fan Ari Akseci said. "It's awful." 
It's interesting. These Olympics have been billed as a healthy Olympics, nary a sign of beer or fried food inside the Olympic Park. 
A federal law last year prohibited the sale of alcohol in sports stadiums. Alcohol also is banned within 50 meters of some sports venues. The outdoor venues in the mountains don't have the same restrictions.
For his part, Akseci is drinking an alcohol-free Baltika "0." 
Akseci still is having fun. It's his second Olympic event, and he said when it comes to hockey, Finland travels. 
"Hockey is the most important," he said. "In our nation, it's the most important game. We are loyal fans of ice hockey. We'll go to other countries to watch."
1:02 p.m. Japan-Germany women's hockey
Again, there are small gatherings of fans here and there. Each roster only consists of 16 players, including a back-up goalie. 
Germany is far and away the better team, but Japan has more fans. 
At the end of the second period, the entire Japanese team shook hands with one another.
For the Olympics, the venue was quiet without a big cheering group. Then, behind me, appeared a concerned-looking face. 
Ursula Eder, the physiologist for the German team, was fixated on every play and moving back and forth in her seat. 
"I've really enjoyed the whole experience," she said. "I stand by and see if anything happens. I mostly stand by because it's my job."
1:52 p.m. Short track speed skating
The arena for the short track speed skating events, called the Iceberg, is the best venue for spectators. It features steep rows toward the top, and even from the media section, I felt like I was right on top of the action, which is awesome. 
It's like NASCAR on skates, with drafting, rubbing, racing and even some phenomenal crashes. 
Equally interesting are the ice maintenance people. After each heat, they come in and move little cones that mark the boundaries. Workers take what look like watering cans and slowly pour water over the track the skaters just went over. Then, other guys come behind them and squeegee the ice. They're like human Zambonis. 
Also, this event is as close to a golf tournament as we've been to. Prior to the start of each race, the entire building goes quiet. 
On a big board above the ice, the letters "Shhhhhhhhhhh" scroll across the screen, followed by the word "Tccccccccc" in Russian. Then, the mascots of the game appear on the big screen and put a finger, or a paw, to their mouths and a make a shooshing gesture.
3:14 p.m. Curling
This is the sport I was most excited to watch, figuring it would be the only sport I'd ever have a chance to compete in at the Olympics.
Essentially, I expected all the athletes to be fat, but I was wrong.
Before the start of the game, the Swiss team all crushed energy gels and Powerade, and the two-time defending Olympic champion Canadian team looked more like a SWAT team than a curling team. 
Curlers are athletes? It's true. 
And it makes sense. They are bent over at the back with a broom in their hands. When directed, the sweepers push the broom back and forth on the ice as fast as they can. Seeing how fast they sweep, it made sense they all had Popeye forearms. 
Of course, there is that beer thing again. 
The Norwegians, despite getting drilled in these prelims, had a very vocal cheering section. The only thing louder than the fans were their athletes' pants. 
"We love curling," said a Norwegian named Espen, wearing pants made out of the flags of Norway. "But we don't like that we can't buy beer. We want to watch curling and drink beer."
4:31 p.m. Russia-Slovenia men's hockey
It was the opening game of the Olympics for the Russian hockey team, which definitely has the hopes of the host country pressing down on it. 
"Obviously, even the people that don't watch hockey regularly understand how important this is," said Nikhail Zislis, a reporter for a Russian news agency. 
Zislis compared the tournament to 1993, when Russia won its first World Championship as a nation separate from the Soviet Union. 
Zislis was 6 when that victory happened, and he said he remembers what it did for hockey in Russia. 
A win "would be huge," he said. "It's difficult to describe what it would mean in a few words." 
It was a good start for Russia. Alexander Ovechkin ripped an unworldly wrister just 1:17 into the game. 
Seconds later, Evgeni Malkin scored. 
This was the loudest I've heard it. Russians love hockey, and inside the Bolshoy arena, it was rocking. 
Chants of "Russ-ee-ya" almost never stopped. 
"I don't want to make a prediction," Zislis said. "No one is making predictions. Don't want to jinx it."
8:36 p.m. Luge team relay competition
After a long day of traveling back and forth, and up and down, from venue to venue, we heard a welcome sound. 
Chants of "U.S.A., U.S.A." filled the Sanki Sliding Center. Just days before, Erin Hamlin had won bronze in the women's single event — the United States' first Olympic luge medal in an individual contest. 
And as a result of Hamlin's success, there was audible excitement from the handful of Americans in the audience. 
But the Sliding Center made the competition difficult to watch.
Sliding is an interesting experience. Essentially, you hear the sleds coming then, usually, they are going so fast you don't see anything.
After a long day, it's easy to label the luge event as the worst. That is until an American with a big belly put everything in perspective. 
"But isn't it just fun being here," American Billy Graboe said. "I mean this is really great. Enjoy this." 