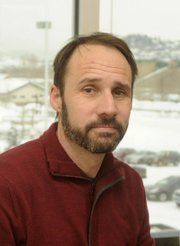 Steamboat Springs — A new chief deputy district attorney has been named in Routt County.
Matt Karzen started work Monday and was hired by Brett Barkey, district attorney for the 14th Judicial District, which encompasses Routt, Moffat and Grand counties.
Karzen is a 1984 Lowell Whiteman School graduate who has returned to Steamboat Springs after spending several years as a private defense attorney in Athens, Ga. Before that, he worked as an attorney in Colorado.
"I'm really excited to be here," Karzen said Thursday.
In a press release, Barkey said he was delighted to welcome Karzen back to Steamboat.
"Matt brings 19 years of outstanding legal experience including service with the 14th Judicial District in Grand County, the 18th Judicial District in Arapahoe County and the Colorado Attorney General's Office," Barkey said in the release. "Through all his experiences, Matt has demonstrated keen legal judgment and abundant common sense, coupled with a deep commitment to serving the community. He is a perfect fit to our team."
To reach Matt Stensland, call 970-871-4247, email mstensland@SteamboatToday.com or follow him on Twitter @SBTStensland
Join the Yampa Valley VIP email club