Get up there
• Take U.S. Highway 40 to the Dumont Lake turn, about 19 miles southeast of Steamboat Springs. Take this road until you get to an old stone monument and turn left into the parking lot. Either park here or keep driving for a short distance until you see a parking area on your right. You're looking for trail marker 291. The trail starts at this marker.
• There are no forks in the road to worry about, so stay on the trail as it winds through fields of spectacular wildflowers. The last pitch is pretty steep before you get up to the Rabbit Ears. Be careful up there as the rock is loose and there are some dangerous drop offs.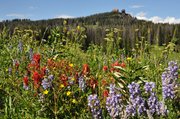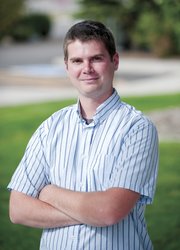 Steamboat Springs — The first time I tried to hike to the top of Rabbit Ears Peak, I failed miserably.
I was brand new to town, and it turns out my good friend and former Steamboat Today reporter Luke Graham is much better at covering the Olympics in faraway places and making beer recommendations than he is at navigating some of our local trails.
"When do we start going up?" I asked Luke a few years ago as the Rabbit Ears got smaller and smaller after an hour of hiking.
"I don't know," he replied, "I'm not familiar with the route."
The long hike that year still ended up being a memorable trek along part of the Continental Divide Trail, so I wasn't complaining.
For about three years though, Rabbit Ears would remain on my Steamboat bucket list.
Saturday was a perfect day to cross it off.
I grabbed Diane White Crane's hiking guide to get my bearings and asked the first four or five people I saw on the correct trail to reassure me that this time, I was on the right path to Rabbit Ears.
The hike follows an old jeep road through big meadows full of wildflowers.
People probably thought I was crazy as I stopped several times and crawled in the dirt to get a picture of all the vibrant flowers with the Rabbit Ears formation in the background.
The first part of the 3-mile hike up to the ears is pretty mellow.
The last half of a mile or so is a pretty steep hike though.
Bumping into three people I know along the way, including Pilot & Today advertising department veteran Deb Proper, made the trek more enjoyable.
It takes a little effort to climb up and around the actual ears as the rock is old and crumbles easily to the touch.
I was fine just getting to an easy vantage point and taking in the panoramic views.
Now when I look up and see the ears, I'll think about the hike when I got to them rather than the hike when I failed.
To reach Scott Franz, call 970-871-4210, email scottfranz@SteamboatToday.com or follow him on Twitter @ScottFranz10