The process of creating bio-based products begins deep in the forest-filled mountains of Northwest Colorado, at the end of recently abandoned logging roads and somewhere in the 20-foot-plus-high piles of twisted limbs, logs and tree parts left behind by logging companies that have taken what they can use.
Photo Gallery
Breaking down old practices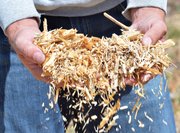 Terms in timber
Slash
Material left behind by logging companies after a timber sale has been completed. Normally includes the limbs' tops and remains of lodgepole pines that have been cut down. The material normally has been pushed into huge piles.
Slash piles
Near the landing area of a logging operation. This material is mostly just tree parts, but also may contain rocks, metal parts and other items that the lumber company left behind.
Landing area
A small area of a logging operation where trees are processed and then loaded onto trucks to be shipped to sawmills.
Sawmill
A facility that processes raw timber into lumber for shipping and sales.
Chipping
Raw timber is placed into a machine that reduces it to chips that can be trucked to processing plants. The plants then turn the material into pellets that can be used in wood-burning stoves, or into adsorbent material that is used for oil, gas and solvent spills in the oil industry.
Biomaterial
Any matter, surface or construct that interacts with biological systems. In this case, it's the material remaining in the field after logging contractors have cut down trees. This material can be processed and turned into any number of products including, but not limited to, wood pellets, waste-absorbing material and kitty litter.
Pellet mill
The place where processed sawdust is turned into wood pellets used in wood stoves.
Hammer mill
A mill that refined woodchips into a fine material used to produce wood pellets, and adsorption materials and other products that can be formed from biomaterial.
Beetle-kill
Trees that have died as a result of Colorado's beetle infestation.
Dimensional lumber
Timber that is cut to a certain size at lumber mills.
Sawmill residue
The material that is left over after a lumber mill cuts timber into dimensional lumber. This material often is chipped, loaded into box trucks and taken to wood processing plants like the ones found in Kremmling and Walden.
Feedstock
The wood chips that are piled up outside plants like the ones in Kremmling and Walden. This material forms mountains around the plant and is used to produce the products that end up being sold to companies and customers.
EcoSponge
A biodegradable material produced by Confluence Energy that is used in and around oil fields to absorb spills. The material contains micro-organisms that neutralize the hazardous material, so it doesn't have to be collected and removed once the drilling operation ends.
This is where Mike Shearer, operations manager for Confluence Energy, finds exactly what he is seeking: raw biomaterial that his company will transform into products used in homes, on oil fields and ranches across the country.
His job begins where the sawmills and loggers stop. His mission is to take the material they throw away at the end of the day and turn it into a profit that can drive communities like Walden and Kremmling. His job is to make the most of the devastation left behind by miles and miles of beetle-killed forests in Colorado and Wyoming.
At the end of the road Shearer is traveling, you will find crew-operated excavators that feed logs and wood waste into an industrial-sized chipper that turns the material into a constantly flowing river of material, which then is loaded directly onto trucks and taken to a wood-processing plant in Kremmling owned by Confluence Energy.
The company recently signed a 10-year deal to clean up after loggers cutting beetle-killed lodgepole pines in the Medicine Bow-Routt National Forests. A plant in Walden also will be added to the effort as the process moves north of the Colorado border into Wyoming.
Right now, the Walden plant is processing wood residue from sawmills in Wyoming and Colorado. But soon it also will be fed by crews cleaning up what's left of logging operations cutting trees that were killed by pine beetles.
Once Shearer's crew processes the slash piles, it is trucked to the wood-processing plants, where it is transformed from a problem into something that can be used.
The material's journey through the plant begins when it is added to mountains of wood chips that rise from the surrounding landscape. The plant is capable of producing 80,000 tons of refined material per year — about 30,000 tons of which is used for wood pellets. The rest is used for a variety of other products ranging from kitty litter to biodegradable absorption material.
The material from salvage operations and wood residue is mixed with a front-end loader with other material and eventually fed onto the chip pit, where the material is spread out and fed onto a conveyer belt that guides the material into a huge drying drum.
In order to make the material for wood chips and other products, the moisture content must be less than 6 percent. To achieve this, the material is run three times through the huge drum that circulates it through 400 degree air. That wood-fed burner can generate as much as 1,600 degrees of heat and is part of a closed system that is run from the waste involved with pellet production.
"It's a zero-waste system," Shearer said. "We use our waste to run the burner that dries our chips. Someday, we are hoping to use the heat from the drying drums to produce electricity that will run our whole operation."
Once the material has been dried and contaminants such as dirt, sand and rocks have been filtered out, the useable material is moved into the hammer mill. In the hammer mill, the chips are reduced to sawdust-like material.
At this point, the process takes to separate paths depending on whether the material will be used to produce pellets or Eco-Sponge.
The material that is compressed into wood pellets goes to the pellet mill. The pellets are pressed. The pellets go to a cooling bin, and the material that is left over from the process is fed back into the burner, where it is used to generate heat.
The pellets then are moved to cooling bins, and eventually moved to huge storage silos. The silos feed tubes that are used to fill bags, and that material is packed onto wood pellets and prepared for shipping.
The plant operators also can divert the material that comes out of the hammer mill into a separate process that creates a new product called EcoSponge. That material, which comes in six varieties, is used to clean up oil, gas and solvent spills around drilling operations.
In the past, oil companies used a clay-based product when they had spills. But at the end of the day, those materials may have absorbed the bad stuff but had to be removed and dealt with.
EcoSponge is a new technology that can be spread around spill areas. The wood particles absorb the material, while the patented micro-organisms found in EcoSponge consume the hydrocarbons. At the end of the day, EcoSponge can be left on-site as an inert material.
The entire operation in both plants is state of the art, and an operator can monitor any part of the process from the main computer. From that point, temperatures and output can be adjusted based on how machines are operating.

The Walden plant operates on already-chipped materials that are brought in by trucks each day. The Kremmling plant also accepts already-chipped material, but it also chips on-site using trees that are too small to make dimensional lumber into sawdust that can be used to create wood pellets and other products.
Confluence Energy's plants currently employ 63 people. The energy company also employs 45 other people who work in the field in bioremediation. Those employees take care of spills and containment so that oil rig employees can focus on other things.
Shearer said that Confluence always is looking for new ways to stay diversified. ■