Riding in the passenger seat of a company pickup on a dirt Forest Service road just shy of the Blacktail Creek Campground in Grand County, Confluence Energy's Don Sanford surveys the landscape that surrounds the remains of a 2,200-acre timber sale.
Out there, where stands of aspen trees still fill the horizon, where wildflowers in full bloom cover the ground and where the mountain vistas are rarely seen by human eyes, Sanford sees opportunity.
Photo Gallery
Breaking down old practices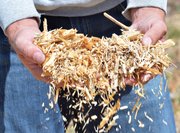 Terms in timber
Slash
Material left behind by logging companies after a timber sale has been completed. Normally includes the limbs' tops and remains of lodgepole pines that have been cut down. The material normally has been pushed into huge piles.
Slash piles
Near the landing area of a logging operation. This material is mostly just tree parts, but also may contain rocks, metal parts and other items that the lumber company left behind.
Landing area
A small area of a logging operation where trees are processed and then loaded onto trucks to be shipped to sawmills.
Sawmill
A facility that processes raw timber into lumber for shipping and sales.
Chipping
Raw timber is placed into a machine that reduces it to chips that can be trucked to processing plants. The plants then turn the material into pellets that can be used in wood-burning stoves, or into adsorbent material that is used for oil, gas and solvent spills in the oil industry.
Biomaterial
Any matter, surface or construct that interacts with biological systems. In this case, it's the material remaining in the field after logging contractors have cut down trees. This material can be processed and turned into any number of products including, but not limited to, wood pellets, waste-absorbing material and kitty litter.
Pellet mill
The place where processed sawdust is turned into wood pellets used in wood stoves.
Hammer mill
A mill that refined woodchips into a fine material used to produce wood pellets, and adsorption materials and other products that can be formed from biomaterial.
Beetle-kill
Trees that have died as a result of Colorado's beetle infestation.
Dimensional lumber
Timber that is cut to a certain size at lumber mills.
Sawmill residue
The material that is left over after a lumber mill cuts timber into dimensional lumber. This material often is chipped, loaded into box trucks and taken to wood processing plants like the ones found in Kremmling and Walden.
Feedstock
The wood chips that are piled up outside plants like the ones in Kremmling and Walden. This material forms mountains around the plant and is used to produce the products that end up being sold to companies and customers.
EcoSponge
A biodegradable material produced by Confluence Energy that is used in and around oil fields to absorb spills. The material contains micro-organisms that neutralize the hazardous material, so it doesn't have to be collected and removed once the drilling operation ends.
"We have done it for awhile, maybe the last five or six years," said Sanford, who is in charge of procurement and logistics. "We go in behind loggers and clean up their slash piles and get rid of the slash so that they don't have to burn it. It's great to be able to use it in an eco-friendly way and be able to produce a product with it. This is the first project on the Forest Service land that we have done like this through the stewardship program, and so far it seems to be working out pretty well."
Confluence Energy is hoping to profit from what the lumber companies left behind, stacked in huge piles near large open meadows that used to be filled with dead and dying beetle-killed pine trees.
The Kremmling-based wood-pellet producer earned a $4.75 million contract from the U.S. Forest Service to remove the piles with the material going to its plants in Walden and Kremmling to be used for a number of products, including wood pellets and a biodegradable absorbent material used on oil fields.
Confluence pays the Forest Service a flat rate for the material they remove, and then the Forest Service pays Confluence for the services they provide to remove the material.
"The loggers come in and they log it, they pull all the trees into the landing, they de-limb the trees, they top the trees and then haul out the logs to the sawmill. Whatever is left at the landing sight, that's what we are going up to get. We grind it on-site and then haul it off with trucks. That way, the Forest Service doesn't have to burn it and put all that smoke in the air and we get some good, usable fiber out of it."
Taking what's left over
The two plants make Confluence Energy one of the largest companies in the Western United States, capable of producing 225,000 tons of biomaterial each year. Most of the wood chips used in the process come from the bottom of the food chain in the lumber industry. The mills use what's left over from lumber mills in Saratoga and Encampment, Wyoming, and from mills in Grand County.
"We take what's left over after they get done making 2x4s," said Mike Shearer, operations manager for Confluence Energy. "We basically clean up the waste from the lumber industry and turn it into something people can us."
Public Affairs Officer for Medicine Bow-Routt National Forests Aaron Voos said the Forest Service looks at what's best for the forest when determining what to do with slash piles.
"Sometimes we burn it, other times the lumber company will chip it up and spread it out as mulch," Voos said. "We have a lot of ways of dealing with it. … The ultimate goal is for the forest to regenerate. It's not going to look exactly the same as it did, but it never does. The forest is constantly changing, and our job is to look after it and take care of it."
Sometimes less accessible piles are burned because they can't get the machinery into the area, but biomass companies like Confluence now are offering another alternative as the search for new streams of biomass, which are used for everything from fuel to kitty litter, gets more competitive.
"For the past 50 years, we've been burning piles when we have them. … That's the way we have always gotten rid of them," said Jeremiah Zamora, timber management assistant with the U.S. Forest Service. "New science and new technologies that are coming out to utilize this wood were not here 50 years ago. It's a new process for us, and we are on the learning curve trying to figure out how to get it done."
Zamora understands that there will be times when burning the piles might be the right choice, but he also understands the value of what companies like Confluence are doing.
"At some point, the burning causes a large scar on the ground and can sterilize the soil underneath and take it out of production for a long time," he said. "Through this process, we are able to reclaim that ground faster and actually utilize the wood that we have in the piles.
"It kind of meets the Forest Service mission because we are caring for the land, and at the same time, we are serving the people by allowing economic opportunities for local businesses as well as giving a product to the general public through them with the chips that they turn into pellets and can be used to heat homes."
Rough times, bright future
For Confluence, the chance to find another fiber stream is at the core of business's financial success. The company signed a contract with the U.S. Forest Service to remove the slash piles and some timber, with mills in Kremmling and Walden filling a national demand for pellets and a new product called EcoSponge, which is an absorbent used on oil fields.
The Kremmling plant opened in 2008, but plummeting oil prices reduced the demand for wood pellets, and in 2010, the company appeared to be in trouble. The price for pellets dropped from $200 per ton to $130 per ton.
The company struggled to make a profit cutting down beetle-killed lodgepole pine trees, processing them in Kremmling and shipping their product across the country. An equity holder attempted to force the company into involuntary Chapter 11 bankruptcy, and the owners cut the staff from 34 employees to just eight.
While the company cut its costs in order to survive, it also formulated a new business plan and started offering a wider variety of products.
In February 2013, the company landed the $4.75 million Medicine Bow-Routt long-term stewardship contract to harvest beetle-kill and clean up slash piles from the Forest Service, and it also started offering new products to take advantage of the oil and gas boom in this part of the country.
While the approach is new in the Medicine Bow-Routt National Forest, Mark Westfall, the timber program lead, said a similar stewardship program was used successfully on the Front Range for the past five years.
"We looked at what they did down there, talked to them about it and fine-tuned a few things that they felt could be improved," Westfall said.
Similar stewardship programs currently are being used in the White River Basin and San Juan Mountains.
In order to increase its capacity, the company purchased Rocky Mountain Pellet in Walden, doubling the company's capacity.
Confluence retrofitted the Walden operation, making it more efficient and allowing it to produce many other products besides just wood pellets.

"They brought in the whole trees, chipped them on-site and used the same process we are using now," Shearer said about the Walden plant. "We've eliminated the chipping here and just been running off of sawmill residue from three different saw mills."
The start of something new
While sawmill residue is the bulk of what the Walden plant now is running on now, the Kremmling plant has just started processing slash piles taken from the Gore Pass area. Shearer said the Walden plant would add about 10,000 tons per year from slash piles in Wyoming in the coming years.
"This is the first year we've started using material from the Forest Service contract," Shearer said. "As we start to go up into Wyoming, the slash piles in Wyoming will be coming to this plant as well — 10,000 tons a year to help us meet our production needs."

The company currently offers 14 products — six that are variations of EcoSponge — to consumers in a number of markets. The fully automated plant can shift gears depending on the demand for a certain product. It produces wood pellets, a number of absorption products and active carbon materials.
"We use this material for all of our products," Shearer said. "We split it at the plant depending on what product we need that week, or that month."
The company harvests, hauls, converts, sells, packages and distributes the end product. It also offers cleanup and remediation services at oil and gas spills.
Confluence Energy now employs 63 people at the Kremmling and Walden plants. It also provides work for a several contractors in the area.
Shearer said the company also is looking into other revenue opportunities, including pet bedding, litter products and soil amendments. The company offers several brands of heating pellets, which are distributed through Home Depot, Wal-Mart, Lowe's, Costco, Safeway and several mom-and-pop operations in Colorado.
He said the company's history has taught the owners that diversity often is the line that separates failure from success.
And the company doesn't want to be too dependent on any one product.

Shearer said the company doesn't only offer environmentally thoughtful products, it also attempts to build those ideas into the plants and into their operations.
He said the company would like nothing more than to be entirely self-sufficient at some point using wood-chips to fuel its burners, and its burners to create the electricity needed to run the plants.