Steamboat Springs — Steamboat Springs High School girls soccer couldn't have picked a better time to pour in its best offensive output of the season.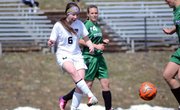 2014 Sailors girls soccer schedule
March 6: Steamboat 1, Summit 0
March 8: Battle Mountain 5, Steamboat 0
March 13: Steamboat 4, Eagle Valley 1
March 15: Palisade 1, Steamboat 0
March 21: Eagle Valley 3, Steamboat 2
March 22: Grand Junction 7, Steamboat 2
March 29: Battle Mountain 4, Steamboat 0
April 2: vs. Fruita Monument, canceled
April 5: Steamboat 6, Delta 0
April 8: Steamboat 6, Summit 0
April 12: Wheat Ridge 3, Steamboat 0
April 15: Steamboat 4, Glenwood Springs 0
April 17: Steamboat 7, Rifle 0
April 29: Steamboat 3, Glenwood Springs 0
May 2: Steamboat 2, Fruita 1
And it wasn't just a small improvement.
The Sailors took a 2-0 halftime lead against Delta on Saturday afternoon and forged a 6-0 blowout on their home turf. Steamboat's six goals were twice as much as it had scored all season in a single game, and the win snapped a two-game losing skid.
"Psychologically, this helps set up a stage to continue to build some momentum," Steamboat coach Rob Bohlmann said.
Sailors sophomore Natalie Bolhmann got things started early, scoring the first of her hat trick afternoon just three minutes into the contest.
The contest turned into a stalemate for 29 minutes until Steamboat pushed things to 2-0 in the 32nd minute to seal a two-goal halftime lead.
Then the Sailors onslaught took hold.
First, it was the sophomore Bohlmann, scoring in the 60th minute, followed by Jordi Floyd's goal 14 minutes later to make it 4-0, Steamboat.
"The focal point has been, we're pretty predictable in our play, so we're looking at switching the field," Rob Bohlmann said. "That's what we were presenting the first 10 minutes. We switched the field through the central, and that element of surprise to spring someone forward on the weak side was pretty successful."
Natalie Bohlmann again snuck behind the Panthers defense and punched one in less than a minute after Floyd's 74th-minute goal. Junior Eliza Leeson capped off Steamboat's big scoring night, hitting the ground to slide a grounder by Delta's Mycala Read finish off the day 6-0, Sailors.
The win pushed Steamboat to a .500 record at 4-4 and 4-3 in league play. It helped erase the memory of a rough second half of March, where the Sailors lost three of four since the month's midway point.
But the big win Saturday gives the Sailors a bit of momentum, Rob Bohlmann said, with the second half of the season ramping up.
"Relatively speaking, this is a younger group," Bohlmann said. "It's a much different group from last year. Just that week-to-week progression, things are really starting to shape up."
The Sailors have a good chance to get above a .500 record Tuesday when they host 1-7 Summit at 6 p.m.
But after that contest at Gardner Field, things get much more difficult for Steamboat when it plays Fruita Monument, Wheat Ridge and Glenwood Springs, which combine for a 15-4-1 record.
"From Day 1, we've been really happy with the effort and commitment," Bohlmann said. "And now it's about improving the soccer. That comes only with time."
To reach Ben Ingersoll, call 970-871-4204, email bingersoll@SteamboatToday.com or follow him on Twitter @BenMIngersoll