Steamboat Springs — There are mysterious, shrouded figures in the corners of Sandra Sherrod's art studio, and guests may leave unsure about what exactly they are and what they mean.
Inside the Artist's Studio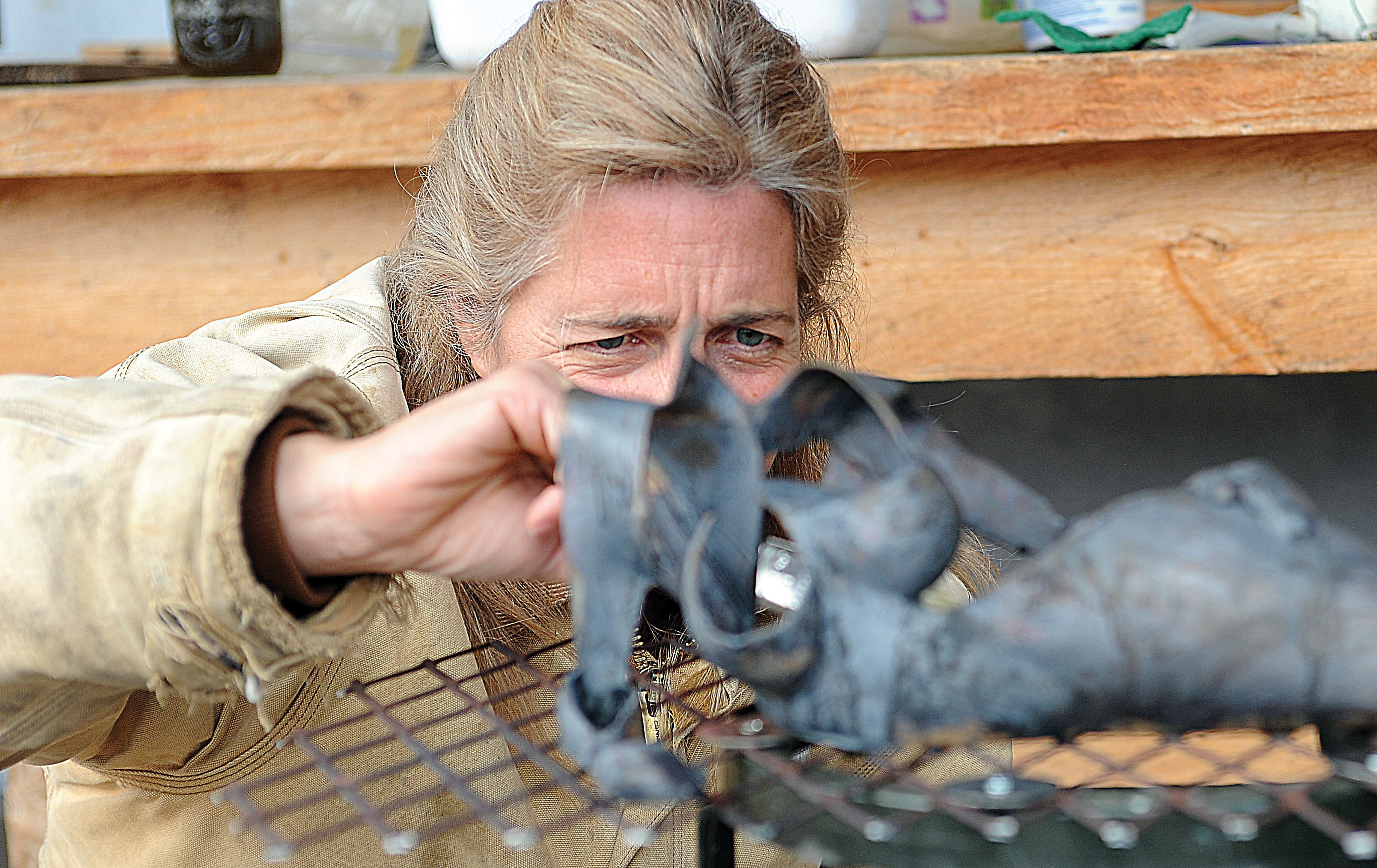 Anton Chekhov wrote, "The role of the artist is to ask questions, not answer them." If you agree with Chekhov, then a visual artist's studio is where that creative person goes to pose life's big questions.
Sherrod's studio is in an upstairs bedroom in a quiet Steamboat neighborhood that looks to be the opposite of an artist's enclave. All of the neatly kept homes on Wyatt Way resemble one another in color and design.
The large purple flower pots on the front walk tip visitors to the likelihood that something different awaits inside Sherrod's home.
Greeting visitors who step through the front door are intersecting walls painted in intensely bright colors and covered with the work of many other artists.
Upstairs, there are phantoms under white sheets — easels and who knows what else. Is that a cabinet or maybe a drawing table draped in its shroud? Or is it an abandoned sculpture?
Sherrod doesn't give a precise answer when asked. Her only response alludes to Eastern mysticism. Feng shui is concerned with the harmony of place, she says.
"Feng shui says, what you are not working on, you should cover," Sherrod said. "If I get too many things going, I get lost, and I can't (allow myself) to get lost."
One understands as her conversation hops from her favorite colors — lime and purple — to the art market in her adopted part-time home of Houston, Texas.
Perhaps more than any other member of the Routt County artistic community, Sherrod constantly is evolving. From month to month, one doesn't know whether her space at the Artists' Gallery of Steamboat will be devoted to a series of white-on-white paintings of horses, silver clay rings and pendants encrusted in semiprecious stones, Northwest Colorado landscapes rendered in vivid colors or a new series of abstract collages.
Sherrod, who grew up on a historic cattle ranch at the foot of Elk Mountain, works daily from noon to about 2:30 p.m. in her art studio, then slips next door into another bedroom devoted to her writing.
The work table is thick with small saws, rectangles of silver and copper and a platoon of small files. This month, she is making thick rings of silver clay set with amethysts and olive green peridot.
She works in silence except for the sound of the rasping files removing the burrs and rough edges from finely cut pieces of metal.
There is a large mass of crystal quartz on the work table that has a special hold on Sherrod, and out the window, she can glimpse Crystal Peak. Further to the west, she can see Elk Mountain where her family's home ranch sits.
Artist statement
I love conversation in the work I create. I want the objects or subjects to be talking to each other, leaning toward one another or overlapping. The trees grow as if they are friends or the fruit nestle close together. People are my favorite subject. They look at each other, talking, discussing or laughing. Horses are another favorite subject. When I watch horses, I can tell which ones are friends. They like to graze so closely, they inhale each other's breath. Using color can stimulate the conversational idea, but mostly it's shapes and how they relate to each other.
Q-and-A
Q. Do you work with a soundtrack?
A. I usually work in silence. Although I've tried music and listening to books on tape, I find both distracting. When I take a break, I usually play a computer game — something that takes me totally out of my creative mind.
Q. Do you work in a creative mess, or is everything in your studio in its place?
A. My studio is an absolute mess because I have so many ideas going on. But I have to have the rest of my house absolutely sane.
Q. Is the quality of light in your studio important to you?
A. Light is very important. I have a studio with two large windows. After the sun goes down, I seldom work unless it's framing or something like that.
Q. How do you recharge your creative impulse? Where do you go, in your mind or in the world, to draw ideas?
A. I love drawing people. When I travel, I always have a drawing book with me. I like to draw what's around me. That often sends me into a new space, and then I can come up with a new idea or two.
Q. How do you keep your art fresh and relevant while remaining productive?
A. When I find a new idea, I almost always create 10 to 12 pieces with that idea in mind. A new idea cannot be explored unless a series is developed. When I run out of ideas for that particular subject, or it has become boring, I go the next project.
Inside the Studio: Sandra Sherrod
To reach Tom Ross, call 970-871-4205, email tross@SteamboatToday.com or follow him on Twitter @ThomasSRoss1
Join the Yampa Valley VIP email club