Steamboat Springs — On a chilly October morning, Sandy Graves strides onto the rough, wooden planks of the covered porch outside her Old Town home prepared to push her career in bronze sculpting in a new direction.
Inside the Artist's Studio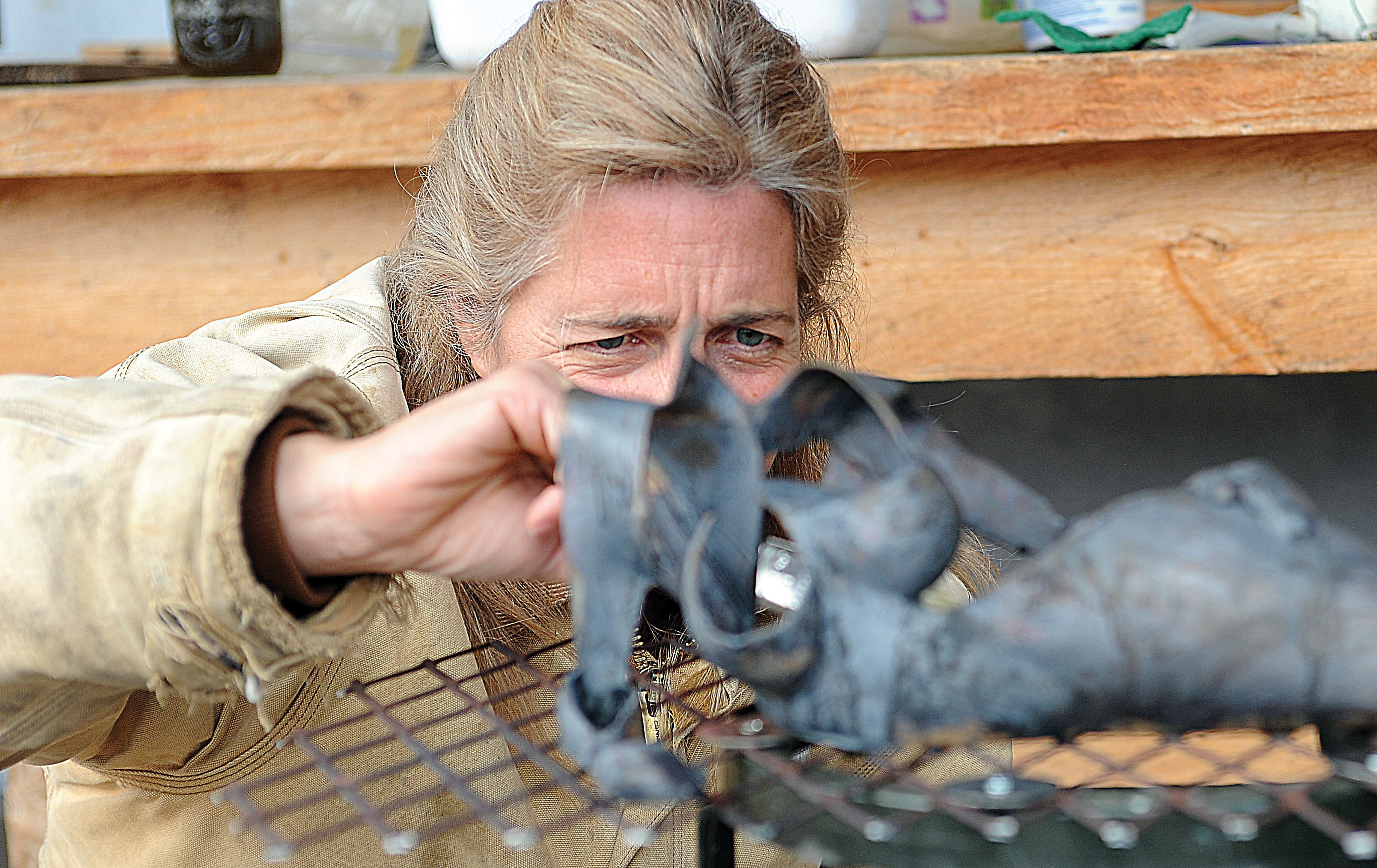 Anton Chekhov wrote, "The role of the artist is to ask questions, not answer them." If you agree with Chekhov, then a visual artist's studio is where that creative person goes to pose life's big questions.
Graves is dressed in tall rubber boots, jeans and a well-worn canvas barn coat. In one hand is a plastic cup of pigment and in the other a rough paintbrush. In front of her, perched on a metal stool, is a small, bronze sculpture of a woman's torso just back from the foundry.
The headless, legless sculpture is an abstraction of a reclining nude, but it's impossible to take one's eyes off the blazing, 3-foot-long weed-burning torch casually tucked under Graves' left arm. Somehow, she manages to direct the big, yellow flame from the torch onto the bronze and keep it at just the right temperature to permit the white pigment to render the desired patina on the bronze. She moves on from the white pigment to a magenta pink that transforms the human figure.
"I'm working more and more with color because what's a bronze sculpture other than a cool canvas?" Graves asked.
Call it alchemy. Graves uses sulfurous and cupric solutions to add highlights to her more traditional bronzes in a process that many bronze sculptors have ceded to foundry workers but that she refuses to relinquish. Now, she's going beyond, adding bright acrylic pigment to the patina of the finished pieces.
Graves is one of Steamboat Springs' most prolific artists, and her work sells in galleries across the country. Some of her most popular pieces feature long-legged horses, elk and moose.
Her studio atop a large garage overflows into parts of her family's living space. The home she shares with her young children and husband, Matt, a wood sculptor, was built in the 1940s, right at the edge of town where Old Town Steamboat Springs' residential neighborhoods merge into the pastoral setting of Strawberry Park.
Big and airy, the studio is dominated by rustic wood beams and plank floors.
"What I do is a lot of things," Graves said. Her bronze sculptures could be divided into two categories.
One is the commissions she does for clients, which sometimes trend toward traditional lifelike bronze busts like the one recently completed of a Crawford rancher in commemoration of his 80th birthday.
The work she assigns to herself often shakes up people's perceptions of familiar animals in order to probe viewers' emotional connections to those same animals.
I want to see "how far you can push it away from what it really is and keep the emotion to make up for what's not there."
Graves' studio allows enough space for several work tables where she simultaneously is working on three-dimensional wax maquettes of trout that will become bronzes and a new sculpture commissioned for the Vermont Law School.
Lifting the top off a plastic storage tub, Graves invites a visitor to her studio to reach inside and pull out a mass of oil clay by a light bulb, then knead it in his or her fist. The heat and the tactile qualities of the clay have an immediate soothing effect.
"This is why I'm a bronze sculptor," Graves said. "I chose this medium because I like working with the clay. It's elastic, and it's forgiving."
Artist statement
I see bronze sculpture as being a friendly and beautiful medium. I enjoy watching the public interact with art. In sculpture, viewers can walk around it, touch it and become part of the artistic expression in a very personal way. Recently, I have been working in the abstract with horses being the subject. It is a familiar subject for me as I owned and rode horses as a young girl. They have always been in my art.
Q-and-A
Q. Is there any quality or anything you simply must have in a studio to be at your creative best?
A. The space doesn't matter that much to me. As a bronze sculptor, I experience lots of things. I spend a lot of time at the foundry, four hours away in Paonia.
Q. Is there a time in the day when you feel more creative? Or do you fit your work into random 60-minute blocks?
A. It's amazing how busy this life keeps me. The artist Chuck Close said, "Waiting for inspiration is for amateurs. Real artists get up and go to work every day.'"
Q. Do you have any pets?
A. The barn cat doesn't come inside.
Q. Is there a tool you find indispensable to your art?
A. Coffee. My mold maker, Mary Zimmerman (at the foundry), is a big collaborator.
Inside the Studio: Sandy Graves
To reach Tom Ross, call 970-871-4205, email tross@SteamboatToday.com or follow him on Twitter @ThomasSRoss1
Join the Yampa Valley VIP email club