Steamboat Springs — Gregory Block often spends long days painting before an easel in a home that offers picture window views of the Priest Creek ski trails at Steamboat Ski Area.
Inside the Artist's Studio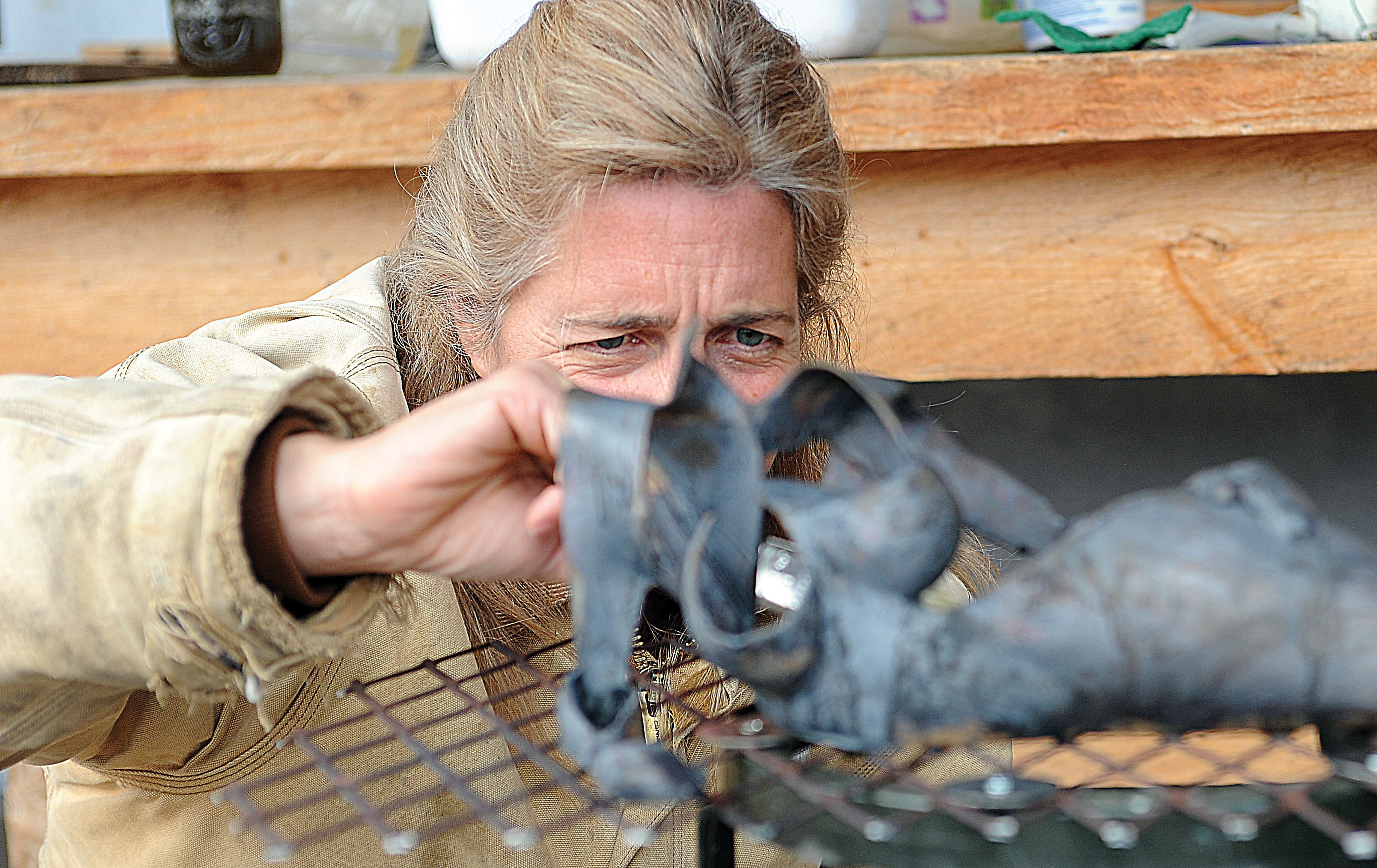 Anton Chekhov wrote, "The role of the artist is to ask questions, not answer them." If you agree with Chekhov, then a visual artist's studio is where that creative person goes to pose life's big questions.
But Block's gaze is directed inward this month at still life arrangements that stand up as sculptural installations on their own. So as yellow aspen leaves vibrate in the late October sun, Block has draped canvas over the windows where he is painting, to keep extraneous light out.
Block, not yet 30, is gaining favorable reviews for his representational still life oil paintings, which have sold well in Denver.
He said last week that he soon will emerge from the dark room where he is painting to work in natural light again, but for now, he is using a single artificial light to project highlights and shadows onto a collection that includes vintage bottles, a naked metal coffee can, power line insulators, blue-green glass Japanese fishnet floats and a stack of china tea cups.
While he works, a jam band is sending improvisational guitar solos spinning through the small room. But as soon as Pandora detects that he no longer is paying attention, the music will blink off, and the artist will continue in silence.
Block clearly is inspired by the objects he collects, including bones left over from a recent pig roast and shards of broken glass. One sacred object that stands out among the others in the studio is a large chunk of an old pump organ. Its stops and mechanisms are laid bare, and just a piece of the keyboard is intact. He sleeps nearby on a mattress on the floor. Next to the bed is a collectible Eames chair.
"To me, this is my living space where I'm most comfortable," Block said. "When I've been working (sometimes for 13 hours with only a break for a rejuvenating walk) and I get tired, I just plop in the bed."
Artist statement
Painting is ultimately about light. In still life painting, the tendency is to think about objects, but the truth is, each object (and certainly the painting itself) is defined simply by how it interacts with light. Visually speaking, if there is no light, there is nothing. So I'm equally as interested in lighting as I am with objects. Currently, my greatest challenge in the studio revolves around how best to light a setup to achieve a particular effect while maintaining a workable level of light on both my palette and the painting surface.
Q-and-A
Q. What are you working on right now?
A. I'm currently working on a large still life of over 50 objects arranged on library shelves. Glass jars, plates, coffee cans, candlesticks and two sets of plaster impressions of my teeth that I asked the dentist if I could keep.
Q. Is there any quality or anything you simply must have in a studio to be at your creative best?
A. No. My workspace is always changing — lighting, temperature, background noise, location, even the tools and media available. Painting doesn't require paint — I've used old clothes, cans, string, coffee to make paintings. I guess the one thing that I "need" in a studio is flexibility. Change keeps me engaged and learning.
Q. Do you keep special objects in your studio that are creative touchstones for you?
A. Absolutely. As a still life painter, I develop a real relationship with the objects in each setup. I consider each painting to be something of a journal entry chronicling my experience and connection with the objects in the composition. This is why, when people ask whether it's hard to part with a particular painting, my answer is always "no." It's not so hard to lose a journal, but to lose the people or experiences the journal is about, that's much more difficult.
Q. Do you have any pets?
A. Yes. My dog (Cayenne) is a terrific companion, and she keeps me tuned into things like mealtimes.
Inside the Studio: Gregory Block
To reach Tom Ross, call 970-871-4205, email tross@SteamboatToday.com or follow him on Twitter @ThomasSRoss1
Join the Yampa Valley VIP email club