Steamboat Springs — Sales tax collections in Steamboat Springs increased 4 percent in September for the ninth straight month of increases.
The city collected $1,383,290 in September compared with $1,329,202 in September 2012, according to a report released Thursday by the city. Collections have increased in every month of 2013, which puts year-to-date sales tax collections up 6.3 percent, compared with the first nine months of 2012, for a total of $14,114,537 collected this year.
By sales tax category, lodging and amenities showed the most growth by percentage at 11.4. Also showing increased collections in September were miscellaneous retail (6.2 percent), liquor stores (3.1 percent) and sporting goods (2.2 percent). Sales tax categories that saw collection declines in September include utilities (down 7.4 percent) and restaurants (down 1.1 percent).
By sales tax area, the base area showed the largest growth at 13.1 percent. West Steamboat also saw strong growth at 10.7 percent. Sales tax areas that also saw collections increase include downtown (5.2 percent) and regional (1.2 percent). The only sales tax area that saw a decline in September was the U.S. Highway 40 corridor, which was down 0.5 percent.
In other tax categories, the city collected $204,137 in building-use taxes in September, representing a dramatic 282 percent increase from the same month in 2012, when $53,441 was collected. The big month helped put year-to-date collections up 53 percent nine months into the year compared with the same figure in 2012.
Building-use tax revenue fluctuates monthly depending on how many building permits are issued, how many use tax audits are completed and the size and number of developments in the city.
Local marketing district tax collections increased 4.1 percent in September for year-to-date collections of $881,265, an increase of 13.4 percent from 2012. The tax that is dedicated to funding direct ski season jet flights into Yampa Valley Regional Airport was approved by voters in November 2011.
Accommodations tax collections increased 13.5 percent in September. The city has collected $574,688 year to date, a 9.4 increase from the first nine months of 2012.
For the next decade, the 1 percent tax on lodging properties, which generates about $650,000 annually, will be dedicated to new trails and a Yampa River promenade.
The city will split most of the tax revenue between the trails and the promenade until the promenade receives $900,000, likely after three years. Then, the majority of the tax will be dedicated to trail projects with a small amount going to the marketing of city amenities and capital improvements at Haymaker Golf Course.
The tax revenue spending plan was approved Nov. 5 by 71 percent of city voters after more than a yearlong process to decide how to spend the tax after it was done retiring debt on Haymaker Golf Course.
Final September 2013 tax report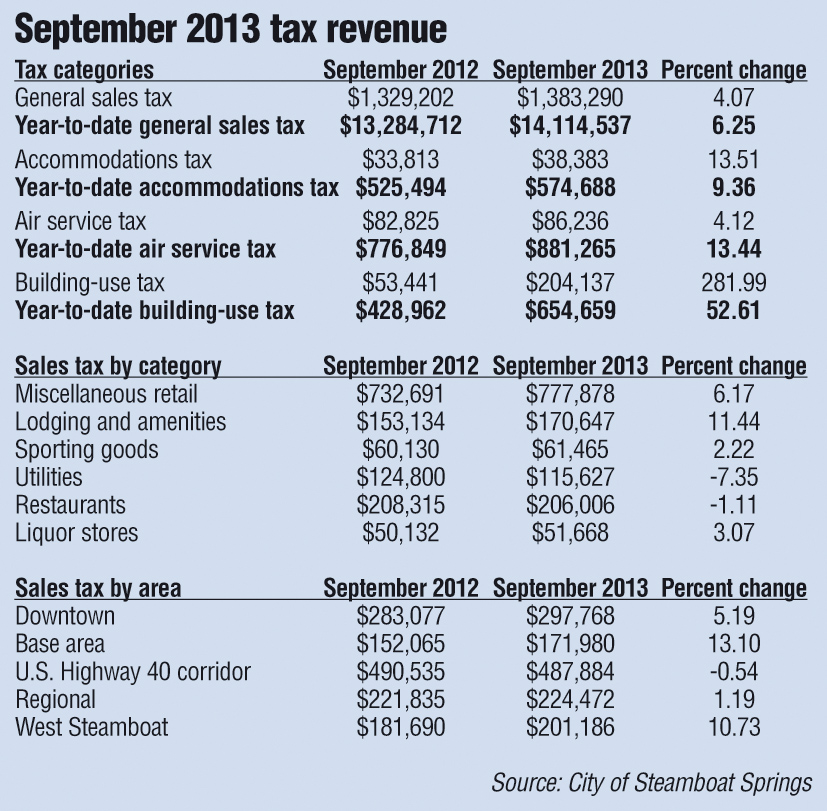 To reach Nicole Miller, call 970-871-4246, email nmiller@SteamboatToday.com or follow her on Twitter @Millerna
Join the Yampa Valley VIP email club