Steamboat Springs — Intrawest's filing to take the company public again and trade shares on the New York Stock Exchange includes plain signals that the company that owns Steamboat Ski Area would like to be in acquisition mode.
Intrawest, which relocated its headquarters to Denver in 2011 from Vancouver, B.C., filed with the Securities and Exchange Commission to raise as much as $100 million through a stock offering. Intrawest CEO Bill Jensen was not available for an interview Friday, but the IPO filing speaks for itself.
"As the economy continues to improve, we expect consumers will have more disposable income and a greater inclination to engage in and spend on leisure activities. We also expect recreational adventure and experiential travel to continue to gain in popularity as individuals, including the important 'baby boomer' generation, live longer, healthier lives," the company wrote in its filing.
Validating that premise is leisure industry analyst Christopher Agnew, with MKM Partners in Connecticut, who was quoted in the Financial Post of Ontario, where Intrawest owns Blue Mountain, as saying, "There's only a certain amount of real estate for good ski resorts, no increase in supply. There's only going to be an increase in demand over time as you get increases in global travel trends and leisure travel."
And the Intrawest IPO says the company sees potential advantages to acquiring resorts close to and distant from its existing resorts in an industry where the barrier to entry is high and it's unlikely new ski resorts will be built.
Resorts near existing Intrawest ski areas offer the opportunity to achieve efficiency by sharing administrative and marketing departments, according to Intrawest. Acquiring distant resorts in other parts of the company would enhance the company's existing geographic diversity by offering a hedge against poor snow years in one part of North America or another.
Intrawest's apparent interest in acquiring more resorts comes about 11 months after Vail Resorts announced its intention of acquiring smaller but high-performing Midwest ski areas in Afton Alps, Minn., and Mount Brighton, Mich., for $20 million.
Vail since has acquired both resorts and invested another $10 million in improvements at Mount Brighton, which is less than an hour from Detroit, and at Afton, which is very close to Minneapolis. Investments include new terrain parks and lift ticketing and scanning systems. Vail went as far as buying the iconic Twin Cities ski shop, Hoigaard's, according to the Pioneer Press.
Customers at the two ski areas were immediately offered 25 percent discounts, and they have access to Vail's Epic Pass that lets buyers ski all of its resort from the Sierras, Utah and Colorado to, yes, Minnesota and Michigan for $729.
However, National Ski Association President Michael Berry said it would be an overstatement to suggest that Vail's bid to broaden it customer base is driving companies like Intrawest to hustle to keep pace.
Berry declined to comment on Intrawest's proposed IPO but said acquisitions in the ski resort industry have been a constant; they're just taking some new forms now.
"It's been part of the industry, really, for the last 20 years," he said. Previous Steamboat owner "American Skiing Co. did it to some degree with a model that maybe wasn't as effective as they wanted it to be. If you look at the Intrawest model, they're already in those eastern markets and have facilities to smooth out weather variability."
The new Mountain Collective, in which independent ski areas have come together to make their passes good at several ski areas is an example of new ways of expanding without going through an acquisition. You could call it co-op-etition, he said.
"You're competitors, but you're cooperating," Berry explained.
Big names like Alta, Snowbird, Aspen Snowmass, Jackson Hole, Mammoth, Whistler Blackcomb, Squaw Valley and Alpine Meadows are in the collective, which offers 12 days of skiing spread among the resorts for $379. Pass purchasers have to cover the travel costs to the far-flung ski areas, but it's a way to sample several resorts in a season.
Another model that has taken hold, Berry said, is ownership of resorts by real estate investment trusts, which then engage a traditional ski resort operator to run the resort.
A good example is the real estate investment trust CNL Lifestyle Properties, which owned 14 ski resorts as of 2011.
Boyne USA, an historic ski area operator, manages a significant number of CNL resorts from the Summit at Snoqualmie, Wash., to Loon Mountain Resort, N.H., and Sugarloaf, Maine.
Another company that manages resorts for CNL is Triple Peaks, which once came close to acquiring Steamboat from American Skiing Co. It manages Crested Butte, Okemo, Vt., and Sunapee, N.H.
Real estate investment trusts don't hang onto properties indefinitely, so it's safe to guess that some of those resorts could one day be available to acquire.
Intrawest's IPO filing sees opportunity in the "fragmented" state of the ski resort industry and some of the new management models.
"The North American ski industry is highly fragmented, with approximately 753 ski areas in North America, of which fewer than 10 percent are owned by multi-resort operators who operate four or more ski resorts," the filing reads. It goes on to say, "As a multi-resort operator, we believe we are well positioned to take advantage of economies of scale in administration, purchasing power and access to capital and leverage our ability to offer multi-resort products. In addition, we intend to evaluate 'capital light' opportunities such as managing third-party resort assets and entering into real estate development partnerships."
Intrawest Ski Resorts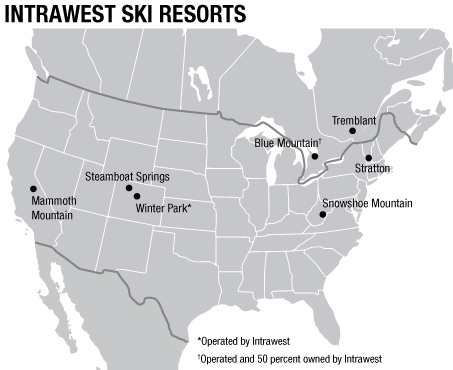 To reach Tom Ross, call 970-871-4205, email tross@SteamboatToday.com or follow him on Twitter @ThomasSRoss1
Join the Yampa Valley VIP email club