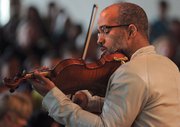 Past Event
Friday, May 10, 2013, 7:30 p.m.
Strings Music Pavilion, 900 Strings Road, Steamboat Springs
All ages / Free
If you go
Students from the Steamboat Springs Middle School seventh- and eighth-grade band, the Emerald Mountain School orchestra
 and the Moffat County High School band performed Thursday.
The Steamboat Springs High School jazz band and concert bands as well as violin soloists Cedar Turek and Jacob VanDerWerf will perform Friday.
Guest artist Daniel Bernard Roumain also will perform for the third and final time with the Strings School Days program.
Admission is free but requires a ticket from here.
Steamboat Springs — Looking at a violin, an average music listener might not think it could sound like Jimi Hendrix's electric guitar, much less the trumpet of Louis Armstrong. But as Daniel Bernard Roumain informs his students, anything is possible within the music world.
This week marks the conclusion of Roumain's tenure as the guest artist with the Strings School Days program. Working with music students across Northwest Colorado at various intervals throughout the past two years, Roumain, better known as DBR, will perform with his pupils in an evening recital at 7:30 p.m. Friday.
The School Days program — which reaches children from Steamboat Springs, Craig, Hayden and Oak Creek — included workshops with the professional violinist and composer in May 2012, January and this week during which various schools were bused in to hear him perform alongside the younger musicians.
"It's a great way for kids in surrounding schools that aren't in music to come and see their peers," Strings Marketing Director Cristin Frey said. "The best part of it is just keeping music alive, so even if students aren't in music class, they can come and experience this."
DBR immediately got the crowd's attention with an intricate re-creation of Hendrix's Woodstock version of "The Star-Spangled Banner."
"I think in some ways, young people are attracted to strange, odd, weird new things," he said. "Judging from their reactions, there's definitely something familiar that resonates."
DBR said his goal in teaching is to demonstrate how diverse music can be.
The set list for students in the program includes DBR's arrangements of pop hits from artists like Adele and Michael Jackson as well as his own piece "Hip-Hop Studies & Etudes."
Shael Moyer was in attendance during a Wednesday morning performance by the Emerald Mountain School orchestra, which included her daughter Avery on violin.
"It's really such an amazing opportunity for these kids to get to play with Daniel, who's just so talented," she said. "It lets them see a professional, and he's having so much fun up there, and it changes it for them to see somebody who's passionate about it."
Working with young musicians strikes a chord with DBR, who first picked up a violin at age 5. He has been involved with groups ranging from New York to Texas to Florida, promoting the vitality of local music scenes.
"We'll have a lot of music in these shows, and it'll be good, it'll be fun, it'll be uplifting, but it will also be important," he said. "People should come out and support it because these are their children, their community. It'll be a spectacle, an extravaganza, and there's something for everyone."
His feelings might best be summed up in the words with which he prefaces each introduction: "Hope you dig it."
To reach Andy Bockelman, call 970-871-4204 or email abockelman@ExploreSteamboat.com