If you go
What: "Cabaret 2013: Barely Legal"
When: 6 and 8:30 p.m. Friday and Saturday
Where: Chief Theater
Cost: $30. Tickets are available at the Depot Art Center and All That Jazz.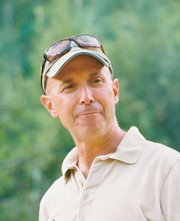 Photo Gallery
"Cabaret 2013: Barely Legal" dress rehearsal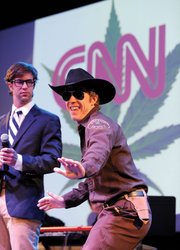 The annual Steamboat satire opens at 7 p.m. Thursday with additional performances at 6 and 8:30 p.m. Friday and Saturday.
Steamboat Springs — I love the local celebration that is "Cabaret," the Steamboat Springs Arts Council's annual fundraiser to benefit a range of artists in the community, from visual to musical to performing. But you'd better be prepared to enjoy more than your share of dope jokes to really get the benefit of this year's version, titled "Cabaret 2013: Barely Legal." The title refers to the recently passed Amendment 64 that legalizes marijuana for recreational use here in Colorado.
Judging from the age of the crowd, recreational use has been fairly common for years, so most of us caught on to the references quickly. More than a few of the doper skits rang all too true: the paranoid sheriff desperately fighting the rising tide of blue smoke, the weed smokin' song and a surreal version of Neverland inspired by a Peter Pan who looks great in green, even if not wrapped in a rolling paper.
"Barely Legal" marks the return to "Cabaret" of David Jolly — he's Peter Pan with Park Myers as Tinkerbell, a combination you don't want to miss — and his performing skills and writing ability definitely lift the show to a higher level, pun intended. The opening "We're Not That Cabaret" number, including a video of some the funniest and worst Liza Minnelli impressions you will ever see outside of a hashish-induced nightmare, features Jolly at his best. Later in the show, he writes and performs in an explanation of "The Rest of the Story," which goes behind those vaguely mysterious and intriguing police blotter reports published in the Steamboat Today.
There is a solid band backing the Paula Salky- and Katy Kriz-directed production featuring local musicians Randy Kelley, Rick Philipp, Kevin Williams, Willie Samuelson and Gerry Verdoner. Once again, Kris Hammond resurrects the Steamboat mailman (the crowd murmurs in warm appreciation every time he walks onstage) and performs a rousing welcome to the almost completed Casey's Pond Senior Living center. On second thought, that bit might be a trifle too close to home for some of us.
Speaking of close to home, Steve Jones and John Fisher, have written a darkly comic but totally brilliant take on modern Steamboat marriages based on the soon-to-be-built horse racing track next to the soon-to-be-built Hayden casino gambling pool and spa. "They're off, with Love and Romance in the lead, followed closely behind by Wedding Vows and Crying Baby a length back. And the winner is …" That you will have to see for yourself, but rest assured it's not Joyful Empty Nesters or Retirement Bliss.
But the true high point — last one, just so you really understand what this show is about — of the evening is a madrigal version of the Christmas Cannabis Song that is as beautifully performed as it is written. Jeanne Fitzsimmons, Pam Pierce, Patty Zimmer and Laura Frey manage to bring tears of joy and gales of laughter to the already red-eyed crowd.
Go see Cabaret 2013 for their work and to support our very worthy local arts organization. For the weaker moments, just get really baked before you leave home with your DD.
Stuart Handloff is the artistic director of The Great American Laughing Stock Co.