Photo Gallery
"Cabaret 2013: Barely Legal" dress rehearsal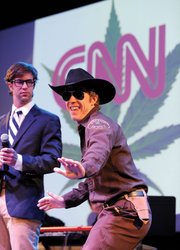 The annual Steamboat satire opens at 7 p.m. Thursday with additional performances at 6 and 8:30 p.m. Friday and Saturday.
Steamboat Springs — Medical marijuana, the demise of snack cakes, gun control, local businesses.
Anything is fair game when it comes to the annual satire of life in Steamboat Springs, Colorado and the United States. "Cabaret 2013: Barely Legal" premieres Thursday night at the Chief Theater, promising a night of laughs while raising funds for the Steamboat Springs Arts Council.
The sketch show features a cast of more than 30 residents who have worked tirelessly to bring about a quality performance in a short amount of time.
Most of the people involved actually prefer the tight timeframe.
"The single best thing about doing this as opposed to doing a play is that it takes only a week to put the whole thing together," cast member Cesare Rosati said.
Rosati, who has been involved with the show since the late 1990s, said the crowds who have come to expect clever local commentary about events of the past year won't be disappointed.
"Every year, it's different, and every year is better than the year before," he said.
Sketches include the revolving door of Steamboat restaurants, the loss of Twinkies from supermarket shelves and the passage of Amendment 64.
Another segment focuses on the show itself and how it has been shuffled from one location to another since its inception.
"We're a huge supporter of the Chief and just so excited to have a performing arts venue in town," co-director Paula Salky said. "Since it was ready this week, we thought it would be perfect timing to use the stage, and it's just been great. I've seen this theater transform in the last few weeks."
The show marks the debut of the Chief's larger theater space, and along with the new downtown location comes a cast of many rookies among the veterans.
Kayla Murphy is one of the cast members performing for the first time.
"There's nothing quite as fun as poking fun and taking the piss out of your hometown, so it kind of came naturally to me," she said.
Murphy said the short time she has spent with the rest of the crew has been a learning experience.
"There's so many people here who are so knowledgeable about how to write and perform comedy, how to deliver lines, dance, sing, tech, all that stuff," she said. "It wasn't like in high school. Everyone's an adult here, and if you don't pull your weight, we don't get onstage and look good."
Although she has yet to show her stuff in front of a real audience, Murphy said she likely will return for next year's "Cabaret."
"I feel like there's a real community that's created here," she said. "There's a lot of work that goes into deciding, 'What are we going to make fun of this year?' and it's a situation where tease equals love, so if we tease you, it means we like you."