Photo Gallery
Bob Hiester: A leaving legend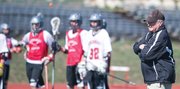 Related stories
It always started with the stick. It began with how to hold it. What to do with it. Where to stand.
Bob Hiester had been here before. He'd started lacrosse programs at Smoky Hill and Grandview.
But Steamboat Springs, at least at the time, seemed like a different animal. Lacrosse in Ski Town USA? Spring, after all, isn't kind to high school sports in the mountains.
So when Hiester walked into the Kelly Meek Gymnasium in 2002 to hold the first lacrosse practice at Steamboat Springs High School, it wasn't a sight to behold. There, the first group of boys lacrosse players picked up sticks and started to build the foundation.
"That first time we went in the gym, we had real lacrosse balls," Hiester said. "Visualize standing inside a popcorn machine while it's popping. I mean balls were just going everywhere."
"I remember (former Principal) Dave Schmid stuck his head in the gym that day," said Mike Knezevich, who was the assistant principal at the time. "We told him to get out of here because you're going to get hurt. Balls were flying everywhere. It was raw. But the other thing was just the enthusiasm of the kids. It was the magic of lacrosse."
Steamboat was the third lacrosse program Hiester started, and at year's end, it will be his last.
The longtime coach announced in March that he would retire from his position as a math teacher and head lacrosse coach.
It's truly the end of an era in Colorado prep lacrosse.
Hiester started coaching lacrosse in 1970 at Cherry Creek High School. He then started the programs at Smoky Hill, Grandview and Steamboat.
His 40-plus years make him one of the pioneers of Colorado lacrosse.
"I don't know what his won-loss record is, but it doesn't matter," said Jim Soran, the boys lacrosse coach for Regis Jesuit. "What he's done for the sport goes beyond wins and losses. He, maybe more so than anyone, has contributed greatly to the sport."
Early decision
Hiester's career
1967-68: Pauline Memorial School seventh- and eighth-grade basketball coach
1968 to 1973: Cherry Creek High School football defensive coordinator
1971 to 1974: Cherry Creek High School lacrosse coach
1974 to 1992: Smoky Hill High School football coach
1975 to 1997: Smoky Hill lacrosse coach
1998 to 2001: Grandview High School lacrosse coach
2002 to 2013: Steamboat Springs High School lacrosse coach
Hiester grew up in Denver and went to high school at Thomas Jefferson. He was a star football player, and it didn't take long for him to find his life's calling.
"We'd have neighborhood football games, and I'd take the little guys and coach them," Hiester said. "I helped my dad with the Cub Scout softball team. By the time I was a junior in high school, this is what I wanted to do. I never thought about anything else. I was a teacher and a coach. That was my focus and that was what I've done."
After high school, Hiester went to play football at Colorado College in Colorado Springs, where he was a four-year starter at linebacker and the most valuable player his senior year. While there, the seeds of lacrosse were planted. He had seen the game and started to play a little.
He started teaching at Cherry Creek in 1968 and was an assistant lacrosse coach. By 1970, the program was his. There were only eight teams in the state back then.
Hiester moved in 1975 to Smoky Hill, where he started the lacrosse program and coached the football team. He eventually moved to Grandview in 1998.
"He has a special place in Colorado lacrosse history," said Todd Dickson, who played for Hiester at Smoky Hill in the 1980s. "But for me, it was much more about building character in kids. He was helping kids be good human beings. That was his primary drive. His secondary (drive) was coaching kids. He used the classroom and sports field to help kids grow into great human beings. I'm very thankful for that reason."
Away from the city
In 2001, Hiester and his wife, Judy, wanted to get out of the Front Range. Hiester had looked at some schools in Maine and another in Wyoming. Then he got a call from Knezevich, who in 2000 had laid the groundwork for lacrosse in Steamboat Springs and knew there was a math position opening at the high school.
"I interviewed on a Tuesday and got the job," Hiester said.
Late in spring 2001, Hiester hosted a lacrosse skills clinic. He knew the only way to get people into lacrosse was to get exposure for the sport.
At the clinic, Hiester gave out 50 lacrosse sticks "to get them in neighborhoods," he said.
The groundwork was there. Jake Flax, who graduated from Steamboat in 2006, remembers walking past Gardner Field one day with his dad and brother Andy.
"He gave us our first sticks," Jake Flax said. "He gave us those sticks totally free. No one had to pay anything. It was in the summer. We were spending our summers skateboarding and BMX riding. Suddenly, all of our friends picked up lacrosse sticks. That was great for us. That was all through Hiester."
But it still took time. Steamboat's young program lost often. Practices in the gym didn't help, but Hiester remained patient. Those long practices, with balls bouncing every which way, started to pay off.
"He was the perfect guy for the job," said Danny Carlson, who played on the first team in 2002. "He was old school, and he'd drill you on the fundamentals. That was exactly what we needed. You can see where it's gone from that first year to where it is now."
Hiester's success at building a lacrosse program relates to his work in the math classroom. It's always been teaching and coaching for him.
"It's fundamentals," he said. "In math, you start out with good fundamentals and basic skills, and then you take concepts and build on it. Lacrosse is like that. You start with basic fundamentals and your level of sophistication gets higher and higher."
Not surprisingly, Hiester has experienced success at every stop along the way.
"The biggest thing is you have to have patience," he said. "You knew we were going to have lumps. But I knew it would be fine. The sport sells itself. In football, I never had a kid say, 'Coach, can I stay after practice to hit the sled?' In lacrosse, they'll stay out there all night and shoot if they could."
Building a program
Lacrosse by the numbers
Steamboat Springs High School boys lacrosse records
2002: 2-12
2003: 2-9
2004: 6-4
2005: 4-9 (Steamboat joins the Foothills Conference)
2006: 3-8
2007: 4-7
2008: 7-6
2009: 12-1* (Mountain League forms)
2010: 10-2*
2011: 9-7*
2012: 15-2* (Steamboat wins its first playoff game)
2013: 12-3*
*Indicates playoff teams.
Numbers of high school lacrosse programs in Colorado
2001: 28
2002: 33 (Steamboat program begins)
2003: 35 (Steamboat's Lacrosse team is sanctioned by Colorado High School Activities Association)
2004: 36
2005: 41
2006: 44
2007: 48
2008: 58
2009: 62
2010: 63
2011: 63
2012: 63
2013: 66
Hiester's role in Steamboat's love affair with lacrosse is undeniable, but there were other factors and people at play.

In 2003, Neill Redfern started Steamboat Youth Lacrosse, bringing the game to younger children in the community. The program saw its biggest influx in 2006 and now boasts more than 200 players with elementary to high school-age teams. The success was instant. The organization believes in letting every player play. Players rarely are moved up or down; instead, they always play in their age groups.
Hiester has worked the high school program in a similar manner. It's the largest sports program at the high school, and every player gets on the field.
The philosophy is simple. By allowing everyone to play, it keeps players interested in the game.
"The way Hiester and Neill treated the game is if you want to play, you can play," Jake Flax said. "If you want to play hard, you'll play. So many sports separate kids early on. It's ridiculous to have such competition at a young age."
The high school program started to see the benefits of Steamboat Youth Lacrosse several years in.
And judging by the recent results — last year marked the first time Steamboat won a state playoff game, and this year the team is considered among a few teams expected to compete for a Class 4A state championship — Hiester's third startup program is a hit.
"If he's proven anything, it's how not just to start a program, but a program that lasts," Jake Flax said. "If Bob Hiester starts a program, it's going to succeed. Just look at the fact that every team he has coached here has been better than the team before."
A lasting legacy
Awards received
Colorado High School Lacrosse Coaches Association Coach of the Year: 1977, 1979, 1981, 1984 and 1989
Western Slope League Coach of the Year: 2008
Outstanding Sports Coach of the Year from the Aurora Chamber of Commerce: 1981
Colorado Teacher of the Year nominee: 1986
Colorado High School Coaches Association Teacher Coach of the Year: 1991
Colorado High School Lacrosse Coaches Association Man of the Year: 1991
Colorado Lacrosse Hall of Fame inductee: 2004
Steamboat Springs Booster Club Coach of the Year: 2012
Awards named after Hiester include the Colorado High School Lacrosse Coaches Association Bob Hiester Award given to the coach of the year and the Bob Hiester Outstanding Mathematician award given annually to a teacher at Grandview High School.
Hiester's position in Colorado lacrosse history is cemented. The Coach of the Year award is named after him, he was elected to the Colorado Lacrosse Hall of Fame in 2004 and when the sport was on the cusp of getting sanctioned by the Colorado High School Activities Association, Hiester gave the presentation.
He will retire having coached and taught generations of players and students.
"He's right up at the top," Monarch coach David Auday said. "He's a legend. It's just because of the respect he ensues. With all that, he's a lacrosse icon."
"As an educator, I really look up to him," Auday continued. "Like Bob, I love this game. One of my goals is to make an impact on the game like he has. It's probably unrealistic, but that's what a lot of coaches want to do."
Hiester entered the gym one day in 2002 in Steamboat with players having never touched a stick and gave them access to a game with which they fell in love. And even as balls zipped around the gym that day, Hiester had faith.
He'd been here before. He'd seen the power of lacrosse, and he knew it was only a matter of time before lacrosse got a stranglehold on Steamboat.
"The game sells itself; it really does," Hiester said. "We knew it was going to happen. It's a game that kids enjoy. It serves a variety of athletes. It appeals to a wide variety. I knew this at Smoky Hill, Grandview and here.
"You know your program is going in the right direction when you see a little kid walking down the street with a lacrosse stick over his shoulder." ■