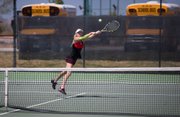 2013 Sailors girls tennis schedule
Steamboat Springs — The headline might elicit a yawn: The Steamboat Springs High School girls tennis team won the regional tournament and will send all of its players to state. Big deal, right? The victory, which the squad wrapped up Thursday, makes it 10 years in a row — a decade of dominance.
Despite the regional title streak, coach John Aragon said he hasn't had many seasons like this one and said the team had plenty to take pride in after a masterful final day's performance at the Grand Junction tournament.
"This team probably made the biggest improvements during the season of any team we've had in the last 10 years," he said. "We had some young kids playing in pretty tough situations, and they got it done."
Steamboat won six regional championships Thursday and got its last player to state, No. 1 singles player Rachel Grubbs, when she won a playback opportunity after falling in the regional championship match.
Six first-place finishers and one second-place finisher, that's not a bad way to head into the state tournament.
Steamboat got singles victories from Ellie Bender, at No. 2 singles, who beat Vail Mountains' Courtney Thomas, 6-0, 6-4; Kira Lorenzen at No. 3 singles, who beat Glenwood Springs' Sadie Dickinson, 6-0, 6-3; Katie Spencer and Shealie Jenkins, at No. 1 doubles, who beat Durango's Meredith Nass and Kit Hackett, 6-1, 6-4; Maddie Labor and Brooke Metzler, at No. 2 doubles, who beat Glenwood Springs, 6-4, 6-0; Malia Fraioli and Hanna Haggarty, at No. 3 doubles, who beat Cedaredge, 7-5, 6-0; and Sabina Berend and Sydney Boyd, at No. 4 doubles, who beat Montrose, 6-2, 6-3.
Grubbs, meanwhile, lost to Vail Mountain's Camilla Trapness in the finals but beat Glenwood Springs' Sariai Zilm, 6-3, 6-2, to secure the spot at state.
"We are pretty proud of these kids to uphold that streak," Aragon said. "Early in the season, we were thinking it might not happen. It was just a really solid team effort."
It all added to a huge win on the scoreboard. Steamboat finished with 94 points, far ahead of second-place Glenwood at 47. Durango was third with 38.
The team now is bound for Pueblo, where it will play in the state tournament May 9 to 11.
To reach Joel Reichenberger, call 970-871-4253 or email jreichenberger@SteamboatToday.com