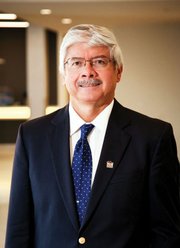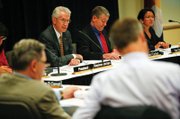 Andrea, a sophomore at Metro State University who did not want her last name published, came to the United States at age 7. She's lived most of her life in the shadows, never sharing her story.
Sarahi Hernandez, a brunette busting with energy, has taken the opposite approach with her outspokenness about the adversity facing illegal immigrants and undocumented students.
But each is similar in their status.
They're both in the country illegally. And both study at Metro State University, a school that bucked the trend by offering lower tuition rates for undocumented students before the start of the 2012-13 school year.
Both sat in a conference room the day after the Asset bill made its way through the Colorado House. Gov. John Hickenlooper already has said he'll sign it into law, giving illegal immigrants in-state tuition status as long as they have gone to a Colorado high school for at least three years and graduated.
"It's been proposed six different times," Hernandez said. "I was reading a lot of the news that says it's false hope. To me, that's frustrating. It's not false hope; people just haven't given it the chance. It's definitely something beautiful seeing Republicans and Democrats come together."
Metro State has been at the forefront of the bill. The university's Deputy Provost Dr. Luis Torres recalls first supporting the bill 10 years ago, when his school was the only higher education institution to show up to a hearing about the proposal. Each of the subsequent times the bill was introduced, Metro State was there.
"The other institutions, and this is critical, I think they were afraid," Torres said. "I think they were afraid to do it. I think they were afraid to support students where the whole state infrastructure was against them."
After repeated failures of the bill, Torres said the university put together a task force in 2007 to examine the issue. It studied state and federal laws extensively.
By 2011, the university's tuition proposal had been brought to its board of trustees. In June 2012, the board voted, 7-1, to allow a lowered tuition rate for illegal immigrants, making Metro State the first higher education institution in Colorado to do so.
The tuition rates were $6,716 per year for illegal immigrants — more than the $5,792 paid by in-state students but far less than the $15,985 paid by out-of-state students.
"These students are integrated into Metro State University," Torres said. "They're taking the same courses like any other students. They're studying like any other students. They are progressing like any other students. I think it's turned out about as well as it possibly could have."
Last fall, 236 undocumented students enrolled at Metro State. That number now is 264. Forty-five percent of those students are taking at least 12 credits.
"We didn't feel it was up to us to keep these financial roadblocks in front of students," Torres said. "Educators never look at education as a false hope. We're educators, not politicians. We never looked at it as false hope. Once someone is educated, you can't predict the path they'll take."
Colorado Mountain College's board of trustees voted unanimously to support the Asset bill in January. Ken Brenner, a CMC trustee, said the ongoing national legislation and a desire to give all students an opportunity led to the vote.
Andrea and Hernandez are banking on that. Both have applied for deferred action, which essentially would give them official identification and a Social Security card for two years. Each is taking 12 credit hours this semester.
Andrea is studying business management, hoping one day to operate her own business breeding bucking bulls. Hernandez is studying human services. Her plan is to start a nonprofit to help illegal immigrants attend higher education institutions.
"There was that time I was about to give up and go to Mexico," Andrea said. "But there are people out there willing to help you go to college. You just have to do anything that will make people see that you deserve to be here."
For two illegal immigrants who had never met, their stories were strikingly similar. At the end of the conversation, the student who had never been afraid to share her experience grabbed the hand of the student who had never told her story.
They embraced.
"Stuff like this," Hernandez told Andrea, "is very liberating."
Becoming an American