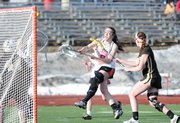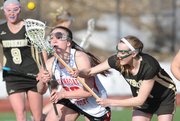 2013 Sailors girls lacrosse schedule
Steamboat Springs — The Steamboat Springs High School girls lacrosse team struggled Wednesday against rival Battle Mountain, falling, 14-3.
The Sailors, winners of two of their past four, struggled from the onset Wednesday, allowing the Huskies to do whatever they wanted.
Battle Mountain took a 5-0 early lead before Steamboat's Aleigh Aurin added two late first-half goals to cut the lead to 5-2.
"We got outplayed and outcoached today," Steamboat coach Betsy Frick said. "That should have been a closer game. We weren't using our heads."
Steamboat struggled to contain Battle Mountain's Maddi Conlin, Clare Baker and Mabry Gentry. The trio was able to get easy looks in Steamboat's defensive zone all day.
The three accounted for 13 of Battle Mountain's goals Wednesday.
Battle Mountain was just as good defensively, and when it wasn't, goaltender Sienna Miller was there. Miller stopped 12 of 15 shots she faced in net.
"It was low energy, and we weren't playing sound," Steamboat senior Emily Spiess said. "That, and they played a really good game."
The win improves Battle Mountain to 2-4 overall and drops Steamboat to 2-4.
Steamboat should have a chance for wins in its next two games. The team plays at 2 p.m. Friday at home against Rampart. The team also plays at 3:30 p.m. Saturday at home against Eagle Valley, a team it already has beaten.
To reach Luke Graham, call 970-871-4229 or email lgraham@SteamboatToday.com