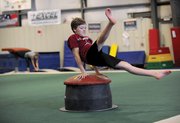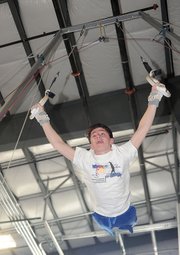 Steamboat Springs — Excel Gymnastics will host the Colorado Men's State Gymnastics Championship Meet for levels 5 through 10 this weekend.
The event will attract 320 athletes along with 46 coaches, 25 teams and six judges. Excel Gymnastics will have athletes competing at levels 5, 6, 7 and 9.
Steamboat participants include Jason Starks competing in Level 5, Trace Walker in Level 6, Eric Casey in Level 7 and Cole Gibbs in Level 9.
"It's exciting," Excel Gymnastics owner Mike Smith said. "We get to showcase the gym to the state."
The event consists of six events: floor, pommel horse, rings, vault, parallel bars and high bar. Each athlete competes in all events.
The event begins at 6:30 p.m. Friday with technical sequences. Seven competitors from levels 8, 9 and 10 will compete.
On Saturday, the Level 6 gymnasts will compete in the morning, Level 10 gymnasts in the afternoon and levels 8 and 9 gymnasts in the evening. On Sunday, Level 7 kids compete in the morning followed by two sessions of Level 5 gymnasts in the afternoon and evening.
The meet is the last one of the season to be held in Colorado. Gymnasts can qualify for the Region 9 Championships on April 6 and 7 in Albuquerque, N.M. The region consists of Colorado, Utah, Wyoming and New Mexico. There, gymnasts in levels 8 through 10 will compete to qualify for the National Championships in Portland, Ore.
In the Level 5 division, the top 20 7- and 8-year-olds advance to regionals. The top 30 9- and 10-year-olds advance.
Levels 6 through 10 are based on scores.
"I think I can get in the top 10," Cole Gibbs said. "I've been to a lot of them. Nerves don't affect me, having been in it for 10 years."
For Starks, Walker and Casey, they will have to have their best meet of the year to qualify for regionals, something Smith said isn't out of the question.
"I know I'm capable of it," Walker said. "I just have to believe I can do it."
Excel Gymnastics also will have a pair of Level 8 girls gymnasts competing at state this weekend in Lakewood. Taylor Rogers and Julia Gibbs will compete at Jet Gymnastics.
Julia Gibbs was third in the state all-around in Level 7 last year and won on the vault.
"I'll be a little nervous, but my nerves won't affect me," she said. "I try and not let them overwhelm me."
Those interested in volunteering for this weekend's championships can call Excel Gymnastics at 970-879-3467. Admission to each session is $5 and free for those 6 and younger. All volunteers get free admission and an Excel Gymnastics shirt.
To reach Luke Graham, call 970-871-4229 or email lgraham@SteamboatToday.com