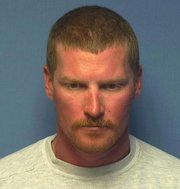 Steamboat Springs — The Routt County District Attorney's Office has filed charges against a 29-year-old Steamboat Springs man accused of distributing methamphetamine to a person working with the All Crimes Enforcement Team drug task force.
Conor Michael Barrett was arrested Friday and charged Monday with a single count of unlawful distribution, manufacturing, dispensing, sale or possession of a Schedule 2 controlled substance, a Class 3 felony.
According to arrest warrant paperwork filed in Routt County Court, a confidential source working with ACET was trying to buy cocaine from Barrett Oct. 12 at his home on Sixth Street for $1,200.
After getting the substance analyzed by the Colorado Bureau of Investigation, ACET confirmed the substance weighing about an ounce actually was methamphetamine.
Barrett was released from custody after posting a $50,000 personal recognizance bond.
Barrett has hired Steamboat attorney Patrick Welsh to represent him. Welsh said it was too early to comment specifically about the accusations.
"We are investigating the charges at this time," Welsh said.
To reach Matt Stensland, call 970-871-4247 or email mstensland@SteamboatToday.com