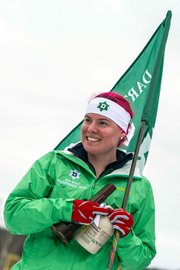 Steamboat Springs — Steamboat Springs skier and Dartmouth College freshman Mary O'Connell capped an epic year Saturday, finishing fourth in the 15-kilometer freestyle mass-start event at the 2013 NCAA Skiing Championships.
O'Connell, who finished second Thursday in a 5-kilometer classic event, came into Saturday's race as the top-ranked skier from the Eastern Intercollegiate Ski Association. She also was racing on the same course where she won her first collegiate race in mid-February.
On Saturday, O'Connell got through the chaos of the mass start to hold on to fourth place.
University of Colorado skier Joanne Reid won the event comfortably, finishing in 38 minutes, 17.8 seconds. Teammate Eliska Hajkova was second, and Alaska-Anchorage's Marine Dusser was third. O'Connell finished in 39:18.3.
At the second split, O'Connell was just five seconds behind. From there, Reid was able to open up her lead incrementally. O'Connell was eight seconds back at the third split, 35 seconds back at the fourth split and more than a minute back at the fifth split.
O'Connell held fourth throughout the race. She also was the top skier from the Eastern Intercollegiate Ski Association.
The former Steamboat Springs Winter Sports Club member and former Nordic combined skier had a remarkable freshman year.
She won three collegiate races and also had an eye-opening, seventh-place finish at the U.S. Cross Country Championships.
Colorado had a historic final day of competition at the NCAA Championships. The Buffs erased a 54-point deficit on the final day to win their 18th national title. Utah was second, defending national champion Vermont was third and Denver was fourth.
To reach Luke Graham, call 970-871-4229 or email lgraham@SteamboatToday.com