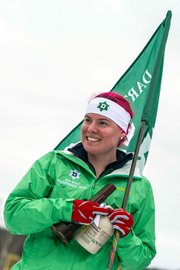 Steamboat Springs — Steamboat Springs skier Mary O'Connell finished second Thursday at the NCAA Skiing Championships.
She admitted that finishing on the podium would have been a realistic goal if she were a junior or senior.
But as a freshman?
"It's definitely something I would have never imagined," O'Connell said. "Even in December, or last year or at anytime really."
But O'Connell, a former Steamboat Springs Winter Sports Club skier and a freshman at Dartmouth College, has been on a remarkable run.
It continued Thursday at Middlebury College, where O'Connell finished second in the women's 5-kilometer classic event.
She finished in 15 minutes, 42.2 seconds — 11.1 seconds behind winner Anja Gruber, of the University of Vermont. University of Alaska-Anchorage's Marine Dusser was third.
"When I was young, I always joked around that it would be cool to ski at Dartmouth," O'Connell said. "I didn't think it was possible. Then I said it would be sweet to go to the NCAAs as a sophomore or junior. I never thought it was possible as a freshman."
O'Connell has had a banner season. After starring at World Juniors in the Czech Republic and finishing seventh at the U.S. Cross Country Championships, O'Connell has won three of her past four NCAA races. Those were Eastern Intercollegiate Ski Association races, though, and Thursday marked the first time O'Connell had seen the top competition from the rest of the country.
She said she was just hoping for a top-10 finish. She started the race in 40th and was the last competitor to go.
O'Connell knew she was in position to do well. University of Colorado skier and one of the race's favorites Joanne Reid started in front of O'Connell. O'Connell used Reid as a benchmark for her race, making sure to keep her within striking distance.
Heading into the last hill, O'Connell was seconds behind Gruber, but the finish is one of the toughest O'Connell has encountered.
"It's all uphill, and you're strong double poling all the time," O'Connell said. "At the finish, I'd never been so out of breath. I was so dead when I finished."
Even better things could be on the horizon.
O'Connell competes Saturday in the women's 15-kilometer freestyle event. She enters as the top-ranked skier from the Eastern Intercollegiate Ski Association, and she won her first collegiate race on the same course in mid-February.
O'Connell said the course sets up well for her, and the event suits her better. She expects the pace to be faster and said her plan is to stay out of trouble in the beginning and make a move toward the end.
"I think it's going to be a much more competitive race because it is a mass start," she said. "Races have been so close in the last few weeks. A top five would be solid."
To reach Luke Graham, call 970-871-4229 or email lgraham@SteamboatToday.com