2013 July 4th Ski Jumping Extravaganza
All events are at Howelsen Hill unless otherwise noted.
★ Monday
9 to 11 a.m. Open training
2 to 4 p.m. Open training
★ Tuesday
9 to 11 a.m. Open training
2 to 4 p.m. Open training
5 p.m. World Champion Celebration
6 p.m. National Nordic Foundation Calcutta Competition
★ Wednesday
9 a.m. HS45 jump competition
10:30 a.m. HS75 jump competition
★ Thursday
9:15 a.m. Nordic combined 1-kilometer run (Lincoln Avenue)
9:30 a.m. Nordic combined 3-kilometer roller ski race (Lincoln Avenue)
11 a.m. HS75 elimination qualifying
12:30 p.m. HS75 elimination jump competition
Awards will follow the events immediately on the ski jumping flats at Howelsen Hill.
Independence Day in Steamboat Springs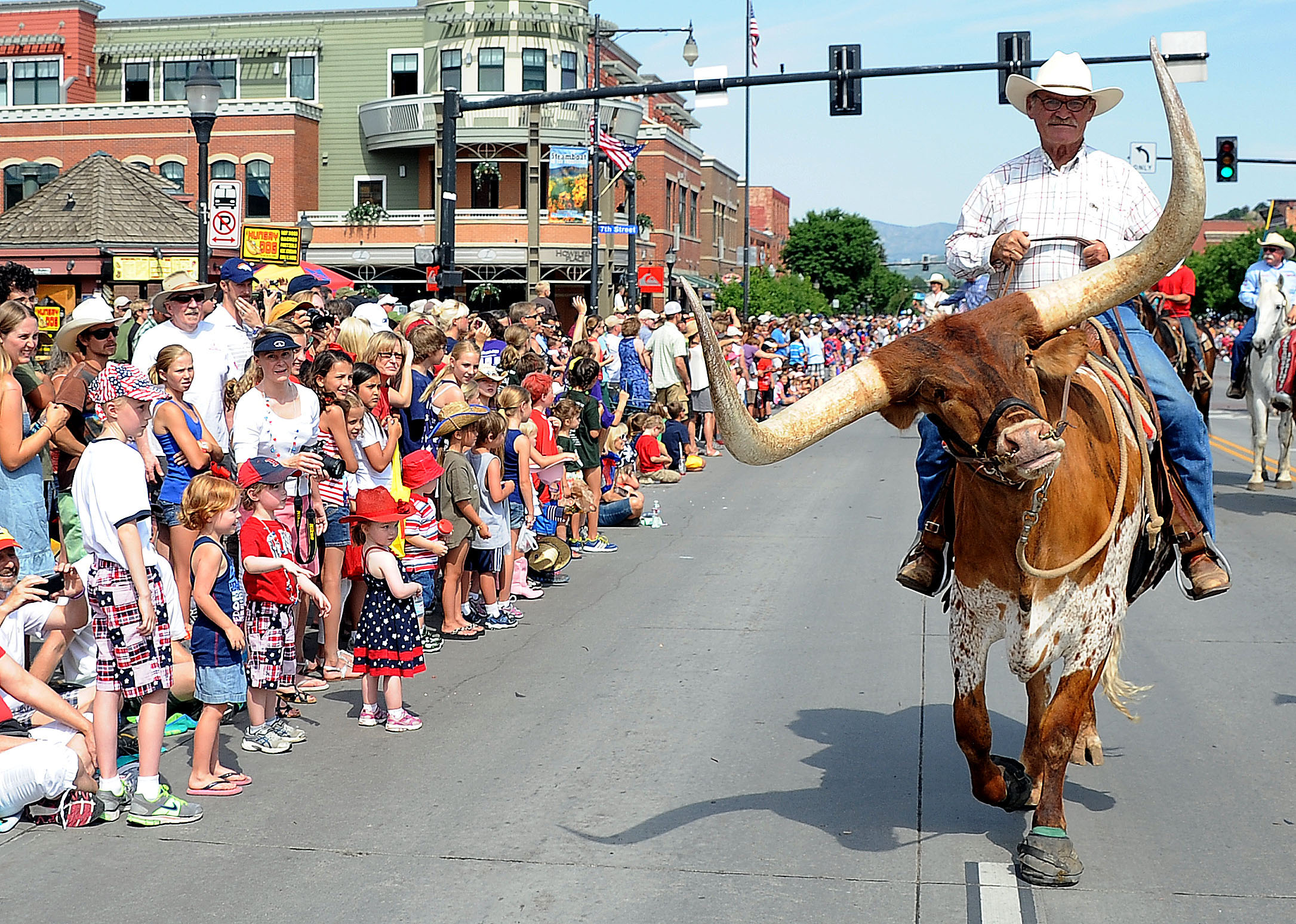 From more than 100-year-old traditions like rodeos and parades to the modern additions of extravagant fireworks shows and summertime ski jumping, Steamboat shows it knows how to celebrate the Fourth of July in style.
Steamboat Springs — Most towns celebrate the Fourth of July with fireworks in the night sky, parades filled with horses and patriotic icons, and world-class cowboys competing in the rodeo arena.
Steamboat has all of that, but what sets our town apart is our long Olympic heritage.
Steamboat Springs Winter Sports Club Nordic Program Director Todd Wilson thinks the best way to celebrate our country's independence and our town's unique heritage is by hosting a ski jumping competition in one of the hottest months of the year.
"If we held a ski jumping competition on New Year's Day, that would be expected," Wilson said. "But holding a ski jumping competition in July — that's unique."
The Fourth of July Ski Jumping Extravaganza has become as much a part of our town's Fourth of July celebration as hot dogs and bucking broncos. The event's roots stretch back eight years, when 19 athletes competed in the first Ski Jumping Extravaganza on the town's recently completed, plastic-covered HS75 ski jump at Howelsen Hill. The jumping event was scheduled the day before the parade, the cowboys and the celebration started and acted as a kickoff to the holiday. The roller-skiing portion took place before the start of the July Fourth parade down Lincoln Avenue to expose the sport and the athletes to a new group of possible Nordic combined skiing fans.
Since then, the event has enjoyed steady growth and has become part of our town's holiday celebration, with more than 80 athletes stepping into the spotlight on one of the busiest weeks of the summer.
Wilson said the idea behind the events was planted long before the plastic was placed on Howelsen's HS75 and, more recently, the HS45. A small group of organizers came up with the idea in 2000 and then quickly added ski jumping to the list of holiday events when the first jump was completed in 2006, he said.
The events are popular with visitors and ski jumping fans who come to Steamboat Springs for the Fourth of July.
"We get a bigger crowd for these events than we do for the winter events," Wilson said. "In terms of marketing our sport and in terms of our athletes gaining exposure, these competitions are a pretty big deal."
U.S. Nordic combined skier Bryan Fletcher agrees.
He's spent the past few months training for the upcoming Olympic season and says the events in Steamboat are a kind of kickoff to the summer competition season.
"This is our first real competition of the summer," Fletcher said. "It's also a great chance for some of the younger skiers to compete with the older guys. We don't get a lot of opportunities to do that, and it's important for our team."
Fletcher said the Fourth of July is a pretty busy time for athletes who are preparing for the winter. He enjoys the Steamboat competition because it is a chance to come back home for a few days, see friends and hang out with his family. He sees the event as part of his holiday tradition and is hoping to see it continue for some time.
Next week, the team will travel to Europe for training camps and competitions against the best skiers in the world. But this week, he plans to come to Steamboat Springs and celebrate the holiday the best way he can think of: on the jumps.
To reach John F. Russell, call 970-871-4209 or email jrussell@SteamboatToday.com
Join the Yampa Valley VIP email club