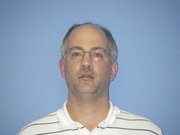 Steamboat Springs — A preliminary hearing for the former Steamboat Springs Christian school teacher accused of sexually assaulting a boy has been rescheduled for 1:15 p.m. June 21.
For about a year, the case against John Brothers has been on hold awaiting a ruling from the Colorado Supreme Court on whether the alleged child victim should have to testify at the preliminary hearing. The Supreme Court stated the local judge needed to make that ruling before the preliminary hearing.
On Monday, Routt County Judge James Garrecht said the boy does not have to testify at the preliminary hearing. The purpose of the preliminary hearing is to decide whether there is probable cause to warrant a trial.
Brothers has remained in custody in Routt County Jail since he was arrested in Louisiana in April 2012. According to the charges, the crimes took place between April 2006 and May 2008. The Routt County District Attorney's Office had filed 27 felony charges against brothers. On May 30, the District Attorney's Office reduced the number of charges to 17.
To reach Matt Stensland, call 970-871-4247 or email mstensland@SteamboatToday.com