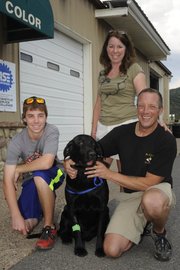 An English black Labrador named Marlie is lucky to be alive after being bit on the nose by a large rattlesnake at the Mihaich family home just south of Steamboat Springs.
Hunter Mihaich, the son of Patti and Dave Mihaich, was walking down the driveway to close a gate Thursday afternoon when he heard the rattle.
"The dogs looked around and started chasing it," Hunter said.
Hunter said he yelled to his mother to get a gun, and the dogs started playing with the snake. Before being shot and killed, the snake decided to bite 125-pound Marlie.
The family rushed Marlie to Pet Kare Clinic, where he was treated by Dr. Erica Dissmore. Patti said it was clear the snake had delivered a venomous bite because Marlie's face swelled up. Marlie also was in shock so he was given fluids through a tube as well as pain medications. Unable to find antivenom at any local veterinary clinics, Pet Kare called Yampa Valley Medical Center.
"The hospital said, 'Come and get it at the pharmacy,'" Patti said.
Once given the antivenom, Dr. Dissmore monitored Marlie overnight, and he was able to go home Friday, though it was obvious he still was not feeling well.
"He's not himself, that's for sure," Dave said.
While it was thought Marlie was out of danger, the Mihaichs needed to make sure Marlie was kept calm and on a leash.
During the weekend, Dave said he planned to knock down the tall grass around their home just in case there are more snakes hiding.
Patti described the encounter with the rattlesnake as crazy.
"The dogs were standing right next to the kids," Patti said.
Dr. Dissmore said it is not very common that dogs get bitten by rattlesnakes in Routt County. This was the first one she had seen at clinic in her two years working at the clinic.
Dr. Dissmore said this particular case is a little more concerning because rattlesnakes are not often seen near the Mihaich residence at Deerwood Ranches off Colorado Highway 131 between Steamboat and Oak Creek. Mihaich said this was the second rattlesnake they had seen in three years at the property.
Dr. Dissmore said rattlesnakes are more often found in the area of Sleeping Giant and to the north along the Red Dirt and Mad Creek trails off of Routt County Road 129.
She recommended that if someone has an animal that is bit by a rattlesnake, they should seek medical attention for the animal immediately.
To reach Matt Stensland, call 970-871-4247 or email mstensland@SteamboatToday.com