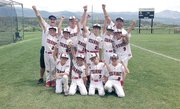 Steamboat Springs — It's on to state for two Little League baseball teams from Steamboat Springs.
Both teams won district titles in Winter Park and will head to Aurora for the state tournament later this month. The teams were made up of top players from local Little League teams and included a U10 team and a U12 team.
The U10 team cruised past Grand County in Winter Park last weekend by winning back-to-back games in the best-of-three series. On Saturday, the Steamboat team won, 22-11, before wrapping up the title Sunday with a 9-8 nail-biter.
"Our pitching really shined in the first game," coach Jarett Duty said.
The offense also was solid and batted around three times in one inning en route to the blowout victory.
On Sunday, the same two teams met in a much closer 9-8 contest.
Duty said Grand County went to its top pitcher for most of Game 2, and it slowed Steamboat's offense. The two teams were tied at eight runs apiece until the bottom of the sixth inning, when Steamboat was able to bring the game-winning run across the plate and earn the district championship.
The road to state was a little longer for Steamboat's U12 team.
Steamboat lost the first game, 19-9, after giving up 10 runs in the top of the sixth inning. Coach David Gedeon said the team had a bad inning, and a very good Grand County team was able to take advantage.
"Grand County had a really good team," Gedeon said. "We told our players to forget about that game. This is one of the best baseball teams I've ever coached, so we told the kids to go out and play really good baseball, and we would be OK."
The loss meant the Steamboat team needed to win the next two games in Winter Park.
On Saturday, Steamboat kept its hopes of a state invitation alive with a 6-4 win against Grand County, and then Monday, the team scored eight runs in the last inning to earn an 18-8 victory.
The teams now will travel to Aurora to face the other district playoff winners from across the state. The teams will be seeded into five-team playoff brackets for the tournament.
The U10 team is scheduled to play July 18 and 19.
"Pitching is always what it takes to win at this level," Duty said. "We will need to get the most out of our key pitchers."
The U12 team opens the tournament July 20 and hopefully still will be playing in the final game July 24. Gedeon is optimistic as his players prepare for the tournament.
"I'm confident that this team has a really good chance to win some ball games at the state tournament," Gedeon said. "Baseball just keeps getting stronger in Steamboat Springs, and I think these players are great examples of just how far we've come."
To reach John F. Russell, call 970-871-4209 or email jrussell@SteamboatToday.com