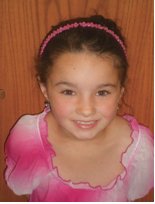 The Hayden Public Library announces the fifth Reader of the Week in the annual summer reading program.
Natalie (Natty) Clark, 5, was chosen as this week's winner. Natty visits the library with her friend Kiera and Kiera's grandmother Kathy for story-time. She has a sister, Noelle, who is 5 months old. Her mom and dad are Rochell and Ryan Clark. She loves listening to stories and making crafts at the library.
She moved to Hayden at 9 months old. Her best friends are Kiera and Cameron. Natty and her family would like to get a Chihuahua. Natty would like to be a zookeeper when she grows up because of her love for animals.
Her favorite color is pink, and she likes meatballs. She likes to watch the movie "The Lion King." She enjoys playing zookeeper with her toy animals at home. Natty plays T-ball in the summer. One of her favorite books is "Goodnight Moon" by Margaret Wise Brown.
Next week, Natty and her family will go to Hawaii to visit family on her mom's side. When asked if he had any advice for other kids about reading, she said, "Grab a buddy to help you read." Natty said to her mother, "I'm a winner!" when she found out she was chosen Reader of the Week.
— Ana Lash, Hayden Public Library