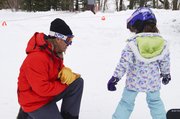 If you watched CBS's Emmy Award-winning TV show "Undercover Boss" this spring, you might think that the California lifestyle has rubbed off on former Steamboat Ski Area executive Andy Wirth. He looks rather surferish with a mullet of long, blond hair sticking out below his hat.

Don't worry, it's just a disguise. Wirth donned the wig when "Undercover Boss" tapped him to host an episode in Squaw Valley, Calif., where Wirth serves as CEO. As part of it, Wirth had to go undercover, disguising himself to perform jobs such as ski patrol, snowboard school instructor and terrain park employee.
The premise: Wirth disguises himself as someone who's trying out for a reality series called "The Grass is Greener," starring Jonny Moseley. Employees think they're reviewing someone for the reality show, hence the cameras in tow, but in actuality, it gives their boss a chance to observe them in the real workplace environment. At Alpine Meadows, he worked at the terrain park and kids snowboard school, and at Squaw, he worked for ski patrol and lift maintenance. "The employees knew that he was someone there for a reality show, but that was it," Squaw PR manager Amelia Richmond says. "As CEO, he can't really have a genuine conversation with his employees, but this let him do that."
Now in its fourth season, the show, which also ran clips of Steamboat in an earlier episode starring PostNet CEO Steve Greenbaum, follows a different executive each week as they leave their offices for an undercover mission to examine the inner workings of their companies. While working alongside their employees, they get an up-close look at the good and the bad of their operations. As for Wirth, blond wig aside, he left with a good feeling.
"We're a close-knit company, so it's not often that I get to observe our mountain operations without people knowing who I am," says Wirth, who left Steamboat in 2010 to take the reins at Squaw. "I saw this as a great opportunity to work with our team side by side and came away incredibly proud of our employees."