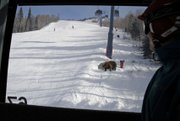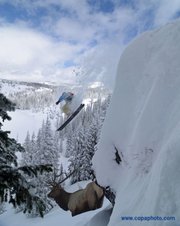 Friend local photographer Aryeh Copa on Facebook and come April, you might find yourself second-guessing some of his shots.
Every April Fool's Day, Copa does a little photoshopping for fun, and the results — a cross between what you might find in a Thomas Mangelsen gallery and a Red Bull catalog — have made waves around town.
"I love April Fool's Day. It's my favorite holiday," Copa says. "It's great to have a day dedicated to playing jokes on your friends. The whole idea is to make an image that would be convincing to many, but if you looked closely you could tell it was fake. And there's only one day a year to do it."
With that, he began rummaging through his photos for his first eyebrow-raising work three years ago. "I had a great shot of an elk and another of my friend, Billy Grimes, jumping off a rock," he says. "So I put the two together. It's amazing how many people forgot it was April Fool's Day and thought it was real. Even Billy's wife posted a comment saying how she couldn't believe her husband jumped over an elk but didn't tell her."
While he says the elk shot was the toughest one to touch up to get the light right, no one seemed to notice one glaring error: by April, most elk have already shed their antlers for the year.
Last year, he kept with the animal theme, putting a bear beneath the gondola. "I had taken a great shot of a black bear, then lightened him up and added a shadow," he says. "If you look closely you can tell the light's coming from a different angle, but it still fooled a lot of people."
This year he struggled with a follow-up. One thought: have someone pose with their hand out at Valley View rock, with an eagle landing on it. Then he shot Chris Rhodes snowboarding off Hell's Wall and the ski bike light bulb struck. "I cut Chris out and put Josh (Westfall) on it on his ski-bike," he says. As soon as he posted it, the comments started pouring in. "A lot of people thought it was real," he says. "Even a few ski patrol."
As for next year, he says he'll have to wait and see what kind of images he gets. "It's tough," he says. "The whole idea is to make something that could be true but is pretty far-fetched."