Keep up with the conditions
- For local weather conditions and recent coverage of Steamboat Springs weather, visit SteamboatToday.com/weather
- View webcams of Steamboat Springs at SteamboatToday.com/webcams
- For weather information from the National Weather Service, including storm warnings and advisories, visit www.wrh.noaa.gov/
- The Colorado Department of Transportation provides road conditions, closures and traffic cameras at www.cotrip.org. For travel information by phone, call 511 from anywhere in Colorado or dial (303) 639-1111.
- For flight information, visit www.flightview.com/ TravelTools/. By phone, call Delta Airlines at (800) 241-4141; United Airlines at (800) 864-8331; and American Airlines at (800) 433-7300
Steamboat Springs — The Colorado Avalanche Information Center issued an avalanche warning early Thursday for the Steamboat zone, where the avalanche danger is rated as high, meaning natural avalanches are likely and human-triggered slides are very likely.
The warning was issued by avalanche forecaster John Snook after wind speeds Wednesday night increased the likelihood that the heavy snowfall was being condensed into wind slabs on aspects facing north, east and south.
"Dangerous avalanche conditions now exist with spontaneous and triggered avalanches likely especially on aspects facing toward the east side of the compass," Snook wrote in his bulletin. "Travel in or below avalanche terrain is not recommended."
The avalanche warning is valid through 8 a.m. Friday.
Steamboat Ski Area was reporting 14 inches of new snow in 24 hours as of Thursday morning, bringing the three-day total to 41 inches.
The National Weather Service in Grand Junction was forecasting an 80 percent chance of snow during the day Thursday, and thick flakes were falling as of 11 a.m. The chance of snow continues at 50 percent Friday before tapering off Friday night followed by sunshine and a forecast high temperature of 33 degrees Saturday.
Avalanche danger scale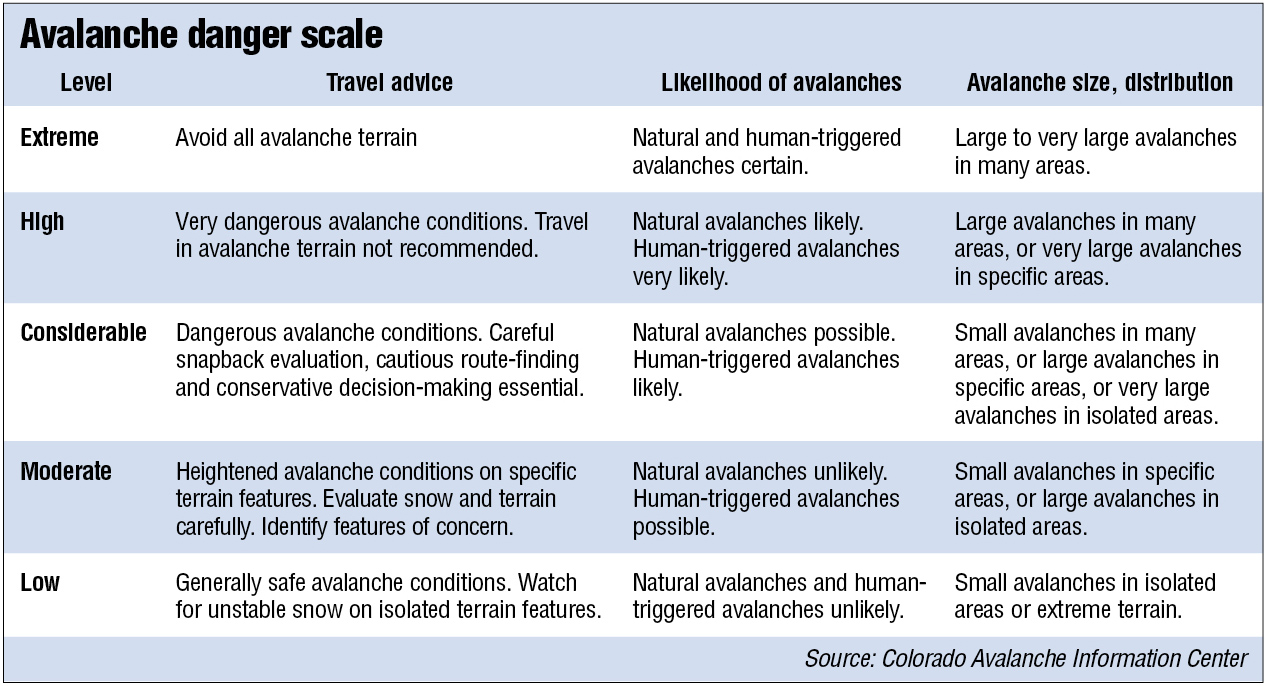 Jan. 31 powder day at Steamboat
To reach Tom Ross, call 970-871-4205 or email tross@SteamboatToday.com