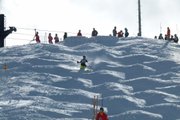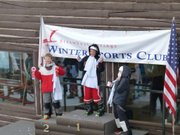 Steamboat Springs — The Steamboat Springs Winter Sports Club freestyle program notched seven podium finishes at a Rocky Mountain Qualifier Series event in Steamboat during the weekend.
Anthony Vazquez led the way in Saturday's aerials competition, finishing as the first overall male.
Liam Baxter was third, Jacob Gilbertson was fourth, Landon Wendler was sixth, Max Sauerbrey was eighth and Porter Schweikert was ninth.
Morgan Sauerbrey was the third overall female. Josie Seibel was fourth, and Gillian Scheer was seventh.
In Sunday's moguls competition, Tyler Strnad paced Steamboat by winning the men's overall. Bridger Boyd was second, Ben Hoefer was third, Wendler was sixth and Everett Simonsen was 10th.
On the women's side, Kenzie Radway was third, and Payton Wendler was 10th.
To reach Luke Graham, call 970-871-4229 or email lgraham@SteamboatToday.com