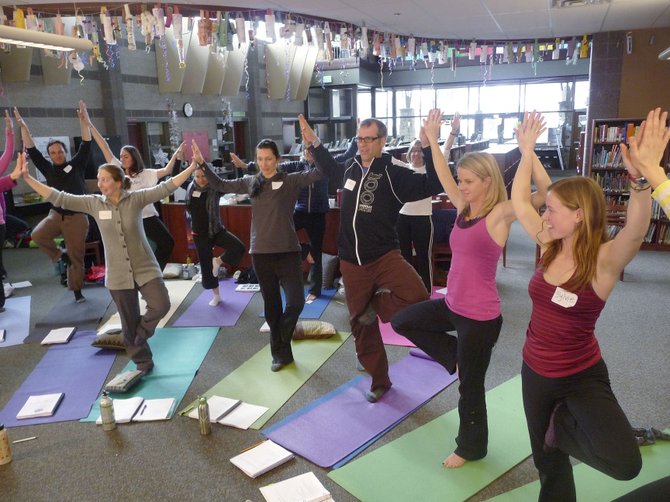 Steamboat Springs teachers train in mindfulness
Saturday, January 26, 2013
Steamboat Springs — A group of Steamboat Springs elementary school teachers were given a new set of tools Saturday that hopefully will make their students perform better in the classroom and in life.
The cutting-edge learning techniques being taught were developed here in Steamboat Springs by Kristen Race, who holds a doctorate in child, family and school psychology from the University of Denver.
"The idea is to get the brain in a calm state so they're ready to absorb information," Race said during a break in the intense daylong training.
During the morning session of the Mindful Life training, the 24 teachers spent time going through poses and exercises that Race said train attention, emotion regulation, empathy and an understanding of how the brain works.
"It will be so fun to use and help the kids focus," Strawberry Park Elementary School fifth-grade teacher Anna White said.
Race said Mindful Life is based on brain science and provides kids the tools to be more resilient to the stress that modern life presents.
"A big piece of it is kids today are more stressed than they ever have been," Race said.
Race has been developing the program since 2009. It started when First Impressions of Routt County provided the funding for Race to teach a class at the Discovery Learning Center day care. Word of the class spread, and within a month, Race was teaching the techniques in nine preschools. Before long, she was teaching 70 classes per month in preschools.
"The response was overwhelmingly positive, and I realized I needed to find a way to make this sustainable," Race said.
The program was formalized and now comes with a manual, structured curriculum and letters to parents that explain what the children are being taught. Race also enlisted Sylvie Piquet to help with the training.
Mindful Life is not just for the classroom, Race said. She has tailored programs for business executives, athletes and families.
The Mindful Life School Program has been taught in Colorado, Maine, Oregon and Florida schools and has caught the attention of scholars. Throughout 10 weeks last spring, Colorado State University studied the impacts of the program in nine Routt County preschools. Researchers found the students had significantly increased focus and emotional regulation, and parents and teachers reported students were less stressed.
Race is excited about a future study being conducted by Harvard University researcher Joshua Felver Gant. The two-year study will look at the impacts of the program on academic achievement in Steamboat Springs elementary schools.
There were 12 teachers from Soda Creek Elementary School and 12 teachers from Strawberry Park Elementary School attending the training Saturday, and 24 more teachers will be trained this summer. The training was paid for with a grant from the Challenge Fund, a donation-based fund that was established by a group of 10 parents a year ago. Proceeds from the fund are split between the two schools.
To reach Matt Stensland, call 970-871-4247 or email mstensland@SteamboatToday.com