A free, informational luncheon about the Casey's Pond senior living center project is from 11:30 a.m. to 1 p.m. Jan. 30 at Rex's American Grill & Bar. Topics covered during the meeting include senior living, assisted living and memory care. RSVP by calling 970-879-8855 or emailing bryna@caseyspond.com.
2 Yampa Valley Pony Club members show well at fair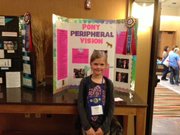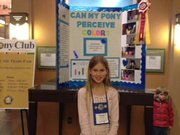 Yampa Valley Pony Club members Caroline McLaughlin, 8, and Cosette McLaughlin, 11, earned first- and second-place ribbons, respectively, in their divisions at the United States Pony Club's annual research fair Friday in Denver, according to a news release from the club.
Caroline's project was titled "Pony Peripheral Vision." She tested the peripheral vision of her horse and herself to determine whose was better. Cosette's project was titled "Can My Pony Perceive Color?"
Yampa Valley Pony Club offers instruction and horse management in English and Western riding. For more information about the club, visit www.yampavalleyponyclub.org.
Sign up for mixed, junior tennis championships
The deadline to register for the Steamboat mixed and junior tennis championships is 5 p.m. Tuesday. Register at the Tennis Center at Steamboat Springs or call 970-879-8400.
Prevent pipes from freezing during cold winter weather
The Steamboat Springs Public Works Department is reminding readers how to prevent frozen pipes during cold weather:
■ Know the location of your water shut-off and test it regularly. In most single-family homes, the shut-off valve is in the basement or the crawlspace where the water pipe enters the house.
■ Winterize unheated or vacant buildings to avoid property damage and water loss.
■ Insulate water pipes that may be vulnerable to the cold or have caused problems in the past. Pipes close to exterior walls or in unheated basements can be wrapped with insulation.
■ During a deep freeze (minus 5 degrees or below), open cabinet doors that lead to exposed pipes (such as access doors for sinks) so that household air can warm pipes. Keep garage doors shut, and keep your thermostat set above 65 degrees.
■ If you think a pipe already has frozen, thaw the pipe as soon as possible or call a plumber for help. If you do it yourself, shut off the water and thaw slowly. A hair dryer trained at the frozen area of the pipe is appropriate. A blowtorch is not.
■ Water meters also need protection from cold temperatures. City water customers are responsible for maintaining their water meter and keeping it in working order. Prevent your water meter from freezing by checking heat tape.

Call the Steamboat Springs Utilities Division at 970-879-2060 for more information.