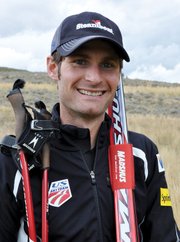 Steamboat Springs — Bryan Fletcher soared to sixth place Saturday in a Nordic combined World Cup event in Klingenthal, Germany.
Fletcher jumped to 15th place, then clawed his way forward nine spots on the cross-country course.
"Bryan stayed strong on that last half of the last lap and all of the sudden was sixth," coach Dave Jarrett said in a news release.
Taylor Fletcher also had another good day. He jumped to 34th and, with the second fastest cross-country ski time, improved to 17th.
Johnny Spillane was 22nd, and Billy Demong finished 29th.
Germany's Eric Frenzel won the race, his third in a row, finishing in 23 minutes, 3.4 seconds. Bryan Fletcher was in at 24:07.8.
"Solid day for the team," Jarrett said. "Taylor was impressive again. … Johnny is finally feeling a bit better on the hill and needs a few races to get ready. Billy jumped better in training but had a decent race."
To reach Joel Reichenberger, call 970-871-4253 or email jreichenberger@SteamboatToday.com